This EPO report covers key political violence and protest developments during the month of August, including analysis of newly released data following the conclusion of ACLED's summer data pause. Regular EPO weekly updates will resume next week.
IN THIS REPORT
August at a Glance

Vital Trends
Key Developments

Monthly Focus: Conflict in Amhara Region
August at a Glance
VITAL TRENDS
In August, ACLED records 170 political violence events and 541 reported fatalities in Ethiopia. Most of the political violence was recorded in Amhara region, where Fano militias and government forces have been clashing since April.
Amhara region had the highest number of recorded events and reported fatalities due to political violence in August, with 102 events and at least 333 reported fatalities, followed by Oromia region, with 58 events and at least 172 reported fatalities. Most of the reported fatalities in Oromia region stemmed from clashes between government forces and the Oromo Liberation Front (OLF)-Shane and Fano militias.
In August, the most common event types were battles, with 123 events recorded, and violence against civilians, with 38 events recorded. Most battle events were recorded in Amhara region, followed by Oromia region, where government forces clashed with the OLF-Shane forces.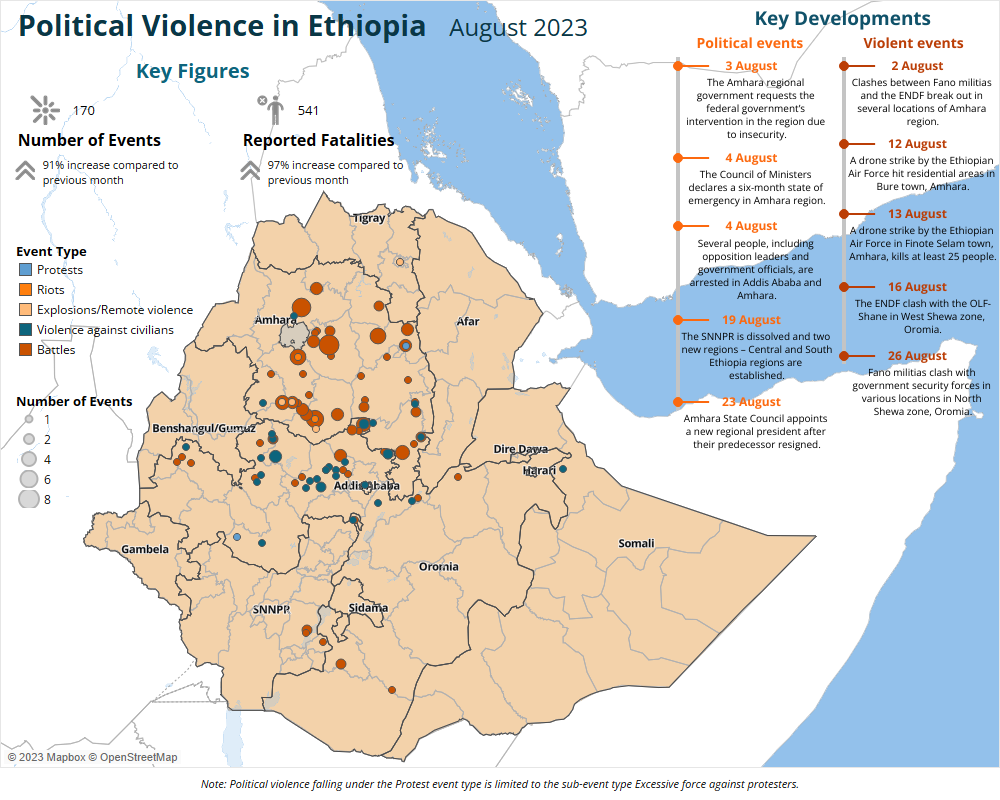 Monthly Focus: Conflict in Amhara Region
In August, armed clashes between Fano militias and the Ethiopian National Defense Force (ENDF) swept across the Amhara region (see map below). The regional capital, Bahir Dar, was one of the locations where days-long clashes between the two actors were reported. The conflict in the region is connected to grievances over the lack of action by the government regarding the status of disputed areas at the border of Tigray and Amhara regions and the overall security of ethnic Amharas. This report analyzes the key developments in the region and conflict in August and concludes that the armed conflict will likely persist in the region if the government continues not to address people's grievances.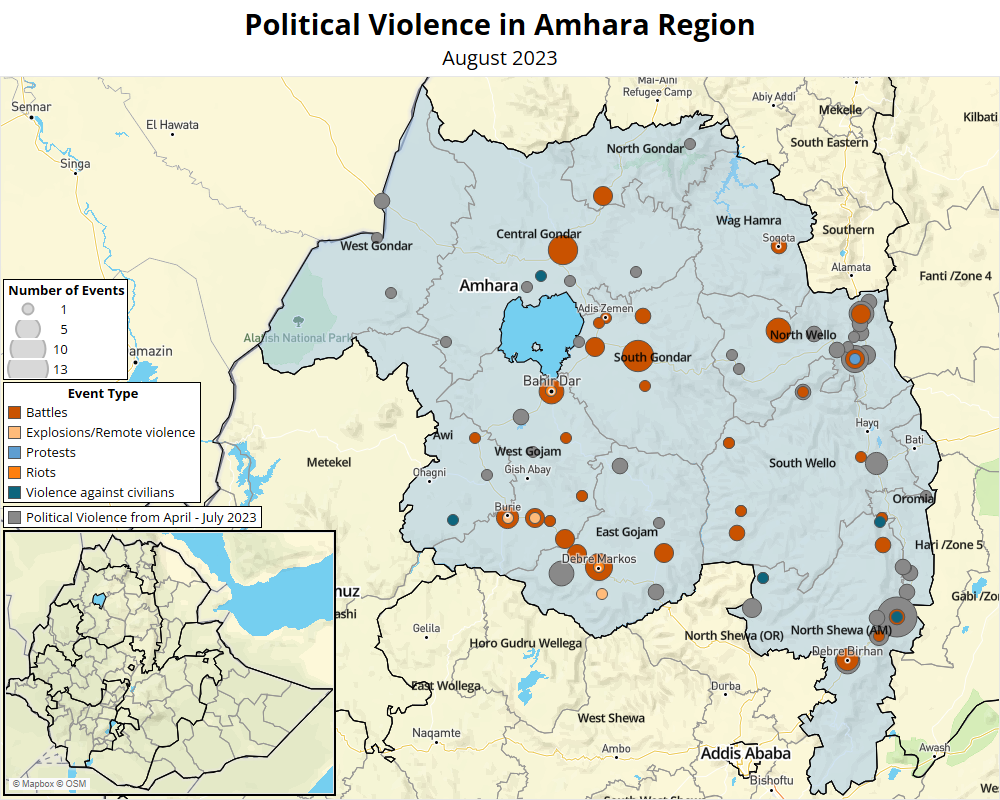 The Amhara region turned into a hotbed of instability in August, with deadly clashes pitting ethnic Fano militias against the ENDF. Earlier this year, unrest swept the region after the federal government announced plans to integrate all regional special forces into various security forces – triggering a wave of demonstrations (for more, see EPO Monthly: April 2023). In August alone, ACLED records nearly 90 distinct armed clashes in Amhara, compared to 74 recorded between April and July (see graph below). Violence was widespread across the region, although Central Gondar and West Gojam zones were associated with the highest number of events.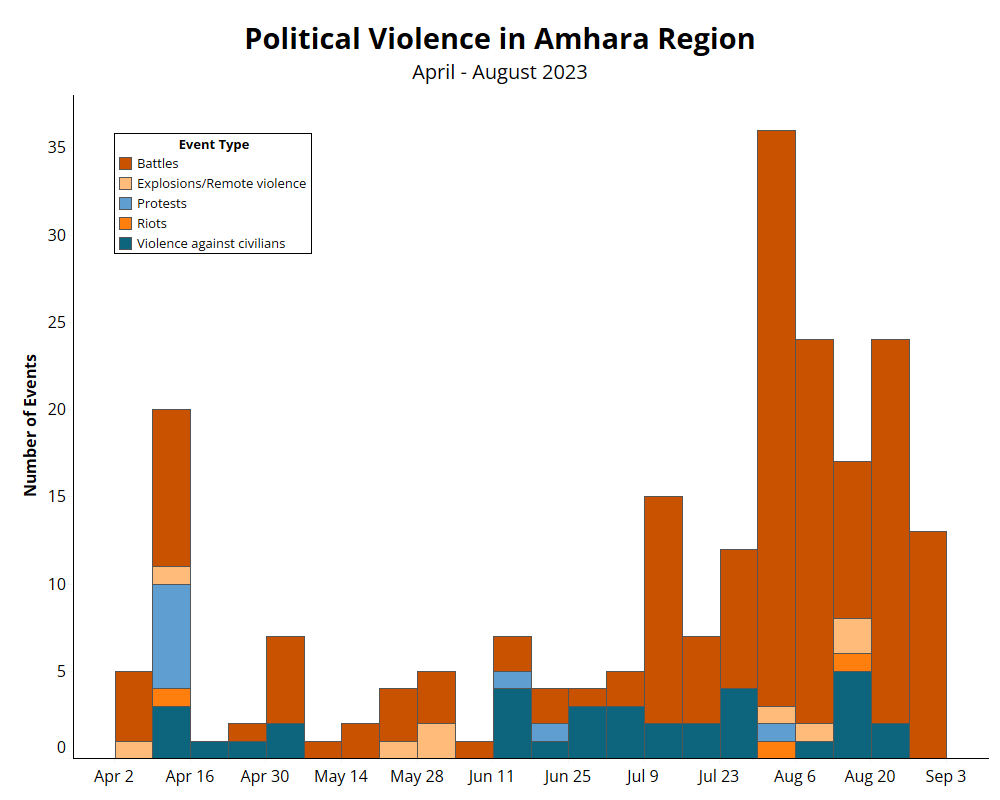 The conflict in this region is related to two central issues. The first is the status of Welkait, Humera, Tselemt, and Raya areas, which are officially under Tigray region but contain ethnic Amhara residents who wish to be governed by Amhara region. The second issue is related to the security of Amhara communities across the country. Ethnic Amhars have been affected by political violence across the country. The decision to eliminate regional special forces was regarded in Amhara as increasing the risk that the Amhara people will be defenseless against the aggression of forces from other regions (for more on these two issues, see EPO Weekly: 29 July-4 August 2023). Fano militias, which draw their recruits from Amhara youth, accuse the regional and federal governments of being dominated by ethnic Oromos and demanded that the ENDF withdraw from the region in order to stop the current fighting (for more on Fano militias, see EPO Monthly April 2023).
The central government responded to the crisis by reshuffling the leadership of Amhara regional institutions. On 25 August, the State Council appointed Arega Kebede as the regional president to improve the region's governance capacity and create new regional leadership after the predecessor resigned from his post. The Council also appointed 12 other officials, including a deputy regional administrator, and established a new regional cabinet.1Sisay Sahilu, 'Amhara region, which is under a state of emergency removed its regional president,' Reporter (Ethiopia), 27 August 2023 The new regional president is unknown to the political community in Amhara, and he is the fifth regional president since Prime Minister Abiy Ahmed took office in April 2018. Such frequent changes to administrators are observed in politically unstable regions of the country; they are designed to clear the political alliances that the central government believes might underscore the current conflicts, and 'punish' administrators for not keeping the peace.
Struggles over local governance are likely behind a string of assassination attempts that recently targeted government and party officials in Amhara. Following the killing of the head of the Amhara Prosperity Party in April, an estimated 13 political and security officials were targeted in armed attacks across the region (for more, see EPO Monthly: July 2023). Several local officials were likewise killed in August, according to the Ethiopian Human Rights Commission.2Ethiopian Human Rights Commission, 'The human rights impact of the armed conflict on civilians in Amhara Regional State,' 14 August 2023 This forced many local and security officials to leave their homes and towns, creating governance and security vacuums in various locations of Amhara region.3Ethiopian Human Rights Commission, 'The human rights impact of the armed conflict on civilians in Amhara Regional State,' 14 August 2023; Addis Maleda, 'Reportedly government officials of Shewa Robit town fled to Debre Berhan and Addis Ababa,' 18 July 2023
Furthermore, the State Council agreed to consistent measures for reform in order to bring sustainable peace to the region. Accordingly, the regional government appointed 11 heads of various regional security sectors on 1 September to strengthen regional security.4Amhara Media Corporation (AMC), 'Amhara national government gave appointments to security officials,' 1 September 2023 These officials were tasked with reorganizing the region's security sectors at each administration level.5 Fana Broadcasting Corporate, 'We will work hard to bring forward leaders who prioritize the peace and security of the region – the Amhara region,' 2 September 2023 This indicates that the regional security sector is currently not functioning properly, and requires both a reorganization and potentially new alliances. Indeed, there are concerns that the former Amhara administrators and security officials were sympathetic to the Fano cause.6Ethiopian Media Service (EMS), 'EMS Mereja Mon 31 Jul 2023,' 31 July 2023 The regional president confirmed that the newly organized regional government will work to identify and find solutions for people's grievances.7AMC, '"We will work to identify the basic questions of the people and solve them in order!" head of government Arega Kebede,' 29 August 2023
These proposed reforms, however, did not stop the conflict. By the end of August, armed clashes broke out between Fano militias and the Oromo Liberation Front (OLF)-Shane, as well as between Fano militias and government forces in North Shewa zone of Oromia region, especially in Dera woreda. This woreda is a disputed territory located at the border of Amhara and Oromia regions. Both Amhara and Oromo ethnic groups reside in this area, and for the last two decades, Amhara residents have petitioned for this area to be administered by the Amhara region.8Amhara Association of America, 'AAA Update – November 28, 2022,' 28 November 2023 Armed clashes involving ethnic Amhara and Oromo militias have been rare in Dera woreda, although Fano militias have been increasingly linked to attacks against civilians since December 2022, with violence targeting predominantly ethnic Oromos. Previously, the most frequently reported events in North Shewa zone were armed clashes between the OLF-Shane and government security forces, and violence targeting civilians perpetrated by OLF-Shane (see graph below). According to the Amhara Association of America – which advocates for the political and human rights of Amhara people – between January and November 2022, over 70 Amharas were killed, and nearly 60 Amhara civilians were abducted in Dera woreda in seven identity-based attacks by OLF-Shane.9Amhara Association of America, 'AAA Update – November 28, 2022,' 28 November 2023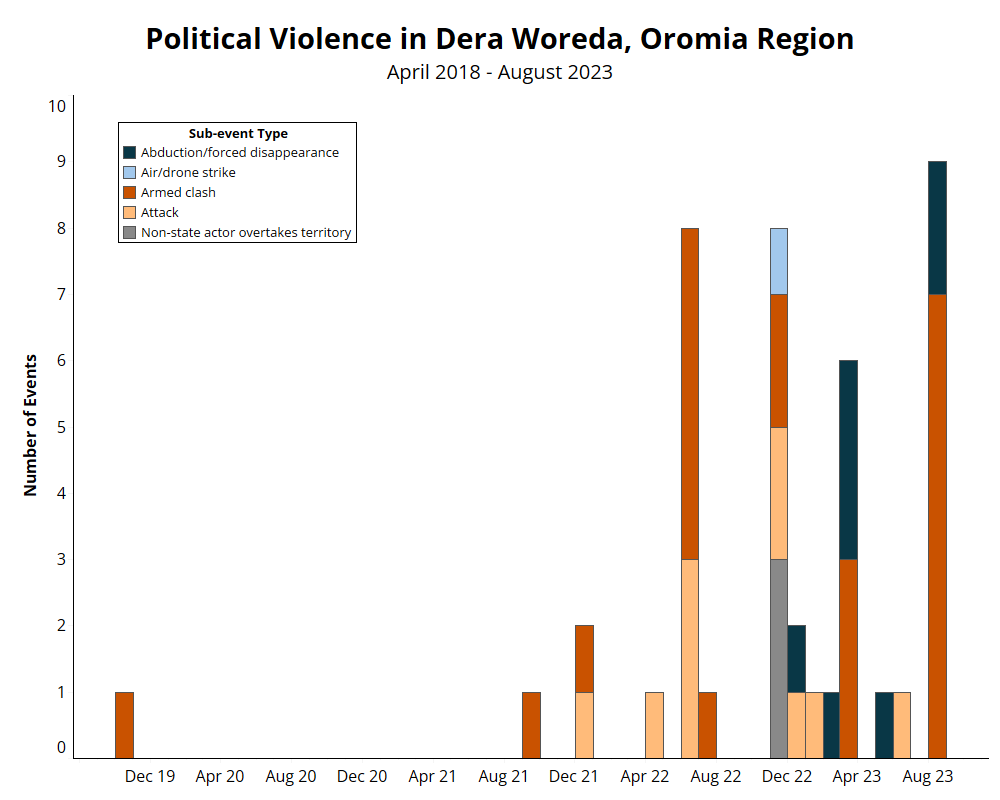 Another round of political violence was also recorded in western Oromia in the border zones between Amhara and Oromia regions. In August, attacks against civilians perpetrated by Fano militias were reported in Horo Guduru and East Wollega zones, two zones situated near the border between Oromia and Amhara regions. In western Oromia, both Oromo and Amhara residents have been attacked by various groups, mainly the OLF-Shane, Amhara ethnic militias, and Fano militias. In this area, Amhara ethnic militias have been more active since 2021 and Fano militias began to attack civilians in 2022 (for more, see EPO's Western Oromia Conflict page). High levels of violence against civilians, mostly against ethnic Amharas perpetrated by the OLF-Shane, have been recorded since 2020 (for more, see EPO Monthly: June 2022). The OLF-Shane has repeatedly denied the involvement of its forces in such violence.10 OLA Public Relations, 'The Abiy Regime's Militia are Responsible for the Tole Massacre of West Wollega,'  20 June 2022; OLF-OLA, 'The OLF-OLA condemns the killing of civilians by Abiy's security personnel,' 5 July 2022; VOA Amharic, 'Many people killed in the attacks in Kiremu and Anger Gutin woredas,'  7 December 2022
Though the ENDF and the command post11Command post is in charge of implementing the terms of the state of emergency proclamation in the region. It consists of various security sectors of the country. The general command post is based in Addis Ababa and has four command posts – west, north-west, central Shewa, and East Amhara command posts. These posts were established with three major tasks – (1) to take operations against the armed group, (2) to communicate with the local people and media to resolve the conflict peacefully, and (3) to strengthen the local government. For more, see Fana Broadcasting Corporate (FBC), 'Details provided by the Chairman of the state of emergency proclamation, Mr. Temeseng Tiruneh, regarding the further work of the Proclamation,' 6 August 2023 stated that the crisis in the region is under control,12Federal Democratic Republic of Ethiopia (FDRE) Government Communication Service, 'Current information issued by the General Command Post, Number – three,' 23 August 2023;  Ethiopia Broadcasting Corporation, 'Field Marshal Berhanu Jula stated that the extremist activity has reached a level where it is no longer a threat Etv | Ethiopia | News,' 31 August 2023 armed clashes between Fano militias and ENDF continued through the end of August, especially in western Amhara.13Alemnew Mekonen, Shewaye Legese, Hirut Melese, 'The current security situation in the Amhara region and appoints for the regional security sector,' Deutsche Welle Amharic, 4 September 2023; Tamrat Dinsa, Alemnew Mekonen, Negash Mohamed, 'Fighting continued in some location of Amhara region- residents,' DW Amharic, 1 September 2023 As Fano militias and Amhara nationalists accuse both the federal and regional governments of being dominated by ethnic Oromos, they do not expect the new regional government to resolve the core questions of the Amhara people.14EMS, 'EMS Mereja Fri 25 Aug 2023,' 25 August 2023 The armed conflict will likely continue unless the government takes visible steps to address Amhara people's grievances, including, among other things, a resolution on the status of the disputed territories at the border of Amhara and Tigray regions.