IN THIS REPORT
July at a Glance

Vital Trends
Key Developments

Monthly Focus: Local Officials Face a Heightened Risk of Attack in Amhara Region
July at a Glance
VITAL TRENDS
In July, ACLED records 87 political violence events and 273 reported fatalities in Ethiopia. Most of the political violence centered in Amhara region, where Fano militias and government forces have been clashing since April.
Amhara region had the highest number of political violence events in July, with 50 events recorded, followed by Gambela region, with 14. Conversely, Gambela region had the highest number of reported fatalities, with 129 recorded, followed by Amhara region, with 82. Inter-communal clashes between Anyuak and Nuer ethnic militias in Gambela led to a high number of reported fatalities in the region.
In July, the most common event types were battles, with 57 events recorded, and violence against civilians, with 28 events recorded. Over two-thirds of battle events were recorded in Amhara region, of which nearly half were recorded in North Wello zone.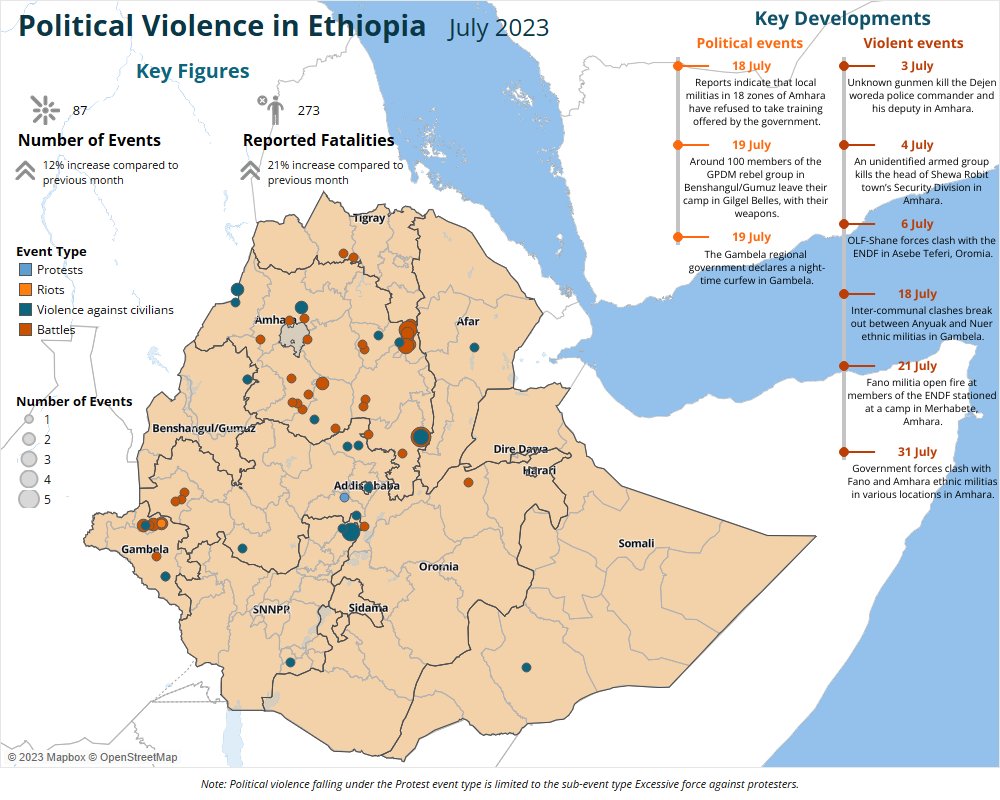 Monthly Focus: Local Officials Face a Heightened Risk of Attack in Amhara Region
In July, ACLED records a rising number of attacks targeting local officials in Amhara region (see map below), amid overall increasing unrest in the region since April 2023. The recent round of attacks against local officials in Amhara region, which includes the targeting of security commanders, has also been documented in Oromia and Tigray regions in the past. While few perpetrators of this new spate of attacks have been identified, they are assumed to have links with ethnic nationalist groups. Being a local administrator associated with Prime Minister Abiy Ahmed's Prosperity Party has become a risky endeavor in many locations – especially in Oromia region. However, since April 2023, local administrators in Amhara region have also been facing this threat. This report discusses the recent heightened risk of violence targeting local officials in Amhara region, amid a broader use of such attacks by ethnic nationalist groups in times of heightened instability to further their political objectives. Both the current rise in this violence targeting local officials in Amhara and previously recorded use of this tactic in Oromia and Tigray occurred at a time of heightened political tensions; local officials represented opposing interests for the militant groups and, therefore, bore the brunt of violence.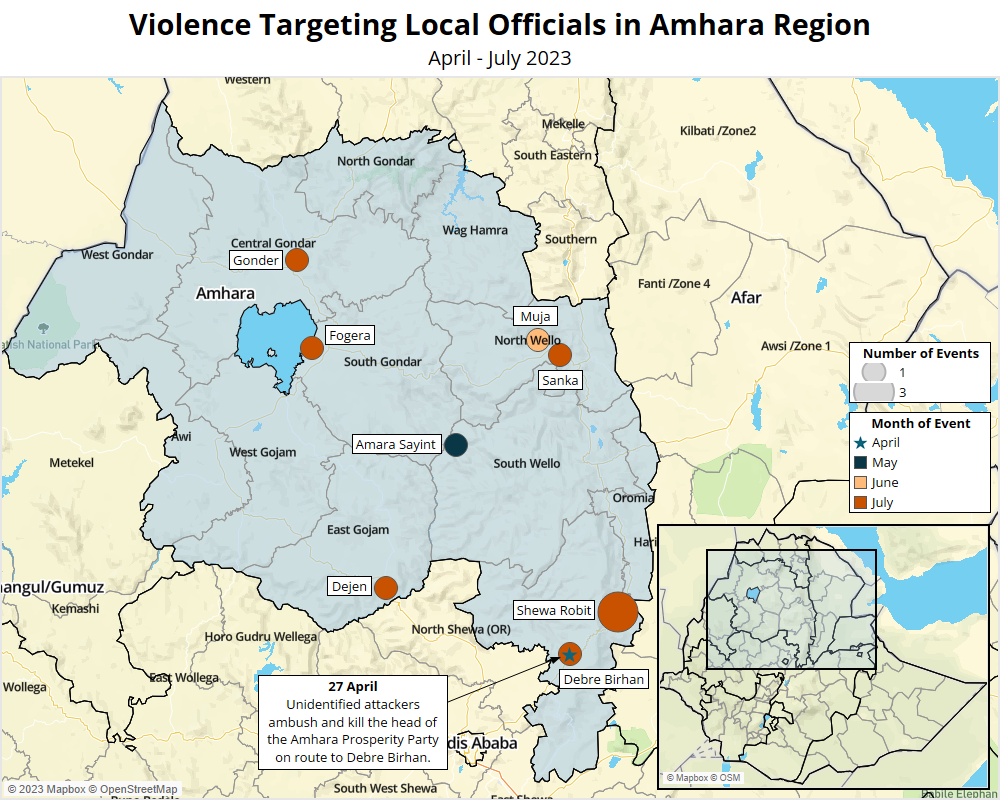 The recent wave of attacks targeting local officials in Amhara region began after an unidentified armed group in North Shewa zone killed Girma Yeshitila, the head of the Amhara Prosperity Party, on 27 April (for more, see EPO Weekly: 22-28 April 2023). From May to July, ACLED records 10 major attacks against local officials, with four of the attacks targeting security officials. The increase in this targeted violence prompted several government officials to leave their homes and towns.1Addis Maleda, 'Reportedly government officials of Shewa Robit town fled to Debre Berhan and Addis Ababa,' 18 July 2023 Though the perpetrators of most of these attacks have not been identified at the time of writing, it is assumed that they have links with Fano militias and Amhara nationalist groups. Both these groups accuse the regional and federal governments of failing to propagate the interests of ethnic Amhara and allowing ethnic Oromo to dominate the political space.
Much of the rise in violence targeting local officials can be attributed to an overall increase in violent activity by Amhara ethnic nationalist groups. Since April 2023, Amhara region has become one of the most unstable regions in Ethiopia, with nearly 50% more violent events recorded in April to July compared to the four months prior, of which 48% involved Fano and Amhara militias. The rising disorder in the region began after the government announced the integration of all regional special forces into various security sectors on 6 April 2023. This decision to eliminate regional special forces was regarded in Amhara as increasing the risk that the Amhara people will be defenseless against the aggression of forces from other regions (for more on the root and proximate causes of political violence in Amhara region, see the EPO Weekly: 29 July-4 August 2023). This led to violent confrontations between government forces, mostly the Ethiopian National Defense Force (ENDF), and Fano and Amhara militias. ACLED records 39 battle events between the two sides during this period, with most clashes concentrated in North Wello and North Shewa zones.
In the past five years, Oromia region has witnessed the highest number of violent incidents targeting local administrators compared to other regions in the country. Oromia is the largest region in Ethiopia, both in population and territory, and has a recent history of anti-government demonstrations and insurgent activity. From April 2018 to July 2023, ACLED records 24 incidents of violence targeting local administrators in Oromia, with dozens of reported fatalities. The majority of the reported fatalities were recorded in 2023. The Oromo Liberation Front (OLF)-Shane and unidentified armed groups have been accused of conducting these attacks. The OLF-Shane insurgent group typically attacked local officials by ambushing the vehicles carrying government officials, while attacks by unidentified armed groups targeted officials at or near their homes. Unidentified gunmen, likely linked with OLF-Shane urban operatives known as Aba Torbe, reportedly killed several mayors, administrators, deputy administrators, and heads of government sectors.2Borkena, 'Aba Torbe – Oromo clandestine assassin group – members captured, says gov.t,' 24 December 2018 However, there is also an indication that some of the attacks against local officials may have been orchestrated by other actors. For instance, the Nekemte town mayor and 11 other officials were arrested in connection with the killing of the head of the Nekemte Prosperity Party in late March 2023.3VOA Amharic, 'The mayor of Nekmet and other officials were arrested on suspicion of murder,' 6 April 2023; Addis Standard, '#ASDailyScoop: Caffee Oromia revokes immunity of imprisoned former Nekemte mayor,' 12 July 2023 In June alone, there were five recorded events of violence targeting local administrators in Oromia region.
ACLED also records at least five incidents of attacks against local officials in Tigray region during the northern Ethiopia conflict from November 2020 to November 2022. In June 2021, Tigray People's Liberation Front (TPLF) forces reportedly killed around 38 individuals linked with the interim regional government established by the federal government. Most of the violence targeting local officials in the region was linked with TPLF forces. Political violence in the region has dropped since the TPLF and the federal government signed the Agreement for Lasting Peace through a Permanent Cessation of Hostilities in November 2022.4VOA Amharic, 'Press statement by the Special Envoy of the African Union on the peace talks held regarding the conflict in Northern Ethiopiam,' 2 November 2022
While regional governments led by the party have made efforts to protect local officials, these efforts have failed in many places, and officials have become more frequent targets of assassinations, violence, and intimidation. In response to threats, many Amhara and Oromia officials are currently carrying out their duties from larger administrative centers where security can be guaranteed, effectively reducing the footprint of the federal government in the rural areas of the country.
Due to the restricted information landscape in Ethiopia, it is likely that not all political violence events have been reported. Moreover, the Ethiopian Human Rights Commission stated that an unidentified number of local officials were killed in August, leading to the collapse of local administration and security force structures in various parts of Amhara region.5Ethiopian Human Rights Commission, 'The human rights impact of the armed conflict on civilians in Amhara Regional State,' 14 August 2023 The ACLED Conflict Alert System (CAST) predicts increasing levels of political violence in the region in the coming months, suggesting that violent activity by Amhara ethnic nationalist groups will likely continue. Given the layers of instability in the region, militias are likely to carry on attacks targeting local officials with the objective of removing the Prosperity Party-led government in the region.