By the Numbers: Ethiopia, 22 April 2022-28 April 2023
Total number of political violence events: 1,106
Total number of reported fatalities from political violence: 5,997
Total number of reported fatalities from civilian targeting: 2,600
By the Numbers: Ethiopia, 22-28 April 20231
Some events from this coverage period might be included in the data in subsequent weeks due to reporting delays.
Total number of political violence events: 8
Total number of reported fatalities from political violence: 26
Total number of reported fatalities from civilian targeting: 8
Ethiopia data are available through a curated EPO data file as well as the main ACLED export tool.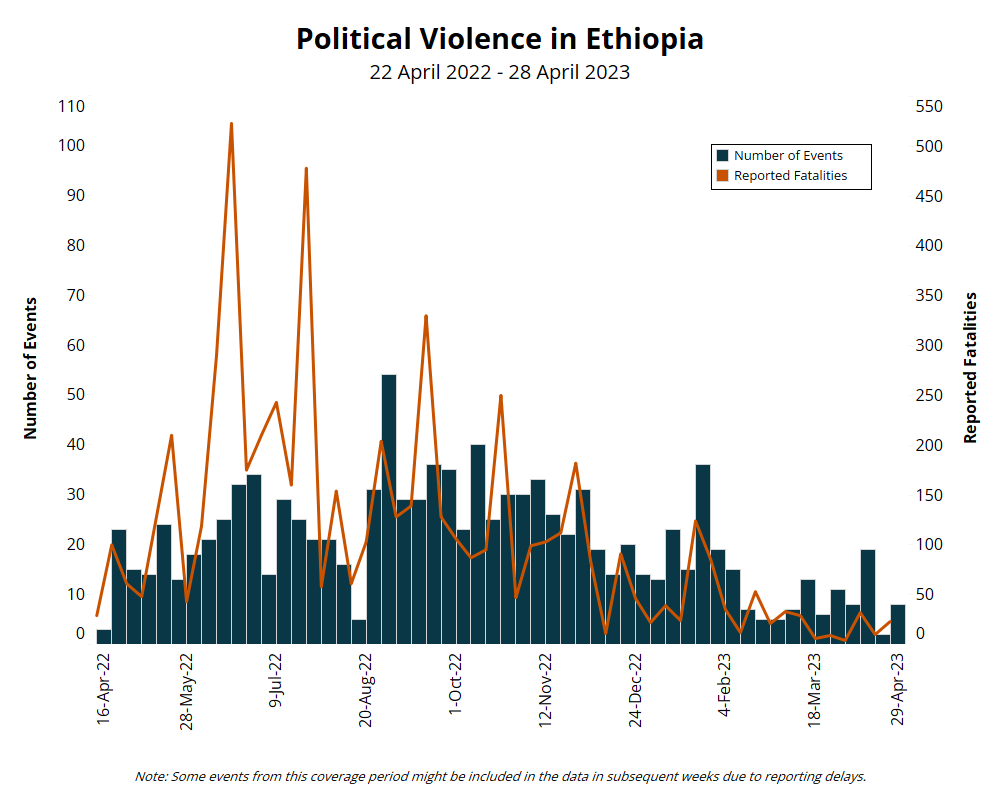 Situation Summary
Amhara region continues to be one of the most unstable regions in the country. At the beginning of last week, tensions were high in the region as signs of stay-at-home protests were observed on 24 April in the capital of Amhara region, Bahir Dar, and on 25 April, in Debre Markos, where most shops and business centers were closed in the morning. However, a witness interviewed by a media outlet stated that by midday, normal activities continued in these cities. Reportedly, there was a call by an unidentified group for stay-at-home protests against the government across social media, and leaflets were also distributed in some parts of the region.2Ethiopian Satellite Television, 'Ethiopia -Esat Amharic News April 25 2023,' 25 April 2023; ESAT, 'Ethiopia -Esat Amharic News April 24 2023,' 24 April 2023 The head of the Amhara Regional Peace and Security Office warned against unidentified actors allegedly working to destabilize the region's economy and negatively affect the people's livelihoods.3Amhara Media Corporation, 'It was stated that those who are trying to crush the economy of the region by restricting work activity and the people's livelihood should be corrected,' 23 April 2023
On 26 April, an unidentified armed group shot at farmers who were heading to their farms in an unspecified area in or around Alala kebele in Eferatana Gidem woreda in North Shewa zone, near the border of Jiliye Timuga woreda in Oromia special zone. According to witnesses, the shots were fired from a location in Jiliye Timuga woreda. One person was injured due to the attack. Since 2018, armed conflict has regularly erupted at the border of the two woredas.
A day later, on 27 April, an unidentified armed group ambushed vehicles traveling from Mehal Meda to Debre Birhan in Menze Guwasa area in North Shewa zone (see map below), reportedly killing six people, including Girma Yeshitila, the head of the Amhara Prosperity Party and a member of the party's executive committee, his driver, security guards, and other local officials.4AMC, 'The Amhara Regional Police Commission announced that five more people who were traveling with Ato Girma Yeshitla have died,' 30 April 2023 At least 14 other people, including Girma's wife and police officers, were injured during the attack. The assassination prompted swift action by the Security and Safety Joint Task Force, which blamed "extremist forces that aim to control the region's power through force" for the killings.5Fana Broadcasting Corporate, 'The Security and Safety Joint Task Force announced that it is taking decisive action against the extremist forces that are trying to take control of regional power by destroying the constitutional system in Amhara region,' 28 April 2023 As a result, the Task Force arrested 47 people accused of being members of the "extremist" network and being involved in "terrorist" acts. The Task Force also released a list of "wanted people" who mostly live in Western countries.6Ethiopia Federal Police, 'Statement from Security and Safety Joint Task Force,' 30 April 2023 While violence against government officials in Amhara region has been less common than in Oromia region, the killing of top officials has occurred sporadically. In June 2019, forces led by Brigadier General Asaminew Tsige, the then head of the Peace and Security Bureau of Amhara region, killed the Amhara regional president and six other members of the regional government in what the federal government described as an "attempted coup."7Office of the Prime Minister – Ethiopia, 'Press release regarding current issues,' 23 June 2019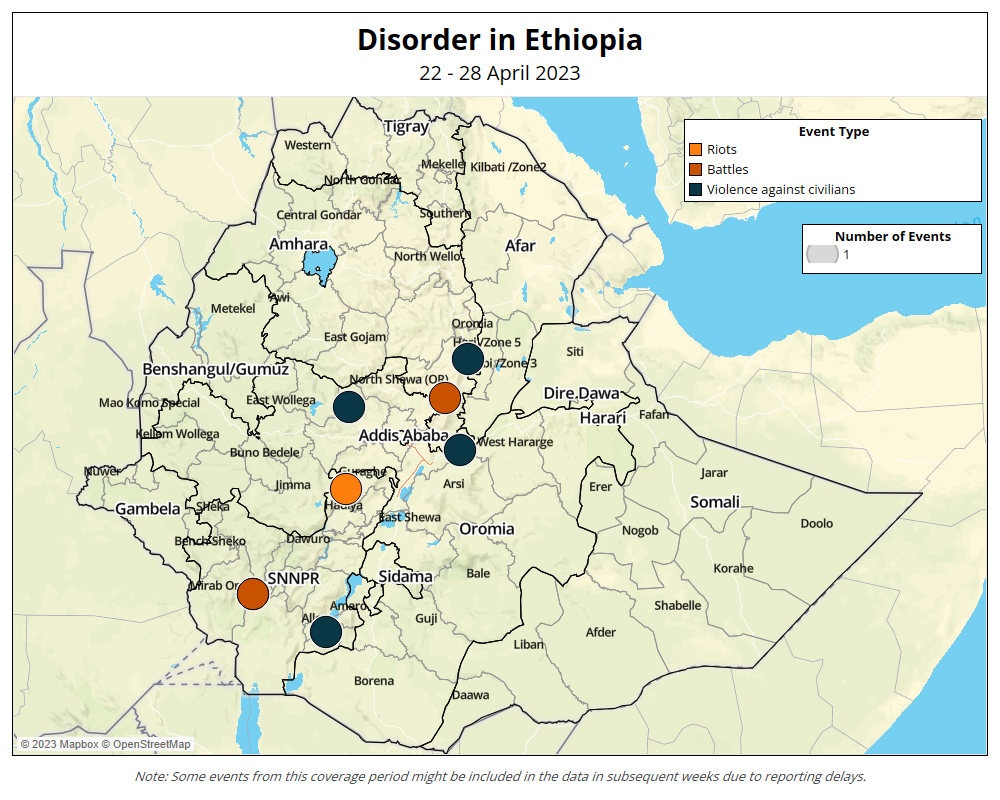 Similarly, in Southern Nations, Nationalities, and Peoples region (SNNPR), on 27 April, unidentified armed men shot and killed a Salamago woreda official as he was on a field visit in Hana town in South Omo zone. The killing sparked a clash between Bodi and Demi tribal members in the area. The victim belonged to one of these tribes, although not clear which one. Ten people were reportedly killed and six others were injured due to the clash. According to the regional state police, at least 13 people in connection with the clash were arrested.8Voice of America Amharic, 'Police stated that 22 suspects in connection with South Omo and Derashe special woreda conflict were arrested,' 1 May 2023
Moreover, on 22 April, an unidentified armed group attacked civilians in Gato Kebele in Derashe special woreda and reportedly killed two people and injured five others. The attack occurred after SNNP regional special forces evacuated the area following the recently announced integration process for regional special forces (for more, see EPO Weekly: 1-7 April 2023). The armed group also looted various items, including food, from Meles Zenawi Memorial School in the kebele. The armed group in the kebele requests that the kebele be recognized as a town. According to the regional state police, seven people in connection with the attack were arrested.9VOA Amharic, 'Police stated that 22 suspects in connection with South Omo and Derashe special woreda conflict were arrested,' 1 May 2023
A day later, on 23 April, Muslim rioters attacked and damaged the shops of Orthodox Christians in Gunchire town in Enor Ener woreda in Gurage zone, who retaliated the next day by attacking and burning shops of Muslims. The unrest is rooted in a dispute between Muslim and Orthodox Christian students over the school dress code – to allow Burka (Muslim full-body covering) and Netela (Orthodox Christian head covering) – at Gunchire Senior Secondary School. Although students and parents had previously agreed that students only wear the school uniform and school had resumed, a fight between two youths in the town caused the unrest between the two groups last week.10Addis Maleda, 'The conflict caused by the disarmament of the special forces in the southern region, the security threat of the displaced people in Debre Berhan, the destruction of the houses of the residents in the Gurage zone,' 24 April 2023
In Oromia region, three attacks against civilians were reported last week. On 24 April, government security forces – assumedly members of the Oromia state police – reportedly shot and killed four people in Gidara kebele in Fantale woreda in East Shewa zone. The victims were suspected of having links with the Oromo Liberation Front (OLF)-Shane. Two of the victims, who had been arrested three months ago, were taken out of the prison and shot dead. Two days later, on 26 April, security forces – again presumably members of the Oromia state police – reportedly killed a high school student while he was on a farm with his family in Chone kebele in Ginde Beret woreda in West Shewa zone. On 27 April, an armed group – assumed to be members of the OLF-Shane – attacked a public bus traveling from Alamata to Addis Ababa in an area between Metehara and Welenchit towns in East Shewa zone. Due to the attack, the driver and his assistant were killed, while five people, including off-duty members of the Ethiopian National Defense Force, were injured. The armed group also abducted an unidentified number of people from a minibus.11Samuel Tade, 'It has been reported that people were killed in an attack on passengers from Alamata,' Addis Maleda, 30 April 2023
Lastly, all regional heads and Addis Ababa and Dire Dawa mayors, as well as other officials, met with members of the Tigray Interim Administration in the capital of Tigray region, Mekele, last week. Adam Farah, deputy president of the Prosperity Party, led the delegation. The visit aimed to rebuild relations with the Tigray Interim Administration,12The Reporter Ethiopia, 'Regional leaders meet with Tigray's interim president in Mekelle,' 27 April 2023 and was held days after Prime Minister Abiy Ahmed suggested that all regional presidents visit Tigray. He made this suggestion during a ceremony on 23 April in Addis Ababa to honor individuals and authorities who contributed to the restoration of peace in northern Ethiopia. During the ceremony, various individuals, including Tigray People's Liberation Front leaders, members of the African Union negotiation team, members of the Ethiopian government negotiation team, the United States special envoy for the Horn of Africa, and the special envoy for the Horn of Africa affairs of China, were honored with a certificate of appreciation and a peace sign from the prime minister.13Ethiopia Broadcasting Corporation, '#ETV Let's stop war, sustain peace,' 23 April 2023