By the Numbers: Ethiopia, 2 April 2018-30 July 20211

Figures reflect violent events reported since Prime Minister Abiy Ahmed came to power on 2 April 2018.
Total number of organized violence events: 1,735
Total number of reported fatalities from organized violence: 9,294
Total number of reported fatalities from civilian targeting: 4,944
By the Numbers: Ethiopia, 24-30 July 2021 2

Some events from this coverage period might be included in the data in subsequent weeks due to reporting delays. In particular, information about the current situation in Tigray with regards to civilian targeting is likely to come in slowly over the next couple of weeks.
Total number of organized violence events: 27
Total number of reported fatalities from organized violence: 427
Total number of reported fatalities from civilian targeting: 304
Ethiopia data are available through a curated EPO data file as well as the main ACLED export tool.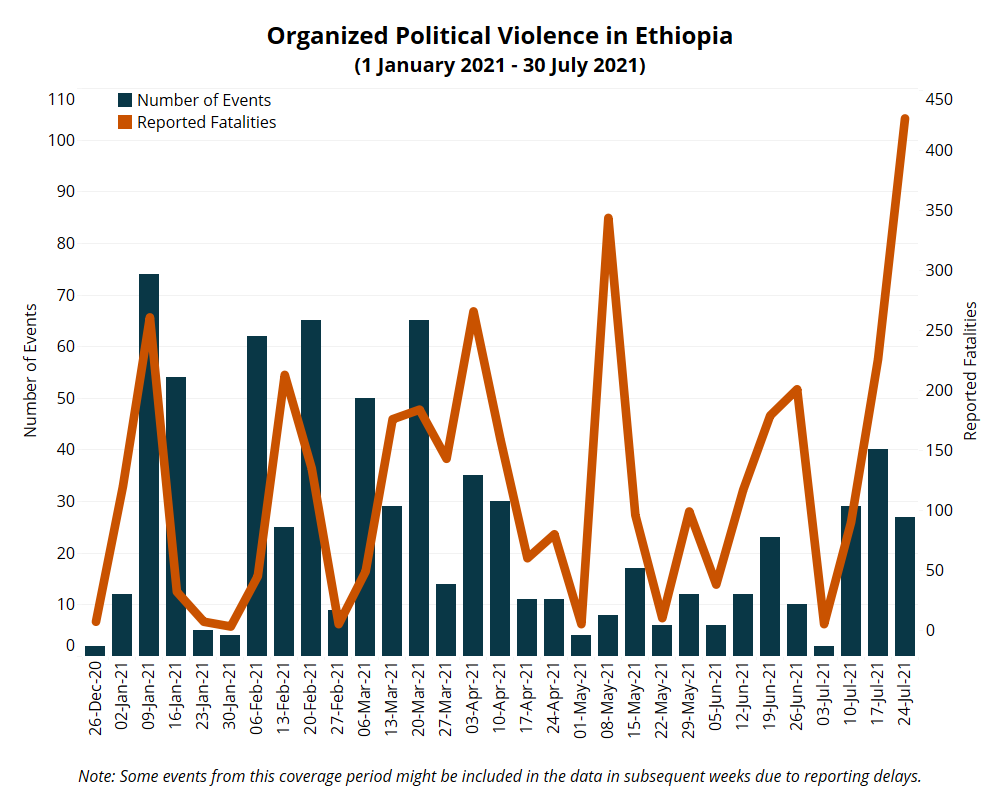 Situation Summary
Last week, armed clashes between the Tigray People's Liberation Front (TPLF) and government forces continued along three fronts: at Fanti Rasu-Zone 4 of Afar, Welkait Tsegede of Western Tigray zone, and in the Southern Tigray zone/North Wello of Amhara region (see map below). As intense fighting is ongoing in rural areas with minimal access to communication, estimating fatalities is difficult. Moreover, last week, TPLF released new preconditions for a mutual ceasefire agreement which will be discussed below.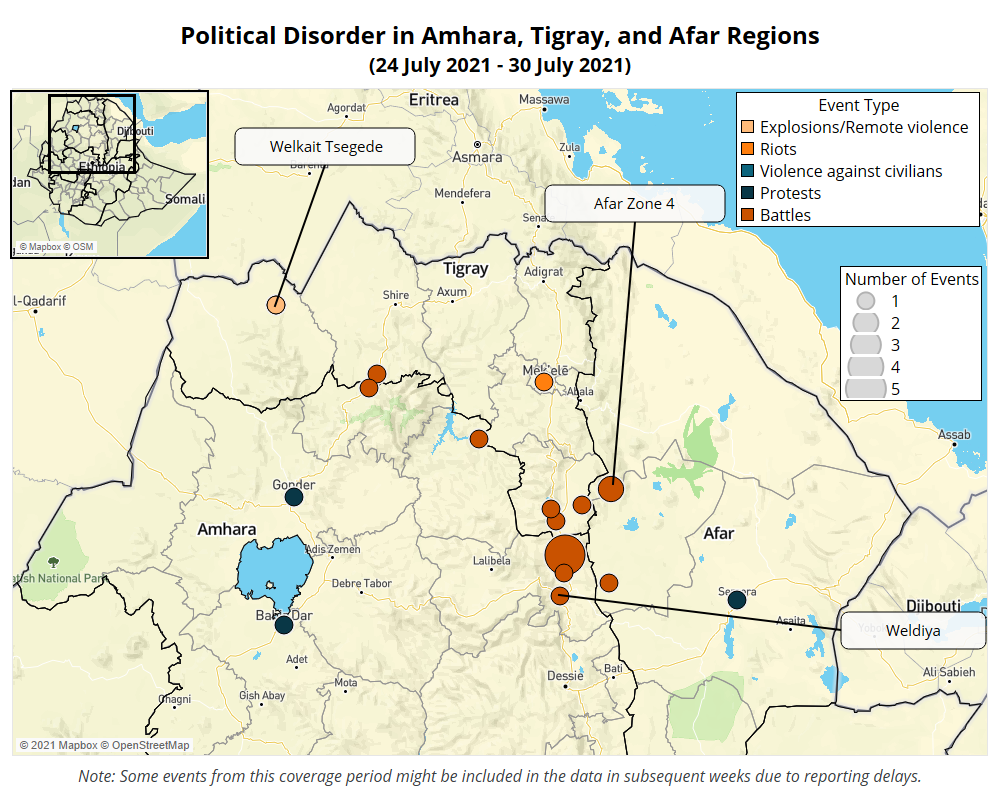 As fighting intensifies, protests have been held in areas throughout the country in support of the Ethiopian army, the Ethiopia National Defense Force (ENDF), and denouncing continued military action by the TPLF. Protests were recorded last week in Gonder city, Bahir Dar city, and Antsokiya Gemza town of Amhara region. They also occurred in the capital city of Afar region, Semera, and in Mizan Teferi town in Bench Sheko zone of Southern Nations, Nationalities and Peoples Region (SNNPR). Thousands of youth from different parts of the country are reportedly joining the ENDF under the slogan "Marching to Saving Ethiopia" (VOA Amharic, 27 July 2021). The war against TPLF, which was previously identified as a "law enforcement operation" by the government, is now identified as a war to "Save Ethiopia" (Walta TV, 27 July 2021).
On 29 July 2021, a number of Eritrean refugees residing in Addis Ababa reacted to news of recent attacks on refugee camps in Tigray region by demonstrating in front of the International Organization for Migration (IOM) office in Addis Ababa (Fana Broadcasting Corporate, 29 July 2021). Demonstrators asked the IOM to protect and relocate refugees residing in Tigray region to safer areas. Different reports indicated that Eritrean refugees who were settled in refugee camps in Tigray region continue to be targeted during the current Tigray conflict (see EPO Weekly: 17–23 July 2021; EPO Weekly: 10–16 July 2021).
In Benshangul/Gumuz, violence continued last week. Around 26 July 2021, security forces clashed with an unidentified armed group in Wenbera woreda of Metekel zone, arresting 25 militants after they surrendered (Fana Broadcasting Corporate, 26 July 2021). In addition, according to the government, on 28 July 2021, members of the Gumuz People's Democratic Movement clashed with the ENDF and Benshangul/Gumuz regional forces in Awelbegu kebele in Sherkole woreda in Asosa zone (Ethiopian Broadcasting Corporation, 28 July 2021). More than 100 militants from the Gumuz People Democratic Movement were reportedly killed by the ENDF. Five of the slain militants were believed to be members of TPLF. According to the report, the group came from Sudan to create instability in the Metekel zone of Benshangul/Gumuz.
Furthermore, attacks on civilians have continued in Metekel zone despite the establishment of a military command post at the beginning of this year. On 28 July 2021, members of a Gumuz armed group shot and killed at least three civilians in Gilgel Belles town in Metekel zone. Following this attack, the Gumuz armed group clashed with the zone's command post security forces in Gilgel Belles town (ESAT, 29 July 2021).
Last week, several hundred ethnic Somali were killed in an attack by militias from the Afar region. On 24 July 2021, Afar ethnic militias and militants associated with the Afar Revolutionary Democratic Unity Front (Uguguma) attacked ethnic Somali residents of Gadamaitu town in Gabi-Zone 3 in Afar region (Reuters, 27 July 2021; Bloomberg 27 July 2021; Somali Communication, 26 July 2021). Somali regional officials claim that more than 350 people were killed, a figure the Afar regional government denies (DW Amharic, 28 July 2021). On 27 and 28 July 2021, another round of armed clashes between the Somali regional forces and Afar regional forces was reported in Gadamaitu (VOA Amharic, 27 July 2021; VOA Amharic, 29 July 2021). At the moment, it is not clear which party controls the area. Gedamaytu kebele in Amibara woreda and two other kebeles, Adaytu kebele of Mille woreda and Undufo kebele in Gewane woreda, are contested areas located at the Afar-Somali regions border. These areas experience frequent violent conflict. For more on the source of the conflict, see EPO's Afar-Somali Border Conflict page.
The attack in Gadamaitu sparked demonstrations throughout Somali region and Dire Dawa city. On 28 June 2021, angry Somali youth blocked the Ethio-Djibouti rail and road near Dire Dawa by moving large piles of dirt into the road and refusing to let transport trucks through (Bloomberg, 27 July 2021). Peaceful protests denouncing the killing of ethnic Somali residents in Gadamaitu town were held in Jigjiga city, Kebridehar, Degahabur, Godey, Shinile, Hargele, and Filtu towns of Somali region and Dire Dawa city (VOA Amharic, 29 July 2021).
Moreover, last week, reports indicated that on 28 July 2021, members of Al Shabaab clashed with the Somali region special forces in Somali region (ESAT, 29 July 2021). The exact location of the clash was not mentioned, however sources indicate that some fatalities occurred. Clashes involving Al Shabaab are not common in the Somali region of Ethiopia. 
In Oromia region, on 28 July 2021, in West Shewa zone, Abuna Ginde Beret woreda, opposition media claimed that security forces removed a young man from prison and killed him in public (Oromia Media Network, 29 July 2021). He had been arrested after being accused of having connections with OLF-Shane forces.
Weekly Focus: Tigray Conflict
TPLF forces appear to have slowed their previously rapid advance southward into North Wello and eastward into Afar region after meeting fortified resistance. Intense battles between TPLF militias and Afar special forces backed by ENDF soldiers in Afar region's zone 4 were fought throughout the week, resulting in a high number of fatalities. Similarly, Amhara regional forces and associated militias managed to keep the TPLF from taking the strategic crossroads town of Weldiya (Woldia City Communication Affairs Office, 1 August 2021).
Although the ENDF has not officially ended their declared unilateral ceasefire, it is clear that federal forces are engaged alongside regional militias in attempts to halt the TPLF's advance. There are some credible reports of airstrikes being conducted by ENDF in the Welkait front and in Raya Kobo (ESAT, 29 July 2021; ESAT, 30 July 2021). The TPLF has justified continued hostilities and territorial expansion by arguing that the control of roads linking Tigray region to other regions and neighbouring countries like Sudan and Djibouti will allow humanitarian supplies to pass into the Tigray region unhindered. They have also used the ongoing fighting to exert pressure on the federal government to accept the list of preconditions for a mutual ceasefire political dialogue (BBC Amharic, 2 August 2021).
While the TPLF advance appears to have been slowed last week, its gains in both Afar and Amhara regional territory mark a significant moment in the war. TPLF forces are now engaging in territory outside of areas with historical ties to ethnic Tigrayan people. The TPLF was originally founded with the political objective of structuring the Ethiopian state based on the recognition of the right to self-determination. Their historical success and subsequent leadership of the country resulted in Ethiopia's current national constitution based upon this principle (Mulugeta Berhe, "Laying the Past to Rest", 2019, pp 84). In a surprising turn, the precondition that the (current) Ethiopian constitution be the "sole basis for any negotiations going forward" has been dropped by the TPLF in an updated list of pre-conditions for a mutual ceasefire (Getachew K. Reda, 29 July 2021). 
On 29 July 2021, the TPLF released a new list of preconditions for any future mutual ceasefire negotiations. In examining the newest list of preconditions released by the TPLF, a number of preconditions listed on the first list have been changed or omitted. First, the request to allow international flights to Tigray region has been dropped. The second precondition, which demanded that the federal government release the region's budget for this year, has been expanded to a demand for this year's and next year's budgets covering 2020-2022. Ethiopia's House of Federation had declared the TPLF-controlled Tigray Regional Assembly and Cabinet to be "illegal" and slashed federally awarded funds on 6 October 2020 (AFP, 7 October 2020). 
While retaining the demand that Eritrean and Amhara forces leave Tigray region, the TPLF has dropped their withdrawal as a precondition to starting negotiations for a mutual ceasefire. It has likewise removed language related to demands that federal troops completely leave Tigray region. Furthermore, on the recently released list of preconditions, the TPLF did not retain the demand to establish two independent international bodies: one to investigate the injustice committed against the Tigray people and bring the perpetrators to the International Criminal Court and another one to monitor the implementation of the list of preconditions. The newest list of preconditions did, however, include the previously mentioned establishment of  an inclusive transitional process with all "major political actors in the country with a view to addressing the current political and constitutional problems afflicting the country" (Getachew K. Reda, 29 July 2021).
The demands dropped by the TPLF appear to have been ones that would have created legal complications with the current Ethiopian constitution. In addition to being based upon the right to self-determination, the Ethiopian constitution mandates that the federal government administer various public goods such as air transport, major roads linking two or more states, and telecommunication services (Constitution of the Federal Democratic Republic of Ethiopia, 1995, Article 51). Additionally, the regional government does not legally have the power to directly connect with foreign countries without the federal government's involvement (Constitution of the Federal Democratic Republic of Ethiopia, 1995, Article 51-52).
So far Ethiopian federal officials have not officially responded to the TPLF preconditions for a mutual ceasefire negotiation. Nevertheless, the Ministry of Foreign Affairs spokesperson called the first released list of conditions "impossible" to implement when speaking with journalists on 9 July 2021 (DW Amharic, 9 July 2021). In the light of an impassable gap between the warring parties, it appears that  armed clashes will continue in the northern part of the country for the coming weeks. Continued clashes are affecting the transportation of humanitarian aid to Tigray region. On 30 July 2021, around 200 World Food Programme (WFP) truck convoys carrying humanitarian aid started to head to Tigray region (BBC Amharic, 30 July 2021). These convoys had been stuck in Semera town in Awsi-Zone 1 in the Afar region for the last two weeks due to the intense armed clashes in five woredas of Fanti Rasu-Zone 4.
Election Dispute Update
At the end of last week, Balderas for True Democracy Party announced its submission of a post-election related dispute claim to the federal supreme court, requesting an election rerun in 21 of the 23 election constituencies located within Addis Ababa (DW Amharic, 30 July 2021). The party stated that the sixth general election has been "hijacked" by the ruling party with the assistance of the National Electoral Board of Ethiopia (DW Amharic, 30 July 2021). The party also stated that it would have secured a position in Addis Ababa if the country followed the proportional representation system. Hence, the party suggested transforming the country's simple majority system into a proportional representation system.
Balderas for True Democracy Party is the second party to submit a post-election-related dispute claim to the federal supreme court. On 21 July 2021, the Ethiopian Citizens for Social Justice (EZEMA) party submitted an election-related dispute claim to the federal supreme court requesting reruns of the elections in 28 electoral constituencies located in SNNPR (EZEMA, 22 July 2021).