By the Numbers: Ethiopia, 29 April 2022-19 May 2023
Total number of political violence events: 1,130
Total number of reported fatalities from political violence: 5,984
Total number of reported fatalities from civilian targeting: 2,632
By the Numbers: Ethiopia, 29 April-19 May 20231
Some events from this coverage period might be included in the data in subsequent weeks due to reporting delays.
Total number of political violence events: 44
Total number of reported fatalities from political violence: 89
Total number of reported fatalities from civilian targeting: 46
Ethiopia data are available through a curated EPO data file as well as the main ACLED export tool.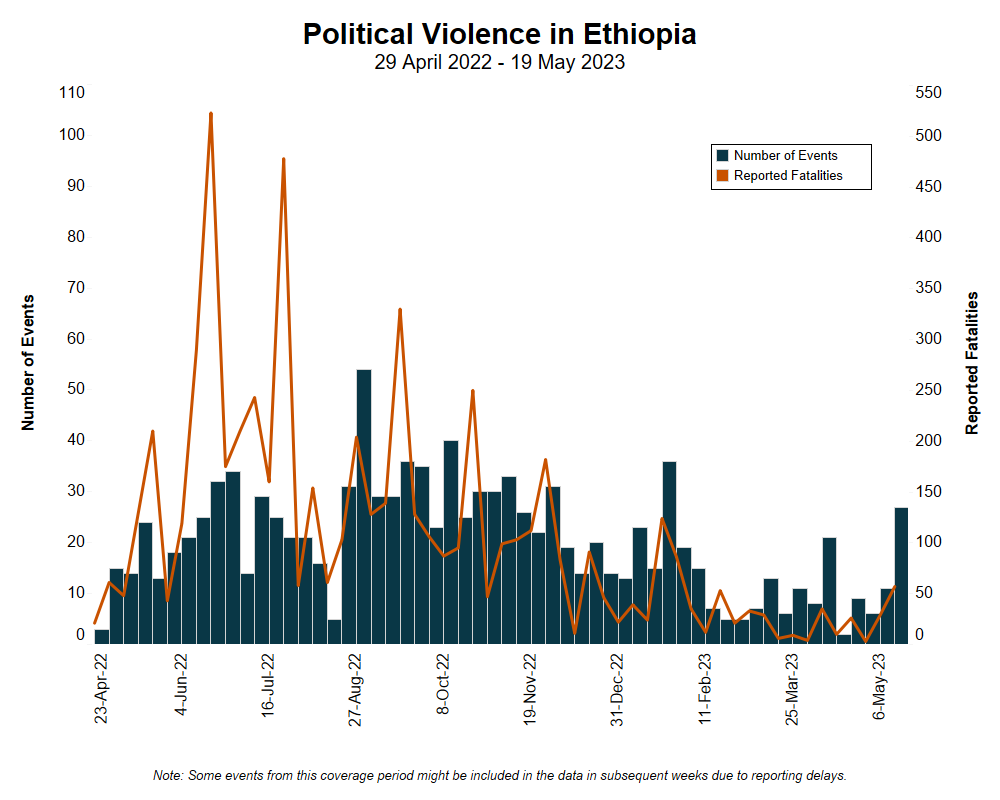 Situation Summary
Violence began to rise in Oromia region in the past two weeks after a relative calm that started in early February. In Amhara region, tensions rose in various areas following the assassination of the head of the Amhara Prosperity Party and a member of the party's executive committee on 27 April, with violent incidents occurring in Shewa Robit, Gondar, Debris Sina, Majete, and Anstokiya towns (for more details on the assassination, see EPO Weekly: 22-28 April 2023).
A spike in political violence events in Oromia region began following the conclusion of the first round of peace talks between the Oromo Liberation Front (OLF)-Shane – also known as the Oromo Liberation Army (OLA) – and the government in Tanzania. The talks ended with disagreement over "key issues" on 3 May.2Addis Maleda, 'Oromo Liberation Army" stated that there were no agreement of key issues,' 3 May 2023; Federal Democratic Republic of Ethiopia Government Communication Service, 'Current situation update,' 3 May 2023 Although both groups indicated that they would participate in a second round of talks,3Addis Maleda, 'It was stated that the second round of negotiation will start soon,' 12 May 2023 reports of renewed armed clashes between the OLF-Shane and the Ethiopian National Defense Force (ENDF) in Oromia region emerged less than a week after the parties left the talks in Tanzania. According to the OLF-Shane, government forces initiated conflict when they attacked OLF-Shane forces in Jeldu in West Shewa zone and Adami Tulu in East Shewa zone on 8 May. The group accused the government of breaching the "understanding" reached in Tanzania to de-escalate armed clashes during the negotiation period.4OLF-OLA, 'Regarding Peace Talks and the Regime's Recent Offensives (OLF-OLA Press Release),' 15 May 2023
Since the end of the first round of peace talks, ACLED has recorded 18 battle events involving OLF-Shane and government forces in the region. Half of these events were recorded in West Shewa zone (see map below). On 17 May, the OLF-Shane clashed with the ENDF in Kombolcha town in Guduru woreda, Horo Guduru Wollega zone, and reportedly took control of the town. Armed clashes were also recorded between the OLF-Shane and Oromia state police after the rebel group attacked police stations in Dire Jitu kebele in Bishoftu town and Welenchiti in East Shewa zone to release prisoners. In Bishoftu town, the group managed to release prisoners and loot weapons after reportedly killing at least four police officers and injuring another. In Welenchiti town, however, government forces repelled the attempted attack, killing six OLF-Shane militants. Two civilians were killed in the crossfire.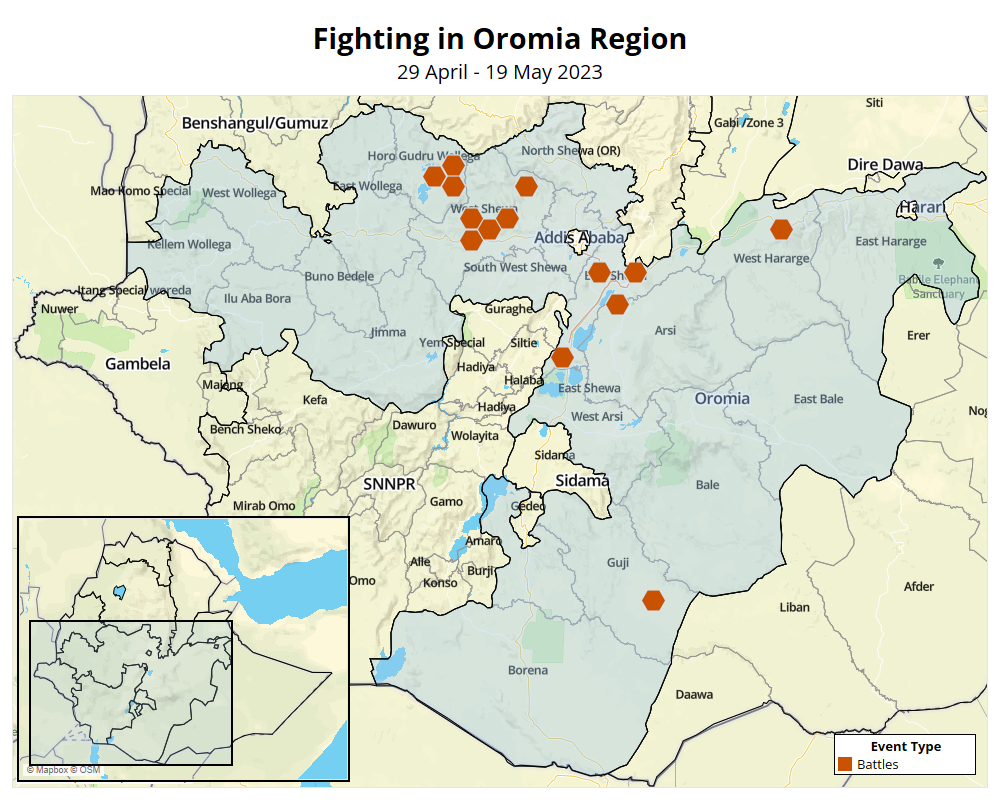 Furthermore, in the past three weeks, ACLED has recorded 14 civilian targeting incidents, which were perpetrated by the OLF-Shane, Fano militias, and government forces – kebele militias, Oromia state police, and the ENDF. On 6 May, presumed OLF-Shane members – identified as "terrorists" by the Afar regional government5Afar Prosperity Party, 7 May 2023 – reportedly killed eight people, including the head of the Afar Prosperity Party office in Hanruka woreda of Gabi Rasu zone, his brother, his driver, and five other drivers in an unspecified location near Welenchiti town.
Government forces were also accused of extrajudicial killings in Oromia region, reportedly killing seven people during the reporting period. All of the victims were accused of collaborating with OLF-Shane fighters. In one incident on 12 May, a government security force member – assumed to be a member of a kebele militia – shot and killed a husband, his pregnant wife, and their neighbor, and injured their neighbor's two-year-old child and her husband after entering their temporary residence in an unfinished building in Dereto area in Kenteri in Sebeta in the newly established Sheger town. The victims' houses had been demolished a day earlier by the Oromia regional government task force, and security forces had beaten up the husband and an unidentified number of his family members who had come to help them move their belongings. The reason behind these attacks is unknown.
In Amhara region, following the assassination of the head of the Amhara Prosperity Party, who also served as a member of the party's executive committee, officials vowed to eliminate "extremist forces." Subsequently, armed clashes were reported between the ENDF and contingents of East Amhara Fano militias in several locations throughout the region. Despite an attempt to mediate through traditional conflict resolution mechanisms, clashes continued to occur as the ENDF began to take action against "extremist forces" (see EPO April 2023 Monthly: Volatility in Amhara Region While the Rest of the Country Stabilizes for more details). Armed clashes between the ENDF and Fano and Amhara ethnic militias were recorded in Shewa Robit, Anstokiya, and Debre Sina in North Shewa zone, and Majete in Oromia special zone during the reporting period (see map below). Moreover, the ENDF conducted house-to-house searches in Shewa Robit town and Kobo woreda.6BBC Amharic, 'Movements were limited and ENDF were deployed in some cities in Amhara region,' 5 May 2023; Ethiopian Media Services, 'EMS Special report on Shewa Robit Fri 05 May 2023,' 5 May 2023; EMS, 'EMS Mereja Sat 13 May 2023,' 13 May 2023; Addis Maleda, 'It was stated that ENDF began its operation Kobo woreda in Amhara region,' 30 April 2023 From 3 to 4 May, demonstrators blocked roads with stones in Shewa Robit and Debre Sina in North Shewa zone as well as in Gondar in Central Gondar zone to denounce the government's actions and limit the mobility of the ENDF in the region.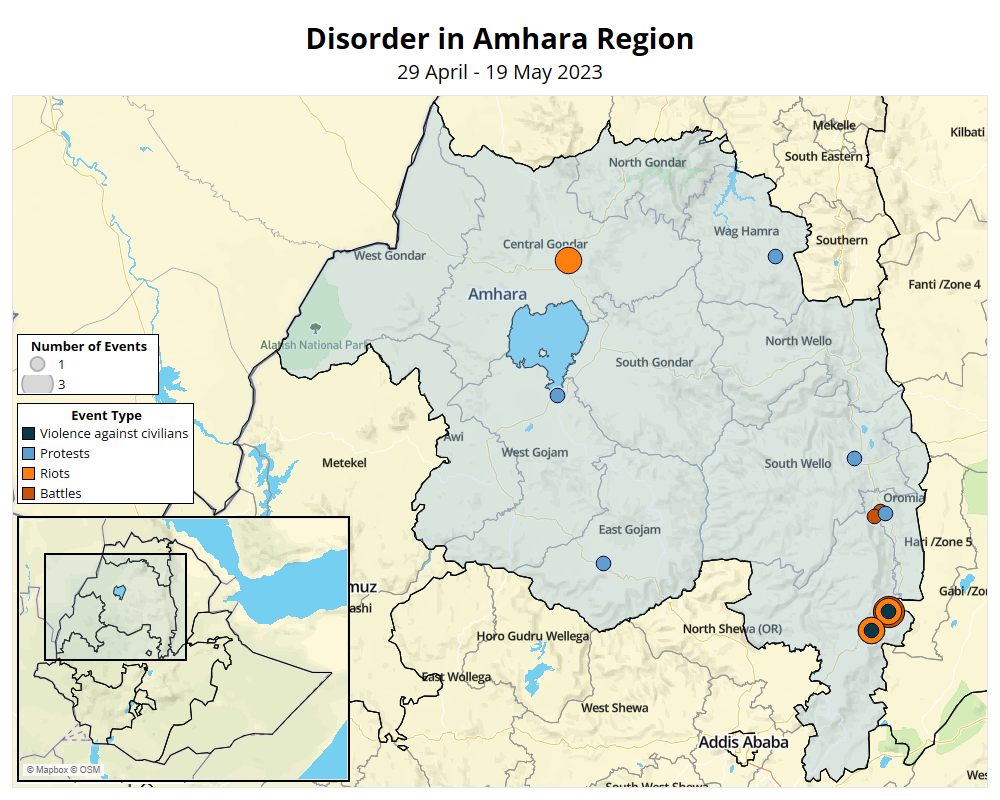 Moreover, peaceful protests against the killings of Amhara leaders were reported in Dessie in South Wello zone, Kemise town in Oromia special zone, and Sekota in Wag Hamra zone. According to the South Wello zone administration, such protests were held in 21 woredas and towns of the zone.7Amhara Media Corporation, 'It has been announced that the peaceful demonstration titled "Let the rule of law be respected, stop the killing of the precious leaders of the Amhara"  in South Wolo zone has ended peacefully,' 5 May 2023
On 18 May, the Amhara Prosperity Party held a conference that aimed to discuss the current situation in the region and the concerns of Amhara people. According to the regional party office, 1,400 top and mid-level leaders within the region were estimated to attend the conference.8AMC, 'The Amhara Regional Prosperity Office announced that it has organized a leadership conference based on the region's current problems and in response to public demands,' 17 May 2023 At the end of the conference, the participants laid out plans to address economic, political, and social issues in order to build a more united Amhara region. Conclusions of the conference include resolutions to support reconstruction in Amhara region following the end of the northern conflict, peacefully restructuring the armed forces, raising concerns held by ethnic Amharas like border disputes, and amending the constitution through peaceful means to build an inclusive democratic government with other Ethiopians.9AMC, '"The Amhara Regional Leaders' Conference is focusing on the basic questions of the Amhara people and responding to them" Ato Gezashew Muluneh,' 18 May 2023
In Gambela region, Murle ethnic militiamen from South Sudan clashed with Kebele militia members when they tried to steal cattle in Gog woreda in Agnewak zone on 10 May.
In Tigray region, on 14 May, residents of Raya Alamata held a peaceful protest in Alamata town in Southern Tigray zone. The protest was held after the National Election Board of Ethiopia announced its plan to hold the sixth general election in the region next year. The protesters stated that this decision did not take into account their request for self-administration, and they threatened to boycott the election if their demand was not addressed. They also requested that the government release the plans for the allocation of funds for the reconstruction of damaged public infrastructure during the northern Ethiopia conflict in the region.
Furthermore, concern by the World Food Programme over food aid 'misappropriation'10Associated Press, 'UN agency suspends food aid to Ethiopia's Tigray amid theft,' 1 May 2023 led to a reduction of aid in the region in April which continued throughout the reporting period. The latest update by the United Nations Office for the Coordination of Humanitarian Affairs (UNOCHA) indicates that distribution of aid "will resume once it is ensured that food assistance reaches those most in need efficiently and effectively."11 UNOCHA, Situation Update, 12 May 2023
Lastly, members of armed groups in several regions continued to return to peaceful life following the call from the government and traditional peace resolution meetings. In Amhara region, on 1 May, 118 armed group members agreed to return to peaceful life following the traditional peace meeting in Jawi woreda in Awi zone. Instead of surrendering their weapons, they were allowed to keep their guns after registering them. On 7 May, more than 80 armed group members, who were primarily active in Abaydar, Banbaho, and Kezkezena kebeles in Quara woreda in West Gondar zone agreed to return to civilian life. Similarly, in Benshangul/Gumuz region, 73 members of a Gumuz armed group agreed to resolve differences through negotiation and return to settled areas.