By the Numbers: Ethiopia, 10 June 2022-16 June 2023
Total number of political violence events: 1,103
Total number of reported fatalities from political violence: 5,676
Total number of reported fatalities from civilian targeting: 2,587
By the Numbers: Ethiopia, 10-16 June 20231
Some events from this coverage period might be included in the data in subsequent weeks due to reporting delays.
Total number of political violence events: 19
Total number of reported fatalities from political violence: 100
Total number of reported fatalities from civilian targeting: 35
Ethiopia data are available through a curated EPO data file as well as the main ACLED export tool.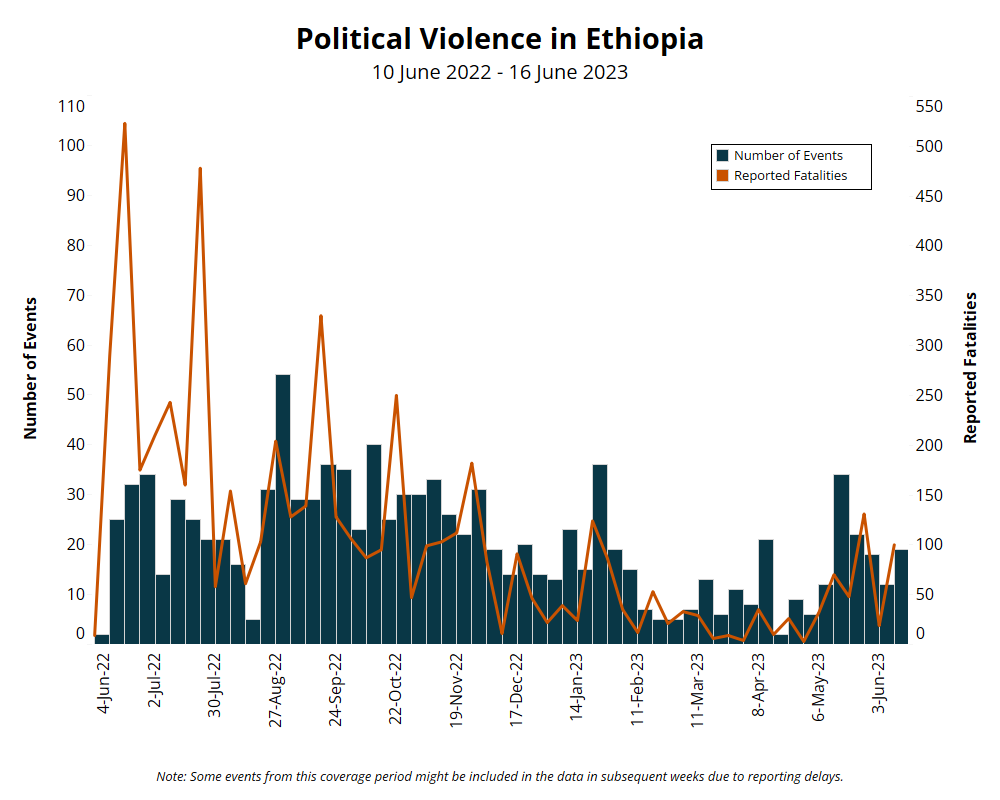 Situation Summary
Instability continues in Amhara and Oromia regions while the rest of the country remains relatively peaceful. In Amhara region, the reported political violence and unrest were related to the government operation against 'extremist' forces. Meanwhile, armed clashes and attacks against civilians persisted in Oromia region.
Last week, various types of events were recorded in Amhara region. Three armed clash events involving Fano militias and government forces were recorded in the region. On 10 June, Fano militia members clashed with security forces – assumed to be Amhara regional state police and kebele militiamen  –  in Awi zone after entering the area from West Gojam in an attempt to abduct woreda officials. Government security forces and local militiamen managed to release the captured woreda officials after the clashes. Six people, including elders who were trying to negotiate with Fano militia members to release woreda officials, were reportedly killed. The following day, Fano militias clashed with the Ethiopian National Defense Force (ENDF) in Merhabete and Mida Woremo in North Shewa zone.
In West Gojam zone, residents continued blocking roads to protest the government operation against 'extremist' forces (for more information on the operation, see EPO Weekly: 29 April-19 May 2023 and EPO April 2023 Monthly). On 11 June, youths in Dembecha town demonstrated against the presence of the ENDF in their town. The demonstrators blocked roads, and in response, ENDF soldiers opened fire to open the blockades and disperse the crowd. The ensuing clashes resulted in five reported fatalities, including two ENDF soldiers and three demonstrators. Around 18 people were also injured. The ENDF had reportedly entered the town in pursuit of Eskinder Nega, an alleged leader of the Amhara Popular Front who is wanted in connection to armed clashes that occurred in the Silase Andinet Monastery in Debre Elias woreda from 26 to 30 May (for more, see EPO Weekly: 27 May-2 June 2023). On 12 June, demonstrations expanded to Finote Selam and Jiga towns in West Gojam zone, with demonstrators blocking main roads to protest the presence of the ENDF in their towns. In Finote Selam, a police officer opened fire on the crowd, killing a protester and injuring over eight others. Due to the continued "security issue" in Amhara region, the Ethiopian Political Parties Joint Council called on the government to start peace talks to bring stability to the region.2Addis Maleda, 'It was asked to start peace talks in the Amhara region,' 18 June 2023
Two violence against civilian events were also recorded in the region. Last week, Fano militiamen reportedly shot and killed an ethnic Oromo civilian around Merhabete after dragging him out of a bus. Moreover, between 7 to 15 June, Tigray People's Liberation Front fighters reportedly shot and killed five ethnic Amhara civilians in an unspecified village in Telemt woreda in North Gondar zone. The incident occurred in an area along the Tekeze River which is considered disputed territory between Tigray and Amhara regions.
In Oromia region, armed clashes between government forces and the Oromo Liberation Front (OLF)-Shane continued last week. ACLED records seven armed clash events in the region (see map below). Five of these recorded armed clash events were between OLF-Shane and government forces – mostly with the ENDF. The rebel group continued to clash with government forces in its new trend of attacking prisons at night to release its members. On 11 June, members of the OLF-Shane entered Batu (Ziway) town in East Shewa zone after crossing Lake Ziway by boat and clashed with government security forces – assumed to be prison guards and Oromia regional state police –  when the group attempted to release its members from a prison located at Hayk Dar (Yekedmo Tena Tabiya) area in the town. During the clashes, three police officers and one member of the OLF-Shane were reportedly killed. Since May, the group has attacked prisons in at least four locations in the region, sparking armed clashes with government forces. Moreover, OLF-Shane members clashed with the ENDF in Meta Robi, Jeldu, and Adda Berga woredas in West Shewa zone last week. On 16 June, the OLF-Shane reportedly took control of Gumbichu kebele in Wachale woreda in North Shewa zone after clashing with government forces.3 Addis Maleda, 'It was stated that OLF-Shane militants have taken control of a kebele in a woreda which is 75 kilometers away from Addis Ababa,' 18 June 2023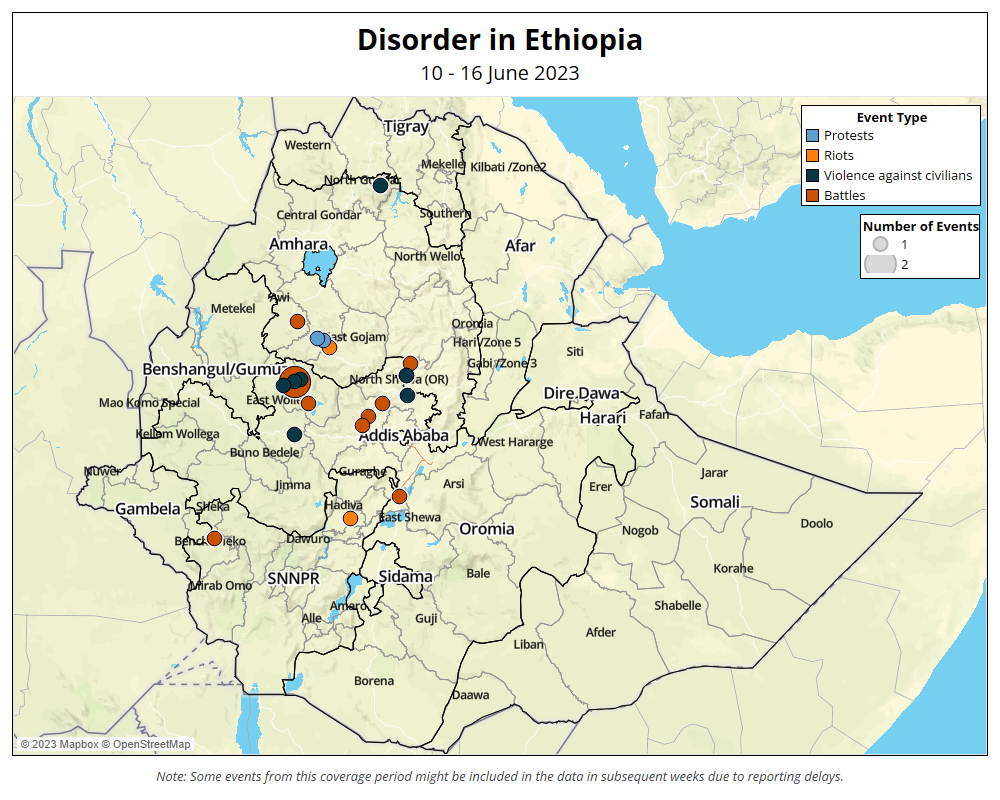 Two more armed clash events were recorded in East Wollega zone. On 15 June, Fano militiamen clashed with Oromia regional state police and kebele militia members in Waset kebele in Kiremu woreda after Fano militiamen entered the village and attacked civilians. They reportedly opened gunfire and arbitrarily killed eight and wounded 13 civilians. The group also looted animals and destroyed civilian properties. The next day, the OLF-Shane clashed with Amhara ethnic militia members in Kiremu. At least three people were reported killed due to the clash.
Attacks against civilians perpetrated by various actors also continued in the region. Most of these attacks occurred in western Oromia. Fano militias were reportedly involved in three incidents of attack against civilians in Horo Guduru Wollega and East Wollega zones, including the aforementioned attack in Waset kebele. Furthermore, on 14 June, members of the ENDF reportedly shot and killed five people in Bekanisa kebele in Sibu Sire woreda in East Wollega zone. Two of the victims were accused of being members of the OLF-Shane, while the others were accused of hiding them. Elsewhere, in North Shewa zone, members of the OLF-Shane reportedly shot and killed a civilian and kidnapped seven others in Debre Libanos.
In South West Ethiopia Peoples' region (SWEPR), an unidentified armed group ambushed a police vehicle and killed a police commander of Godere woreda of Gambela region and wounded another officer in Baya kebele in Yeki woreda, Sheka zone, on 11 June. The police officers were returning to Meti town in Godere woreda after attending training in Mizan town in SWEPR. On 16 June, the SWEPR officials stated that the perpetrators were arrested.4Ethiopian Satellite Television, 'Ethiopia -ESAT Amharic News Jun 16 2023,' 16 June 2023
Lastly, violence erupted in Afar region and the main road connecting Metehara to Dire Dawa and Harar was closed after one member of the Afar state police was killed by a member of the ENDF in Amibera woreda in Awash Arba zone.5Addis Maleda, 'It was stated that Awash Arba road was closed following the killing of a member of Afar police by a military,' 17 June 2023 The reason behind the killing is unknown.