By the Numbers: Ethiopia, 1 July 2022-7 July 2023
Total number of political violence events: 1,067
Total number of reported fatalities from political violence: 4,832
Total number of reported fatalities from civilian targeting: 2,128
By the Numbers: Ethiopia, 1-7 July 20231
Some events from this coverage period might be included in the data in subsequent weeks due to reporting delays.
Total number of political violence events: 12
Total number of reported fatalities from political violence: 48
Total number of reported fatalities from civilian targeting: 7
Ethiopia data are available through a curated EPO data file as well as the main ACLED export tool.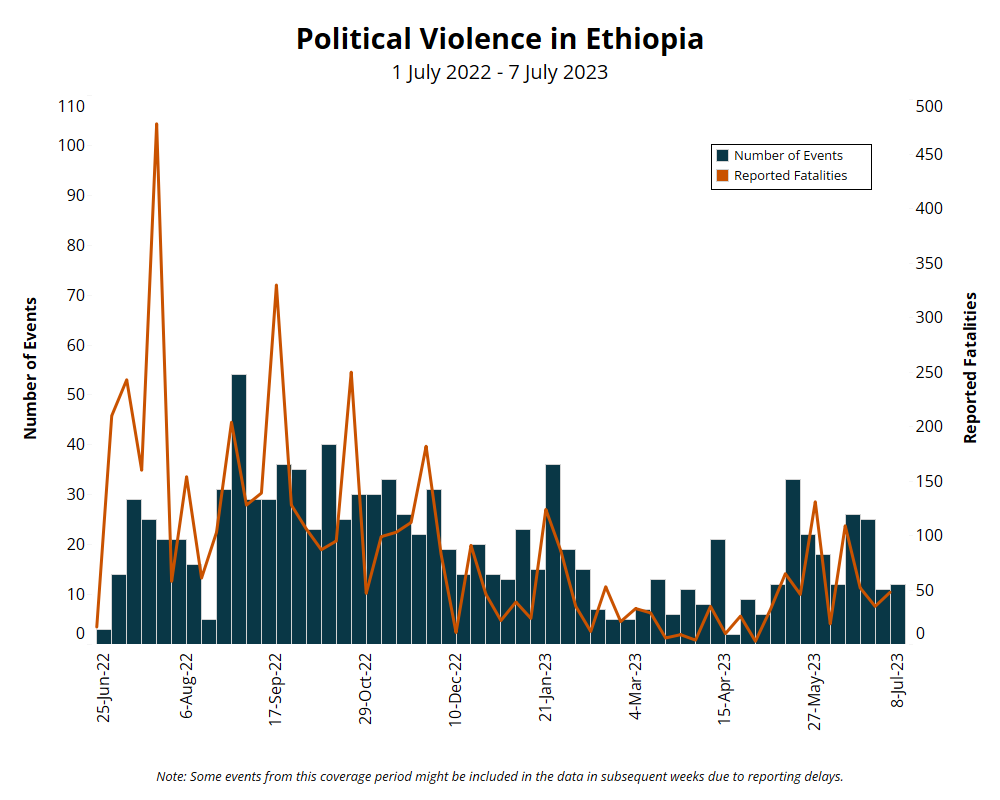 Situation Summary
Assassinations of local security officials continued in Amhara region last week while clashes between Oromo Liberation Front (OLF)-Shane and government forces persisted in Oromia region. In Southern Nations, Nationalities and Peoples region (SNNPR), unidentified gunmen shot and killed several people in Gurage zone in a suspected ethnic dispute. Violence also reemerged in Benshangul/Gumuz region when Gumuz Liberation Front fighters ambushed a convoy of security officials.
In Amhara region, assassinations of local security officers resulted in at least four reported fatalities last week. On 3 July, gunmen ambushed a police vehicle in Dejen town, East Gojam zone, killing the Dejen woreda police commander and his deputy, and also wounding the driver of the vehicle. The next day, unidentified gunmen shot and killed the head of Shewa Robit town's Security Division, prompting security officials to enact a dusk-to-dawn curfew. Despite the curfew, on 6 July, gunmen shot and killed a police officer who was on night duty.
Clashes, assassinations, and deadly demonstrations have become more common in Amhara region since the government announced that the region's special forces would be dissolved and reintegrated into other security bodies of the country. Political tensions, already high from negotiations with the Tigray People's Liberation Front, escalated again last week after regional officials announced that a referendum would be held to resolve identity and boundary issues with Tigray region2Addis Standard, 'News: Amhara region says activities kicked off to resolve identity, boundary issues with Tigray region through referendum,' 8 July 2023 (see the EPO April 2023 Monthly report for more details on security and violence dynamics in Amhara region).
Violence also continued in Oromia region, with armed clashes between the OLF-Shane and Ethiopian federal army troops being reported in Tuchisu in Dugda woreda, East Shewa zone and Asebe Teferi in West Hararge zone (see map below). In a report issued last week, health officials in Oromia region indicated that ongoing conflict had drastically impacted public infrastructure in areas of active conflict, highlighting the difficulty faced by civilians in these areas.3Seyum Getu, Shewaye Legese, Hirut Melese, 'The problem of the health sector in the Oromia region,' Deutsche Welle Amharic, 5 July 2023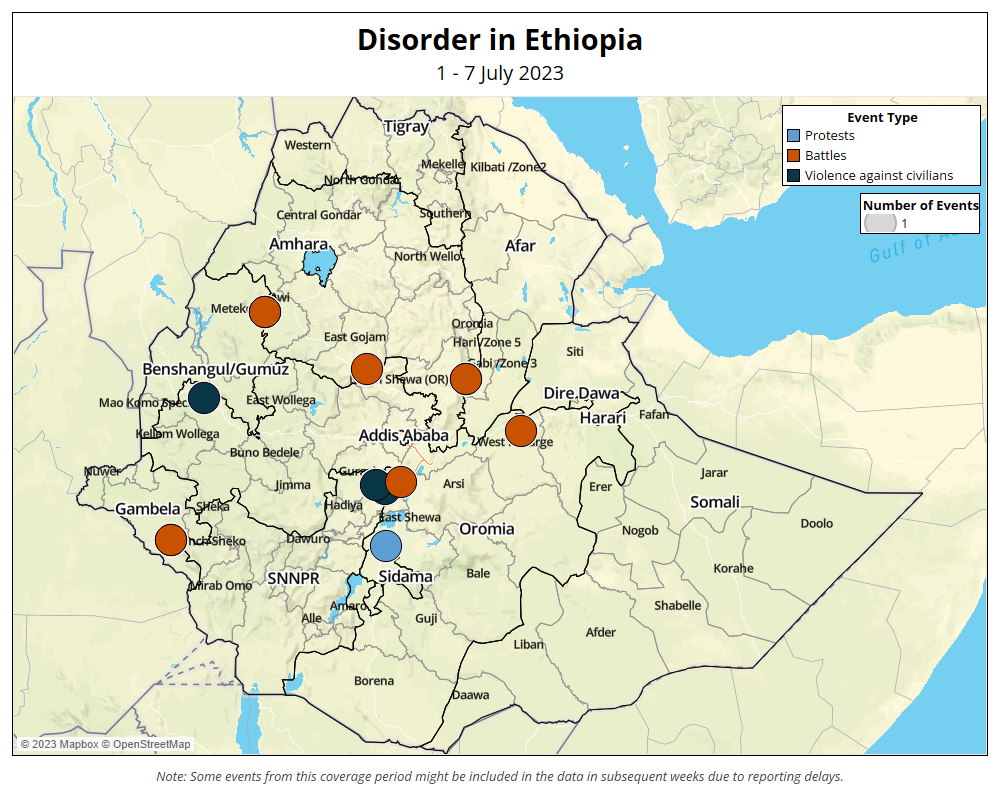 In Benshangul/Gumuz region, violence reemerged after several months of relative peace when militants from the Gumuz Liberation Front ambushed a convoy of security officials near Gilgel Belles town, resulting in 18 reported fatalities. The ambush came as security forces were attempting to retrieve the body of a civilian victim killed by the group the day prior.
Finally, in SNNPR, on 2 July, unidentified gunmen with suspected links to the Mareko ethnic group shot and killed five people, including three students, in Beche kebele in Misrak Meskan woreda, Gurage zone. The Mareko and Meskan people are ethnic communities who live in Gurage zone and have their own woredas – Mareko and Meskan woredas. There is a dispute over the ownership of nine kebeles in Meskan woreda between the two ethnic groups.4Getahun Asnake, 'tension in Gurage zone is high following the killing of five people by armed forces,' Addis Maleda, 4 July 2023; Borkena, 'Conflict in Meskan, Gurage, Reportedly Leaves Several People Dead, Thousands Have Been Displaced,' 19 May 2020 Violence erupted again on 5 July when unidentified gunmen attacked students taking the national exam in Meskan woreda. Gurage zone has been under military command since November 2022, when violent demonstrations against a proposed administration structure ended following hundreds of arrests.