By the Numbers: 2 April 2018-28 May 20211

Figures reflect violent events reported since Prime Minister Abiy Ahmed came to power on 2 April 2018.
Total number of organized violence events: 1,557
Total number of reported fatalities from organized violence: 7,713
Total number of reported fatalities from civilian targeting: 4,203
By the Numbers: 22-28 May 2021
Total number of organized violence events: 26
Total number of reported fatalities from organized violence: 398
Total number of reported fatalities from civilian targeting: 37
Ethiopia data are available through a curated EPO data file as well as the main ACLED export tool.
Situation Summary
Last week, instability due to armed clashes continued to challenge both Oromia and Amhara regional governments. In the early morning of 22 May 2021, 17 members of an armed group who are suspected to be members of the Gumuz People Liberation Movement crossed the border between Benshangul/Gumuz and Oromia and attacked civilians in Yambelgara Oli kebele in Nejo woreda (Oromia region). The armed group killed six people, injured one person, burned houses, and stole more than 12 cattle (VOA Amharic, 24 May 2021; DW Amharic 25 May 2021). The Gumuz People Liberation Movement is based in Benshangul/Gumuz region and it is believed that this group is the perpetrator of most attacks in the region.
Clashes between the government forces and the Oromo Liberation Front (OLF)-Shane continued last week in the West Guji zone in the Oromia region. On 22 May 2021, members of OLF-Shane ambushed a convoy carrying Gelan Woreda Peace and Security Officers traveling to Bore kebele for work. The attack occurred in the Chelbesa Shoro area in Gelan woreda. Due to this attack, seven people were killed, including the head of Gelan Woreda Peace and Security Office, an expert from the office, and five security forces. Eight other people were injured. Six members of OLF-Shane were subsequently killed by Oromia security forces when they were retreating from the area after the attack (VOA Amharic, 24 May 2021). This area borders Amaro Special woreda, an area frequently attacked by members of an armed group believed to be OLF-Shane (for more on the recent attacks in Amaro Special woreda, see EPO Weekly: 8-21 May 2021).
On 19 May 2021, OLF-Shane released three Chinese citizens kidnapped on 15 May 2021 from Mendi, West Wollega zone (Oromia region) (Addis Standard, 29 May 2021; BBC Amharic, 31 May 2021). The Chinese citizens worked at a mining company in the Mendi area. According to the spokesperson of OLF-Shane (also called the Oromo Liberation Army (OLA)) "the mining companies operating in this area have been responsible for the displacement of many farming communities that were not adequately compensated" (Odaa Tarbii, 15 May 2021; Addis Standard, 15 May 2021). OLF-Shane also stated that as they feel the current government is not legitimate, any current contract with the government is considered "null and void after 10 October 2020" (Odaa Tarbii, 15 May 2021; Addis Standard, 15 May 2021). 
In the Amhara region, the political disorder was recorded in the North Gondar zone. On 23 and 25 May 2021, Sudan and Ethiopian militias attacked an investors' camp in Tumet Mendoka kebele in Metema woreda. The militias destroyed three investors' properties and stole cattle, chicken, sheep, cotton, and food (VOA Amharic, 25 May 2021; DW Amharic, 27 May 2021). Metema woreda is known for cotton production and other cash crops. According to a witness interviewed by DW Amharic (27 May 2021), the Sudan militias are supported by members of the Gumuz People's Liberation Movement, the Tigrayan People's Liberation Front (TPLF), Qemant ethnic group militia, and Samri youth militia. Samri youth militia is composed of ethnic Tigrayan youths that are believed to have been involved in the killing of more than 600 ethnic Amharas in Miakadra in the Tigray region on 9 November 2020 (Ethiopian Human Rights Commission, 24 November 2020).
Meanwhile, the Gondar administration and Gondar Amhara Youth Association reported that the Amhara security forces successfully defended attacks by unidentified armed groups at Qusqam, Belajig Dabreka, and Azezo Sayid areas of Gondar in the Amhara region (DW Amharic, 28 May 2021). Armed clashes lasted for two days between 26 to 27 May 2021. The number of fatalities and injuries is unknown (DW Amharic, 28 May 2021). Since the beginning of 2021, Gondar has been the site of frequent attacks by a Qemant affiliated armed group (for more details, see EPO's Qemant Conflict page). Amhara regional authorities accuse the Tigray People's Liberation Front (TPLF) of backing violent Qemant ethno-nationalist movements by providing 'weapons and money' (BBC, 19 May 2021).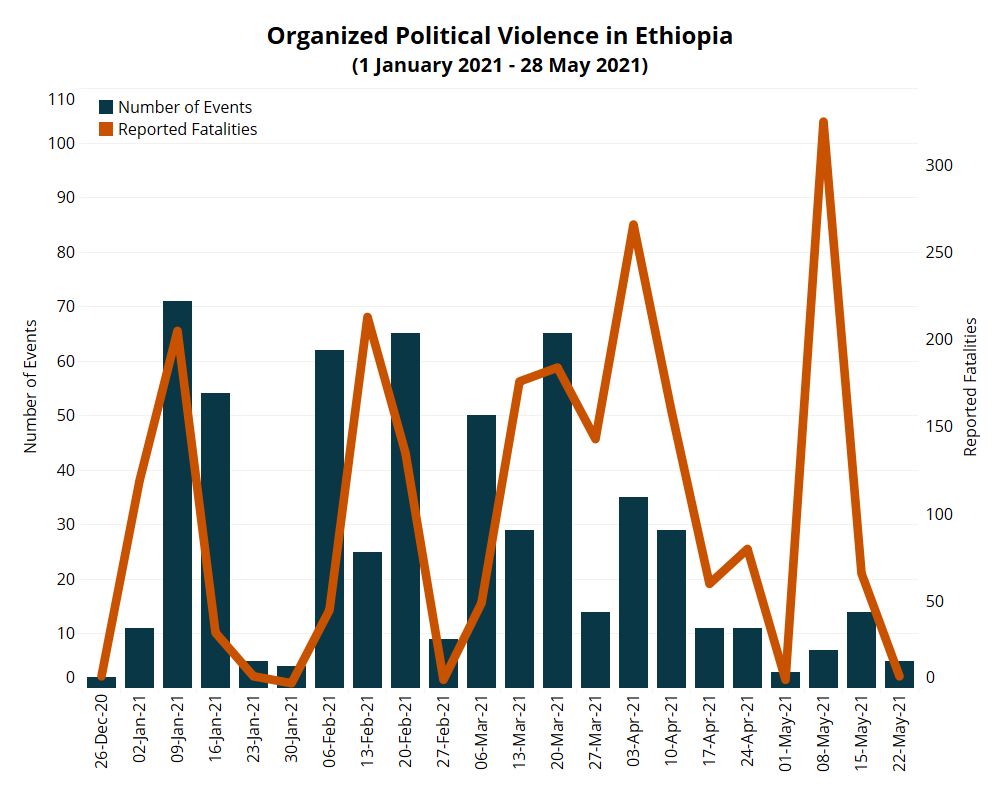 Weekly Focus: Conflict in Bench Sheko Zone
Last week, on 25 May 2021, protests were held condemning attacks that occurred on security forces in Mehal Sheko in Sheko woreda (Bench Sheko zone) (Bench Sheko Zone Communications Affairs, 25 May 2021). This protest took place after unidentified attackers in Sheko woreda in the Bench Sheko zone killed nine security officers and wounded three others on 18 May 2021. This was not an isolated event. From 1 April 2018 to 28 May 2021, ACLED records 7 organized political violence events and 93 fatalities in the Bench Sheko zone (see map below). Last week, residents and the administration of the Bench Sheko zone asked the Southern Nations, Nationalities and Peoples Region (SNNPR) government, as well as the federal government, to assist the zone in achieving peace and security. The Bench Sheko zone administration admitted that it is unable to control the recent violent conflict within the administration zone (Bench Sheko Zone Communication Affairs, 24 May 2021; South Bench Woreda Communication Affairs Office, 26 May 2021). According to the administration, since April 2018, 151 civilians and 28 security forces were killed due to the violent conflict; 29 security forces were injured. Furthermore, there are 21,938 internally displaced people in the Bench Sheko zone (Bench Sheko Zone Communication Affairs, 24 May 2021).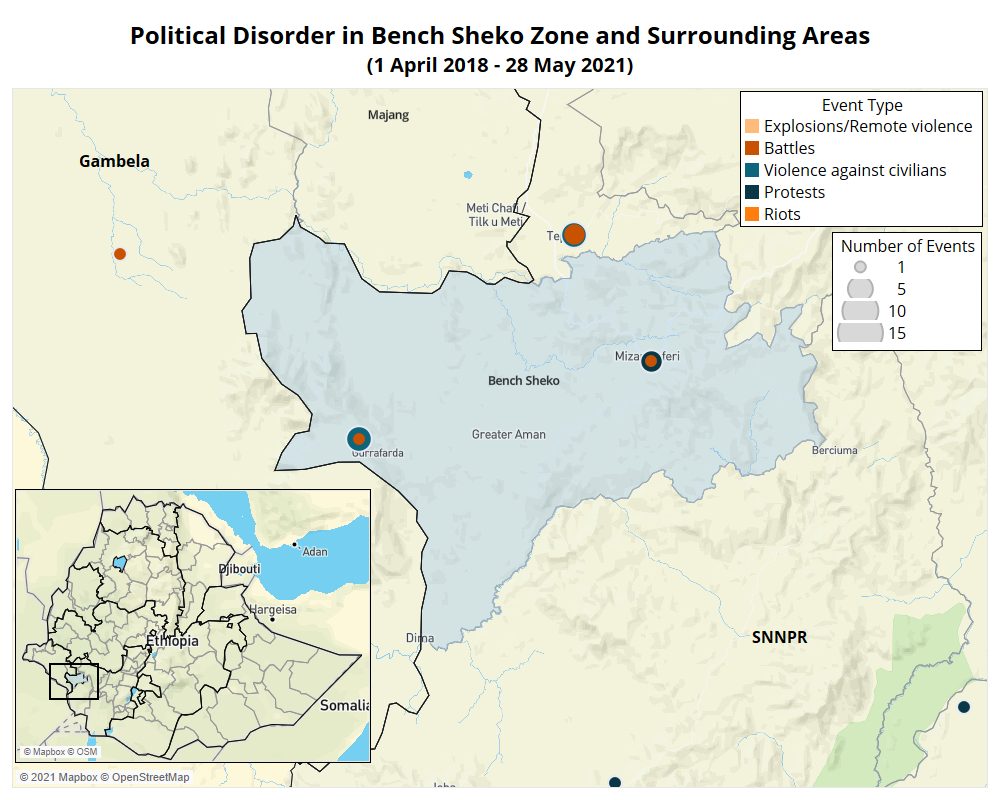 Bench Sheko (or Bench Maji) zone is inhabited both by ethnic groups considered indigenous to the region and other ethnic groups considered 'settlers.' The 'settlers' came to Bench Sheko zone as part of the resettlement programs of the mid-1980s and from 2003 to 2004. There are also economic migrants who travel to the region to work on commercial farms and artisanal gold mines. Violent conflicts between these indigenous and 'settler' groups, as well as between the indigenous ethnic groups, are caused due to resource competition and border conflicts (for more detail, see EPO's Bench Sheko (Bench Maji) zone conflict page). In June 2021, a referendum will be held in Bench Sheko zone. This referendum will decide whether or not five zones and one special woreda (Kaffa, Sheka, Bench Sheko, Dawuro, West Omo zones, and Konta special woreda) should  form an 11th region in Ethiopia, with the proposed name of the South Western Region. A failed referendum would mean that the area would remain under the administration of SNNPR.
Last week, local residents of Bench Sheko zone expressed frustration toward the federal government after the approved location for the future Mizan Aman airport was changed. Residents and local government officials protested this decision and indicated that this decision might ignite another violent conflict. The administration emphasized that this decision "looks down [on] our people" and requested an apology from the responsible institution (Bench Sheko Zone Communication Affairs, 24 May 2021).
Tigray Conflict Update
The United Nations Office for the Coordination of Humanitarian Affairs (UNOCHA) released a statement last week saying that humanitarian organizations are still facing restrictions of movement to deliver aid in some parts of the region. This is due to ongoing active violent conflict (UNOCHA, 27 May 2021). Furthermore, Ethiopian and Eritrean forces detained as many as 200 people on 24 May 2021 from the IDP camps located in Tsehaye and Adi Wonfito in Shire town in North-Western zone of Tigray region. The detainees were later released on 27 May 2021 (Ethiopian Human Rights Commission, 27 May 2021; VOA Amharic, 26 May 2021; 28 May 2021). Two detainees stated that the security forces beat them during these three days. During their three-day detention period, the detainees were asked to identify TPLF militia members (VOA Amharic, 28 May 2021).
On 26 May 2021, the government of Ethiopia stated that TPLF had assassinated 22 members of the Tigray provisional administration. TPLF also injured four other members and kidnapped 20 members of the provisional administration (Ethiopia State of Emergency Fact Check, 26 May 2021). Moreover, the Tigray Religion Institutions Council reported that 326 religious leaders were killed by Ethiopian and Eritrean forces (DW Amharic, 29 May 2021). The Tigray Religion Institutions Council consists of seven religious institutions. 
Update on Election Related Disputes
With the general election being three weeks away, the Ethiopian courts are rendering final decisions on different election-related disputes. On 27 May 2021, the National Electoral Board of Ethiopia (NEBE) asked the Federal Cassation Court for details of procedures on how to implement its last decision which ordered the registration of three members of Balderas for True Democracy (Balderas) for candidacy (National Electoral Board of Ethiopia, 27 May 2021). When the Balderas party tried to register these three members as candidates during the registration period, NEBE refused to register them as they were remand for a trial. After the latest decision of the court, NEBE stated that it is impossible to implement the court's decision because of legal and administrative limitations. Ballot papers are printed and ready for distribution, complicating last-minute changes.
The chairperson of Balderas party is one of the three members who originally could not register for the election. He is a top opposition politician challenging the ruling party, Prosperity Party, in the capital city, Addis Ababa. It is believed that if he joins the upcoming election as a candidate,  he will win the election as he has a lot of supporters in Addis Ababa. If his participation is denied, reactions from Balderas party supporters could provoke electoral violence.
Similarly, on 28 May 2021, the Federal Cassation Court upheld the decision of the Federal Supreme Court's decision for the Harari people who reside outside the region to be able to cast their vote for the Harari state council (for more details on this election dispute, see EPO Weekly: 3-9 April 2021 and EPO Weekly: 10-16 May 2021). It is not clear how NEBE will implement this decision on election day.