By the Numbers: Ethiopia, 2 April 2018-17 September 20211

Figures reflect violent events reported since Prime Minister Abiy Ahmed came to power on 2 April 2018.
Total number of organized violence events: 2,007
Total number of reported fatalities from organized violence: 11,886
Total number of reported fatalities from civilian targeting: 5,501
By the Numbers: Ethiopia, 11-17 September 20212
Some events from this coverage period might be included in the data in subsequent weeks due to reporting delays.
Total number of organized violence events:

14

Total number of reported fatalities from organized violence:

87

Total number of reported fatalities from civilian targeting:

60
Ethiopia data are available through a curated EPO data file as well as the main ACLED export tool.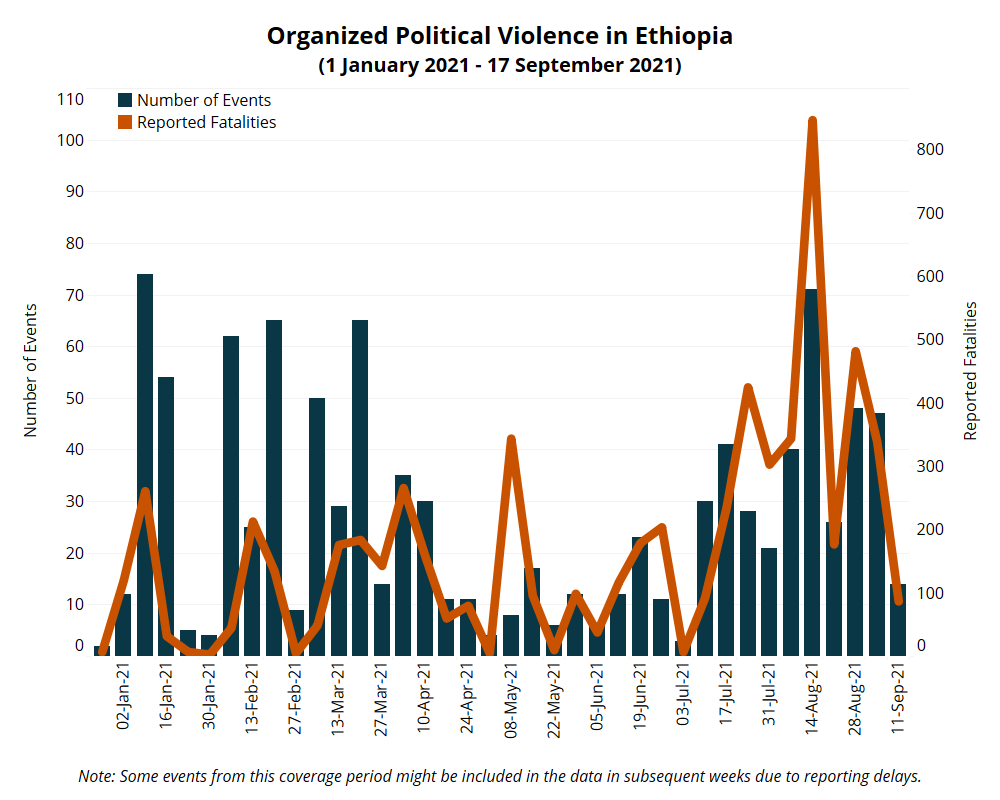 Situation Summary
In the first week of the Ethiopian new year, armed conflict and attacks on civilians continued in the country (see map below). However, the number of recorded clashes was not as high as in the previous weeks. Last week, government forces regained control of Meket, Haro, and Zarima cities in the Amhara region. Ethiopian National Defence Force (ENDF) continued to clash with Tigray People's Liberation Front (TPLF) forces in Belgudi area in the West Gondar zone in the Amhara region. As well, on 14 September 2021, TPLF affiliated Samri group and Qemant committee militias, fighting for greater autonomy for the Qemant ethnic group, clashed with ENDF, Amhara regional special forces, and Amhara militias in Lencha in the West Gondar zone. According to the government, anti-government forces associated with the TPLF and Qemant ethnic militias are entering Ethiopia from Sudan.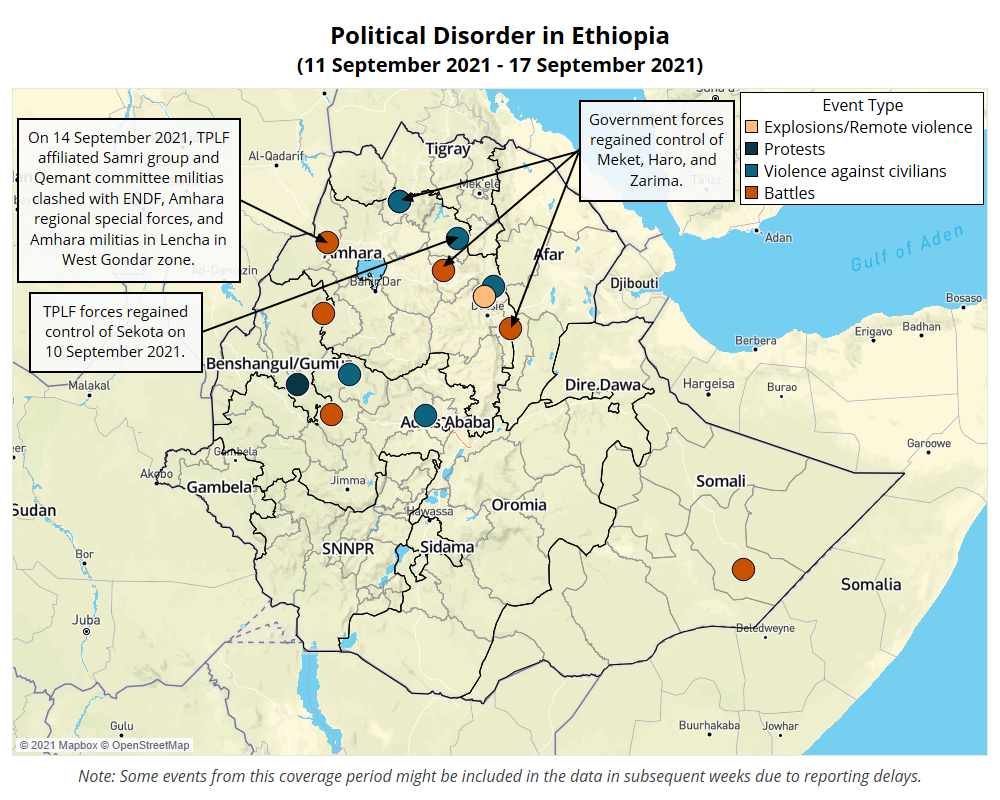 While humanitarian access to the Tigray region has improved, the situation in the region continues to worsen (UNOCHA, 16 September 2021). Some issues continue to hinder the delivery of the required humanitarian assistance to the Tigray region, including restrictions by the government and the lack of delivery trucks. According to both the government and UN Ethiopia, only 38 of 466 trucks that delivered aid to the Tigray region have returned (UN Ethiopia, 16 September 2021; Ministry of Peace, 17 September 2021). This has created a shortage of trucks that could transport food from Djibouti port to Tigray via the Afar region. The exact reason why the trucks have not returned is still unknown. In addition, the United Nations Office for the Coordination of Humanitarian Affairs (UNOCHA) stated that the ten checkpoints established by the government are delaying truck movements. The Ethiopian government has claimed to have reduced these checkpoints down to two (UN Ethiopia, 16 September 2021; Ministry of Peace, 17 September 2021).
Last week, there were also calls for humanitarian assistance in both Amhara and Afar regions. According to UNOCHA, 1.7 million people "are reportedly food insecure due to the conflict" in both Afar and Amhara regions (UNOCHA, 16 September 2021). For more on the humanitarian crisis in the north, see EPO Weekly: 4-10 September 2021.
Civilians continued to be caught in the conflict in both Amhara and Afar regions. Last week, different reports emerged showing the consequences of the conflict. One report stated that TPLF forces killed 24 civilians in 018, 020, and 09 kebeles in Worebabu woreda in the South Wello zone in the Amhara region (Amhara Media Corporation, 16 September 2021). Moreover, on 15 September 2021, three girls were killed, and another injured, when a grenade left by TPLF exploded in Worebabu. According to the report, the girls touched the grenade without knowing what it was (Amhara Media Corporation, 15 September 2021).
Meanwhile, in the Oromia region, the Oromo Liberation Front (OLF)-Shane continued to attack civilians. On 16 September 2021, OLF-Shane killed 17 people; six people are still missing in Kiremu woreda in the East Wollega zone (DW Amharic, 18 September 2021).
Last week, the Amhara, Sidama, Gambela, and Southern Nations, Nationalities and Peoples regional special forces arrived in Benshangul/Gumuz region at the invitation of the regional government (BBC Amharic 14 September 2021). These regional special forces will be under the Metekel Command post and assist in stabilizing the region. Attacks on civilians and clashes between unidentified armed groups, as well as a Gumuz armed group, and government forces are frequently recorded in the region. A command post led by ENDF was established on 23 January 2021 in the Metekel zone to create sustainable peace in the region but has had little success. On 13 September 2021, a Gumuz armed group clashed with federal police and local Benshangul/Gumuz militias in an area between the Debate (Amhara region) and Gilgel Belles. On the same day, residents of the Kemashi zone protested against attacks by armed groups in Kemashi town. They asked the government to take necessary action against the armed groups and stated that the Gumuz armed group does not represent the Gumuz people. For more on the conflict in Benshangul/Gumuz, see EPO Monthly: August 2021 and EPO's Metekel Conflict page.
Weekly Focus: US Sanctions on Ethiopia 3
This report's Weekly Focus features a guest contribution from Tiziana Corda, a PhD Candidate at NASP (Network for the Advancement of Social and Political Studies) at the University of Milan. Her research focuses on IR, foreign policy analysis, sanctions, and political violence.
Fighting by government-allied Amhara regional special forces, Amhara regional militias, and ENDF troops against TPLF forces has reached peak levels over the past few weeks. Changes in territorial control seen during the summer as the TPLF forces blazed southward have halted, and both sides appear to be deadlocked.
Reports of civilian casualties have risen, with accusations of indiscriminate shelling and targeted killing of non-combatants leveled at both parties. Medicines have almost run out and hospital staffers have not been paid since June (AP news, 20 September 2021). Amidst a worsening situation, United States (US) President Joe Biden signed an executive order "establishing a new sanctions regime that authorizes the United States to target any party responsible for or complicit in actions or policies that are prolonging the conflict in northern Ethiopia, and those that commit human rights abuses or obstruct humanitarian access and a ceasefire" (USAID Press Release, 17 September 2021). 
In understanding the impact of this executive order on the conflict in Ethiopia, there are several considerations. While this is a first step to imposing sanctions against both Ethiopian and TPLF officials, this executive order is not the imposition of sanctions, but rather a threat of sanctions. The executive order empowers the US State Department and Treasury to sanction those seen in the future as standing in the way of a negotiated peace in Ethiopia on all sides. No deadline for when the US expects conflict mitigating actions to be taken has been given (Al Jazeera, 18 September 2021). 
The release of an executive order to impose sanctions against Ethiopian authorities is significant as these pending sanctions are in addition to other sanction capabilities already enacted. To impose broad sanctions regarding some specific conduct, a sanction program must be created first. Otherwise, US authorities wishing to enact sanctions against an individual must resort to the use of the Global Magnitsky Act (GLOMAG), which is globally valid and not specific to any country or conflict (Human Rights First, April 2019). This option has already been used to enact sanctions against the Eritrean Defence Forces (EDF) Chief of Staff General Filipos Woldeyohannes for his role in perpetrating human rights abuses in the Tigray region (US Department of the Treasury, 23 August 2021). 
When the US announces a new sanctions regime, it will generally identify a number of targeted individuals by attaching an "annex list" to the executive order announcing the legal framework for the sanctions. The executive order published on Friday included no lists of targeted entities and individuals, and therefore is considered "empty" until said list is published. When US authorities enacted sanctions against South Sudan in April of 2014, it did so first without any sanctioned individuals (US Department of the Treasury, 3 April 2014). The first individual designations in South Sudan's case were given around a month later (US Department of the Treasury, 6 May 2014). If Ethiopia's case is similar to South Sudan, a list of sanctioned individuals will likely be released within the next month. Sanctions will also prohibit certain entities from engaging with each other: for example, US defence manufacturers could be prohibited from selling weapons to either Eritrea or Ethiopia (Addis Standard, 21 September 2021). 
Clearly, the US wishes for both warring parties to show a willingness to engage in peaceful dialogue, which has yet to happen. Recent statements by the US indicate that the 'de facto blockade' on Tigray must be stopped by the federal government. UNOCHA has also indicated that the dire situation in Tigray has worsened in recent weeks (UNOCHA, 16 September 2021). The federal government has indicated that the blockade has been eased substantially, but there are still great needs in Amhara and Afar due to fighting with Tigray forces. The government suspects aid intended for Tigray is being rerouted to supply TPLF forces rather than the population. This issue of how to secure aid for citizens in Tigray but not TPLF fighters is central to creating the initial space for negotiations to begin. 
Further, the US has not declared which processes (for example, the African Union initiative led by former Nigerian President Olusegun Obasanjo or mediation by Turkey) it will deem acceptable. While targeted sanctions are a possible way to incentivize individuals to join peace processes, they do come with some risks. Sanctions, and in particular asset freezing, affect only individuals with strong ties (and assets) in the United States. While many Ethiopian government officials at the national level have such ties, Amhara regional leadership and militia commanders, in particular, are unlikely to be affected. The effect of said sanctions could then be the further radicalization of armed groups in Ethiopia; inclusion on a sanctions list could trigger further 'bad behavior.'
This then begs the question, how much leverage does the US have over Ethiopian and TPLF authorities? And what effect will the sanctions have after being enacted months into the war?
As a long-time trade partner and the largest provider of humanitarian assistance to Ethiopia, the US does indeed have a sizable influence in Addis Ababa. TPLF, as the former central power in the country, likewise has a long history and relationship with the US; there is also a strong Ethiopian (including a sizable Tigrayan) diaspora. However, the leverage of the US over both is questioned, as the relationship between Addis Ababa and the US is extremely frayed. The US also appears to have little leverage over the politics or actions of TPLF forces.
In a published letter, Abiy has hit back against the announced sanctions, decrying "unwarranted pressure, characterized by double standards" (Abiy Ahmed Ali, 17 September 2021). He also pointed toward the TPLF's historical and contemporary pattern of human rights abuses, claiming that his Prosperity Party (PP) had won the election through a "landslide victory" to lead the country toward more equitable development (Abiy Ahmed Ali, 17 September 2021). However, voters in the Tigray region did not participate in the national election due to ongoing insecurity during the electoral period.
There is also the issue of the timing of the sanctions announcement. The imposition of sanctions at a time when the TPLF's rapid advance is being reversed — rather than when TPLF forces were on the offensive through July/August 2021– invites suspicions that the US is not impartial to the outcome of the war, or the negotiations (AA, 1 June 2021).  Additionally, following the latest national election, Abiy will be sworn into office along with members of the PP on 4 October 2021. He will be keen to begin his new term with a defeat of the TPLF. Beginning a new term in office while in a full-blown crisis, and amid a seizure of assets within the US, will be a major blow to Abiy's regime.
Ethiopian society is highly polarized, and support or opposition for sanctions will fall along existing political lines. TPLF supporters and other government critics will welcome action against Ethiopian officials, who they accuse of waging war against an ethnic population, rigging an election, and cracking down against journalists and activists throughout the country. Supporters of the government will decry them as unfair, one-sided, and view them in the specific context of the TPLF's poor human rights record throughout their rule between 1991 and 2018. Importantly, the Ethiopian diaspora in the US is large and highly connected to business partners in their home country. The sanctions will hurt — although exactly who is to be sanctioned and what conditions there are for removal have yet to be specified.
Election Dispute Update
On 30 September 2021, the sixth general election (delayed in some areas of Ethiopia since June) will be held in Harari, Somali and Southern Nations, Nationalities and Peoples Region. Last week, the Ogaden National Liberation Front (ONLF) decided to boycott the election because of the National Election Board of Ethiopia's (NEBE) failure to address the submitted pre-election disputes over voters' registration (Ethiopia Insider, 17 September 2021). ONLF is a strong opposition party in the Somali region, challenging Abiy's Prosperity Party. After Abiy's invitation to various armed opposition groups to return to Ethiopia, ONLF returned to the region after 24 years of armed struggle in December 2018 and demobilized its fighters.
According to the NEBE, in total, three out of five political parties — including ONLF, Freedom and Equality party, and Ethiopian Citizens for Social Justice (EZEMA) party — will boycott the upcoming election (Ethiopia Insider, 20 September 2021). Hence, only the Prosperity Party and the West Somali Democratic party are participating in the upcoming election in the Somali region. Opposition parties in the Somali region submitted their claims regarding voter registration irregularities. Based on these claims, NEBE halted voter registration in 11 election constituencies, contributing to the election delay. In August 2021, NEBE completely canceled voter registration in Jigjiga 1 and 2 election constituencies and Kebridehar town and woreda. For the remaining election constituencies, NEBE decided to cancel voter registration partially.