By the Numbers: Ethiopia, 17 June 2022-23 June 2023
Total number of political violence events: 1,105
Total number of reported fatalities from political violence: 5,428
Total number of reported fatalities from civilian targeting: 2,565
By the Numbers: Ethiopia, 17-23 June 20231
Some events from this coverage period might be included in the data in subsequent weeks due to reporting delays.
Total number of political violence events: 21
Total number of reported fatalities from political violence: 36
Total number of reported fatalities from civilian targeting: 36
Ethiopia data are available through a curated EPO data file as well as the main ACLED export tool.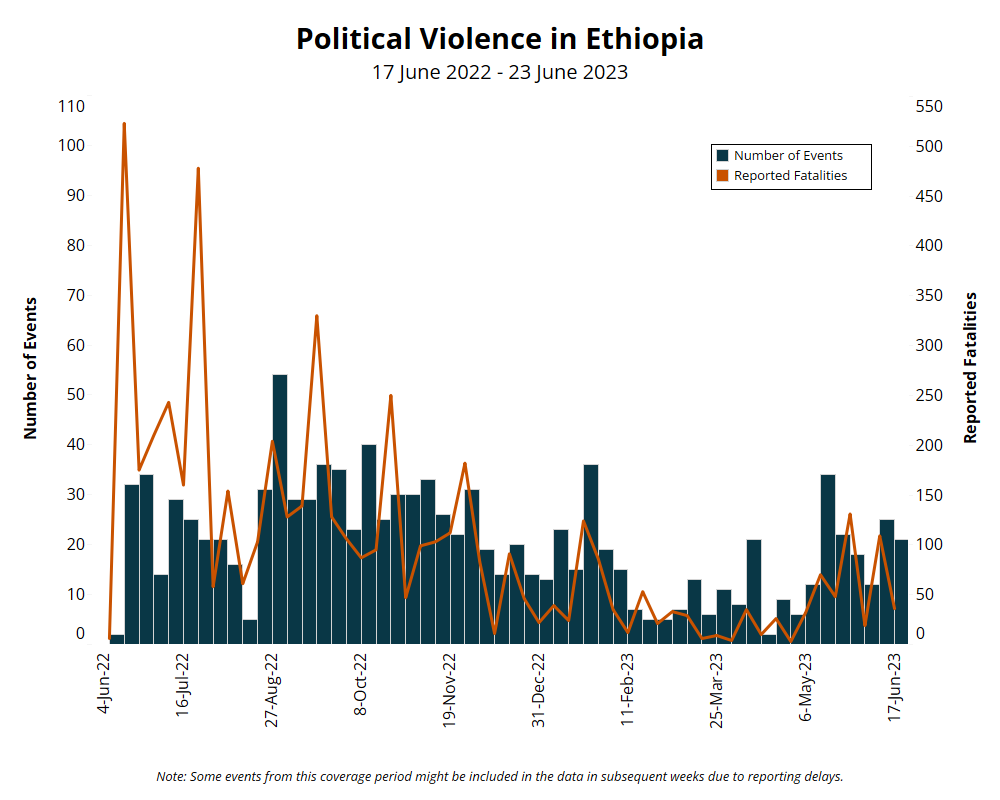 Situation Summary
Demonstrations by ethnic Amharas in contested territories in Tigray region persisted last week, while violent clashes and violence targeting civilians and government officials continued in Oromia region. Multiple demonstrations were also held in Amhara region, with demonstrators voicing different sets of demands.
In Tigray region, ethnic Amhara residents held demonstrations in Dima and May Tsemre in North Western Tigray zone, and Alamata in Southern Tigray zone (see map below). They requested the government not release the budget allocation for their towns to the Tigray regional state, and that identity-based governance requests be addressed. Currently, the Amhara regional state governs their towns and not the Tigray regional state. Despite being ethnically mixed, the areas of Tigray region bordering Amhara region were governed by the Tigray People's Liberation Front under Tigray region from 1991 to November 2020.2Sonja John, 'Civil rights activists in Welkait give hope for peace and democracy in Ethiopia,' London School of Economics and Political Science Blogs, 13 September 2021 Amharas living in these areas sought re-association with Amhara region during that time, and demonstrations similar to those recorded last week, were frequent. During the northern Ethiopia conflict, thousands of ethnic Tigrayans were displaced from these areas by violence at the hands of Amhara militias. Last week, a visit by diplomats from the United States embassy to Alamata sparked criticism from the president of the Tigray Interim Regional Administration, who described the visit as "sanctioning a patently illegal occupation of Tigray territory."3Twitter @reda_getachew, 22 June 2023
.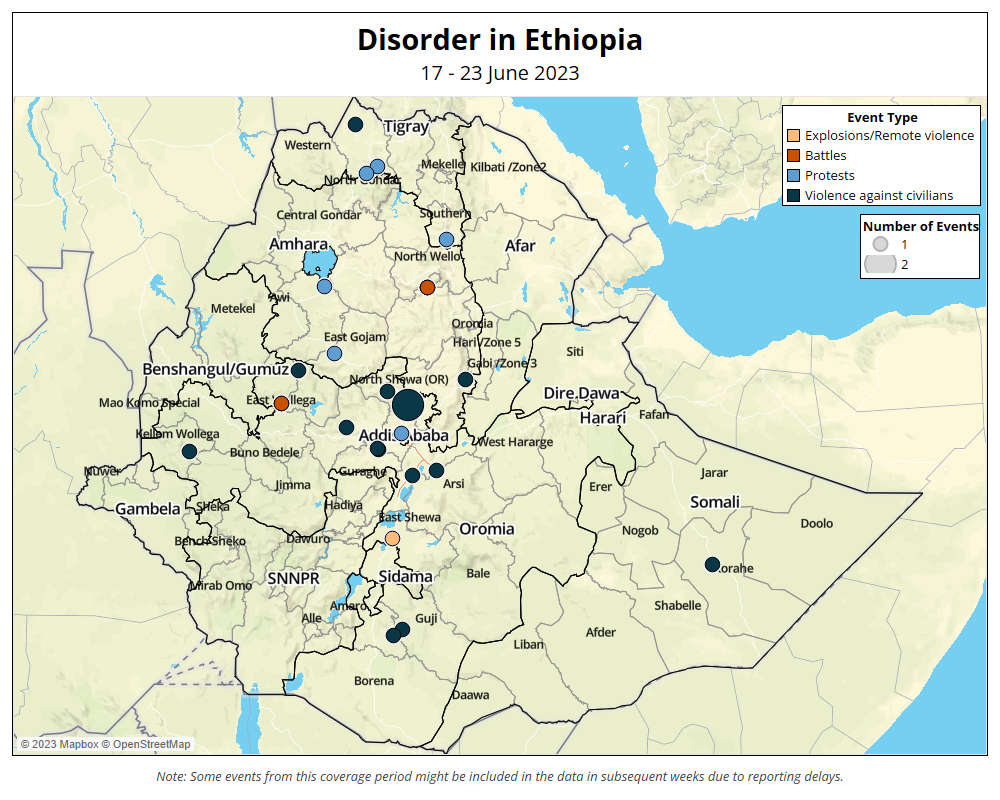 Meanwhile, in Oromia region, violence has continued unabated since the beginning of May when government and Oromo Liberation Front (OLF)-Shane representatives returned from a peace conference in Tanzania without agreeing on a ceasefire process (see EPO May 2023 Monthly for more information on the return of violence to Oromia following the Tanzania peace talks). Last week, suspected OLF-Shane forces shot and killed the head of Seden Sodo woreda in South West Shewa zone after holding him captive for several days and demanding ransom for his release. In another incident on 17 June, militants – allegedly  linked to the OLF-Shane – kidnapped at least 30 truck drivers in Ali Doro in North Shewa zone, demanding ransom. The incident sparked demonstrations in Amhara region. OLF-Shane representatives, however, have denied involvement in the kidnappings.4Voice of America Amharic, 'Residents of Emmanuel city, who protested against the abduction of drivers, clashed with police,' 21 June 2023 Abductions and violence targeting truck drivers along the Amhara-Oromia regional borders in North Shewa zone occur occasionally, and several drivers have been killed in the area over the past year.
Also in Oromia region, government forces shot and killed alleged OLF-Shane sympathizers. On 19 June, the Ethiopian National Defence Forces (ENDF) shot and killed four civilians from the same family in Genji Goro Hore kebele after accusing them of supporting the OLF-Shane.5Addis Standard, 'Gov't forces accused of executing four in Ambo, two in Guji, Oromia region on suspicion of supporting OLA,' 22 June 2023 In another incident, ENDF forces shot and killed two young men in Dawa town of Malka Soda woreda in West Guji zone. They had been arrested a day earlier on suspicion of supporting the OLF-Shane.
In the northwestern part of Oromia region, violent clashes between the OLF-Shane and local Amhara militias as well as civilian targeting incidents were reported during the past two weeks, with violence occurring in Kiremu in East Wollega zone and Amuru in Horo Guduru Wollega zone. Violence has escalated in the northwest area of Oromia following a surge in political violence in the region in November 2022 (see EPO December 2022 Monthly and EPO November 2022 Monthly for more details on the escalation and geographical expansion of violence in Oromia).
Finally, in Amhara region, farmers held a protest in front of the regional administration and agricultural offices in Bahir Dar in West Gojam zone on 19 June. Protesters demanded that local authorities address fertilizer needs and accused the government of diverting fertilizers to private traders.6VOA Amharic, 'The farmers of Gojam zone, whose seeding season has passed due to lack of fertilizer, marched for the third time,' 19 June 2023 Another protest was held on the same day in Amanuel town of East Gojam zone. Demonstrators called on the government to deliver on its responsibility to protect civilians after truck drivers from the area were kidnapped in Ali Doro in Oromia region. Amhara regional state police forces fired live bullets to disperse the protesters, reportedly killing one person and wounding four others. A few days later, on 22 June, protesters gathered in Delanta woreda in South Wello zone to denounce the rape of a child by an ENDF soldier the previous day, and to ask that government forces leave the town. A clash between ENDF forces and Fano militia members was reported in the same town the day prior to the demonstration.