November at a Glance
 VITAL STATS
ACLED records 118 organized political violence events and 477 reported fatalities in November.
By a large margin, Oromia region continued to have the highest number of reported events and fatalities due to organized political violence, with 112 events and 447 reported fatalities. Somali region followed, with 18 reported fatalities.
In November, the most common event type was battles, with 61 events and 139 reported fatalities, followed by violence against civilians, with 48 events and 253 reported fatalities.
VITAL TRENDS
In November, recorded events due to organized political violence reached an all-time high of 112 in Oromia region, surpassing the previous high of 74 in June 2022.
Relative to Oromia region, only six political violence events were reported throughout the rest of the country in November.
Violence significantly decreased in Tigray region as a result of the agreed ceasefire. Ceasefire violations were reportedly perpetrated by Eritrean forces in Tigray region and included the killing of civilians, looting, and forced displacements.
Clashes in Oromia region involved a variety of actors, including the Oromo Liberation Front (OLF)-Shane, the Ethiopian National Defense Force (ENDF), Oromia regional special forces, Amhara ethnic militias, Fano militias, and Oromo kebele militias.
Violence targeting civilians also continued in Oromia region, with both OLF-Shane and government forces accused of acts of violence against civilians. These events correlate with areas of conflict between the government and OLF-Shane.
In This Report
November Situation Summary
Monthly Focus: Conflict Intensifies in Oromia Region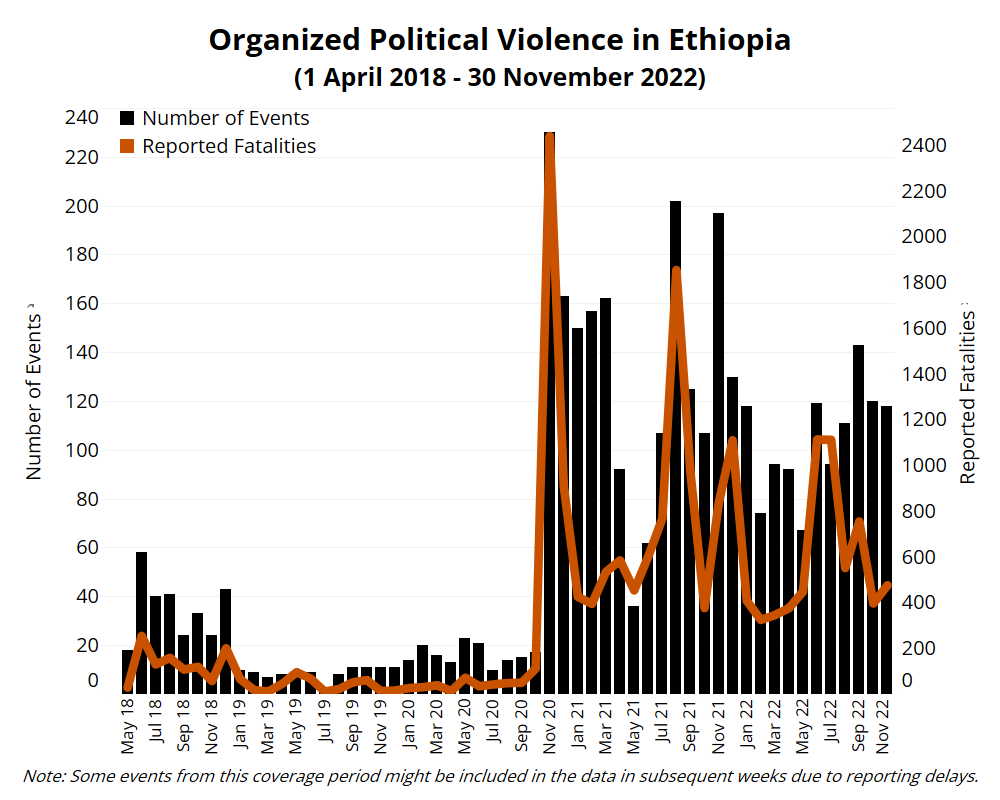 November Situation Summary
In Tigray region, the peace negotiations initially brought violence to a standstill. On 2 November, the Ethiopian government and the Tigray People's Liberation Front (TPLF) signed the Agreement for Lasting Peace through Permanent Cessation of Hostilities in Pretoria, South Africa, after 10 days of negotiations. This agreement was followed by six days of discussion in Nairobi, Kenya, after which the heads of the ENDF and TPLF forces – also known as the Tigray Defense Forces (TDF) – signed the Declaration of the Senior Commanders on the Modalities for the Implementation of the Agreement for Lasting Peace Through a Permanent Cessation of Hostilities (see EPO Weekly: 29 October-4 November 2022 and EPO Weekly: 12-18 November 2022 for more details on these documents). Early reports indicate that both sides are following through with the agreements made, and TPLF officials have stated that their forces have begun to withdraw from Mai Kenetal, Zalambessa, Nebelet, Chercher, Kukufto, Hgumbirda, Beri Teklay, and Abergele fronts, as agreed (TPLF, 1 December 2022; Addis Standard, 2 December 2022). Government forces have likewise begun restoring basic services like electricity services to the region, with telecommunication services in Shire expected to start "within days" of the first of December (Ethiopia Insider, 1 December 2022; EBC, 28 November 2022).
Despite the peace agreement specifying that foreign forces were to withdraw from Tigray region, Eritrean forces were reported to have attacked and killed an unspecified number of civilians, and looted shops and vehicles in "at least a dozen towns in northern and northwestern Tigray since the ceasefire" (Reuters, 2 December 2022).
Elsewhere, in Gambela region, ​​on 9 November, Murle ethnic militiamen from South Sudan ambushed Gambela regional special forces in Bandera kebele in Dima woreda of Agnewak zone, killing two regional police officers, including a woreda police commander, and wounding another officer. Government forces had been pursuing the armed attackers following their failed attempt to stop a civilian vehicle that had escaped an attack the day before.
In Somali region, limited clashes were recorded between Somali and Afar ethnic militias in Dheymeed woreda in Siti zone and Degahamedo woreda in Jarar zone on 9 November, resulting in 18 reported fatalities. Conflict is common in this area, as it is contested between the Afar and Somali regional governments (see the EPO Afar-Somali Border Conflict page for more details on the origin of this conflict).
In Southern Nations, Nationalities and Peoples region (SNNPR), on 18 November, a violent demonstration was held by residents of Welkite town in Gurage zone, in opposition to a recently proposed "cluster-based administrative structure." In response to the violence, the head of the SNNPR Peace and Security Office announced that starting from 24 November, Gurage zone will be administered under a command post led by the federal police and regional special forces. According to local authorities, "it is becoming difficult to administer and control the security issues in the zone through a normal process as a result of the request for the zone to be recognized as a region" (South Radio and Television Agency, 24 November 2022). Hundreds of arrests, including of a member of the SNNPR council, were reported following the establishment of the command post (VOA Amharic, 23 November 2022; Ethiopia Insider, 1 December 2022).
The conflict in Oromia region is covered in the monthly focus below.
Monthly Focus: Conflict Intensifies in Oromia Region 
Even as Ethiopia's northern conflict cools after warring parties signed a peace agreement, conflict in Oromia has been intensifying significantly, with the region recording an all-time high of organized political violence events last month (see graph below).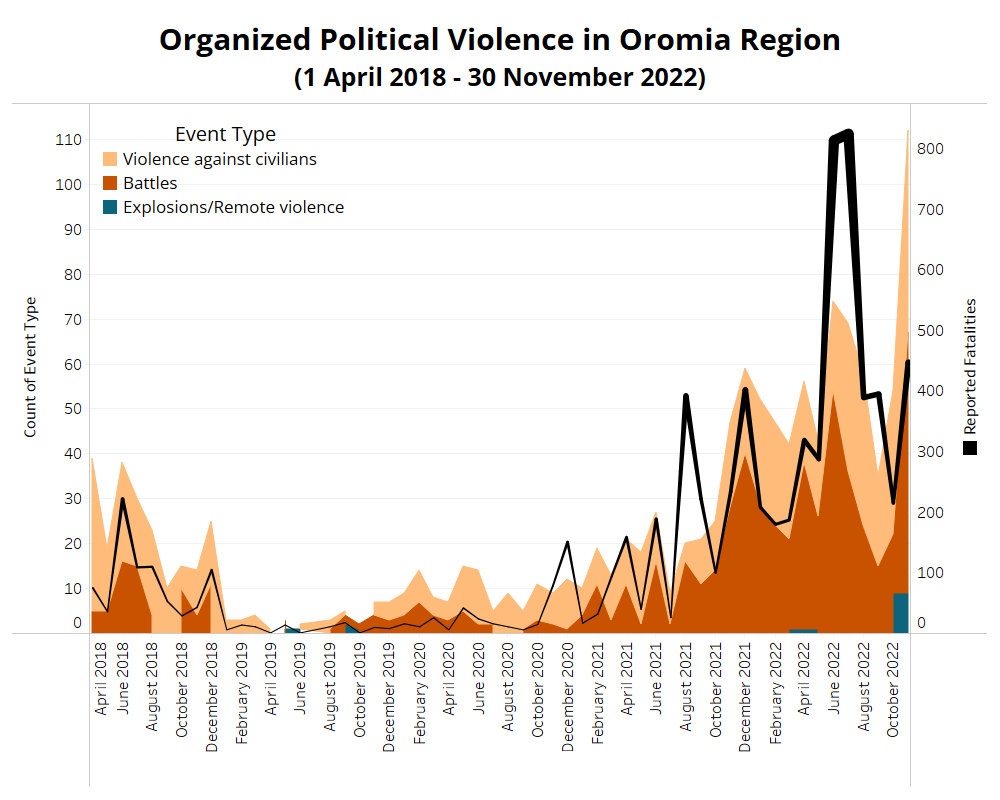 As attention turns to Oromia and its multi-layered conflict, the question arises as to whether this conflict could reach the same intensity as that in the north, with its accompanying destruction and economic impact. In this monthly focus, the current dynamics of the Oromia conflict as witnessed during the month of November are outlined with a view to analyzing the potential for the conflict to reach comparable levels to the northern conflict and the possible consequences.
Oromia in November
ACLED records a rise in organized political violence in Oromia region, reaching an all-time high in November. At the beginning of the month, OLF-Shane forces launched unprecedented attacks against urban centers, including the towns of Mendi in West Wollega zone, Nekemte in East Wollega zone, and Gundo Meskel in North Shewa zone (see map below). In Nekemte town, OLF-Shane forces temporarily seized control of an Oromia regional special forces base and prison, freeing prisoners and taking weapons (Addis Standard, 9 November 2022). Shortly afterward, OLF-Shane forces controlled Mendi town for a period of six to seven days, after which government forces retook control on 10 November. OLF-Shane fighters reportedly burned houses and looted banks in Gundo Meskel in North Shewa zone before retreating. It was reported that out of 21 woredas in East Wollega zone, the armed group regained control of 11 woredas within the first two weeks of November (Ethiopian Reporter, 6 November 2022). By the end of the month, the ENDF reportedly managed to regain control of some of these woredas (EMS, 19 November 2022).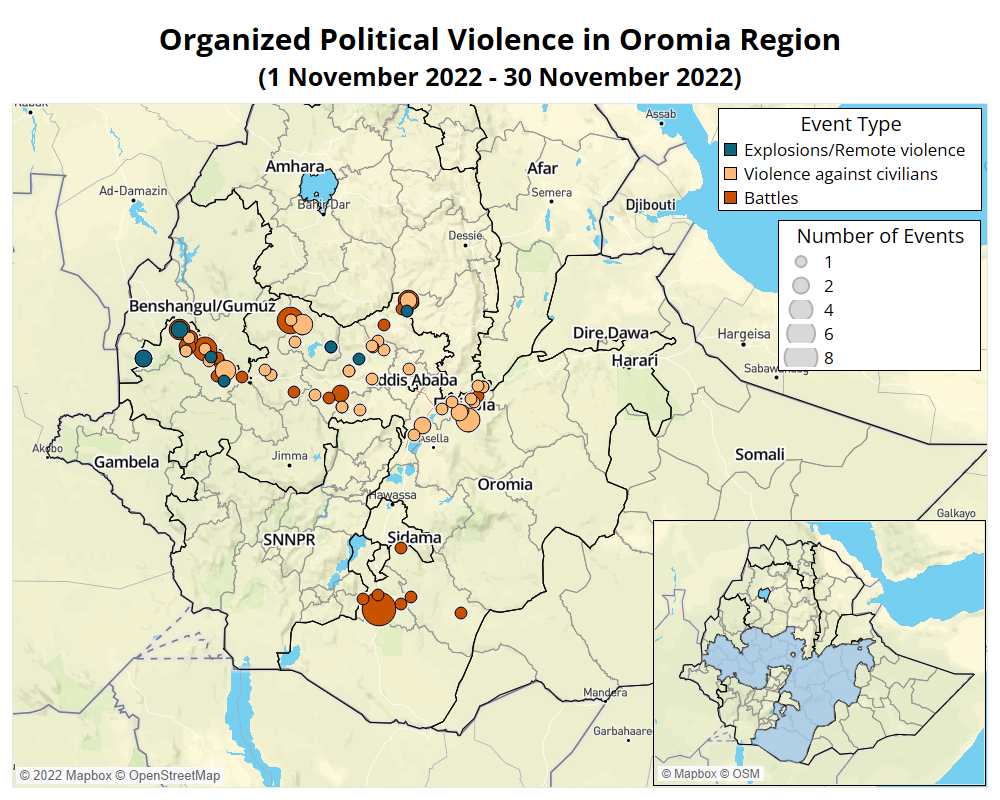 During the month, the OLF-Shane also took control of large amounts of rural territory in West Wollega zone, including "almost all 32 kebeles in Gimbi woreda" (Ethiopian Reporter, 6 November 2022). Re-ignited battles were likewise reported in West Guji zone between OLF-Shane militants and local militias, with the OLF-Shane maintaining control of Liben, Jidola, Wadera, and other kebeles in Guji zone. As the OLF-Shane's influence has increased and the presence of security forces has become less consistent, communal violence has also surged. In November, violence intensified in the northern parts of East Wollega and Horo Guduru Wollega zones, as battles were fought between Amhara ethnic militiamen and associated Fano militias against Oromia regional special forces. Violence involving ethnic Amhara militias in these areas of Oromia has worsened significantly over the past year and reached a critical level, with high numbers of displaced civilians of Oromo and Amhara ethnicities reported (VOA Amharic, 24 November 2022; VOA Amharic, 23 November 2022).
Oromia Conflict: Is Further Escalation Likely?
The initial success of the peace agreement struck between Ethiopia's federal government and TPLF suggests that the federal government may have considerable security resources it could shift to the frontlines in Oromia in the near future. Despite the likelihood of thousands of new troops and heavy equipment being sent to Oromia in the coming months, it is unclear how effective a new buildup might be. The ENDF, despite demonstrating a renewed and formidable fighting capability over the past few months in Tigray region against the TPLF, has encountered challenges when confronting insurgent-type fighting. This was seen in the ENDF's difficulty controlling Tigray region throughout the conflict and subsequent loss of territory against insurgent TPLF forces in 2021 (New York Times, 2 July 2021). Ethiopia's dedicated counterinsurgent forces are the regional special forces, who appear to be ineffective at stopping the OLF-Shane's advance.
A further escalation in fighting in Oromia is likely as OLF-Shane fighters move into new locations and government forces intensify efforts to stamp out the insurgency with newly available resources. This has already been seen in the form of government drone-assisted airstrikes against the group which have been increasing in frequency and associated reported fatalities (see EPO Monthly: October 2022 for more information on government airstrikes against the OLF-Shane). Yet, the efficacy of these measures is disputable. On the one hand, like in Tigray region, airstrikes make it much more difficult for insurgent fighters to gather in large groups and have prevented the OLF-Shane from utilizing convoys of vehicles. Some experts on drone warfare have indicated that drones in Ethiopia's conflict "are becoming a game changer" (New York Times, 20 December 2021). On the other hand, intensified strikes over the past two months have resulted in a high number of reported civilian casualties, prompting more local support for anti-government forces.
Conflict in Oromia is complex, and as an increasingly diverse set of actors – like militias from Amhara region – deepen their involvement, the conflict has intensified and expanded beyond local contexts. As the OLF-Shane has taken control of more territory, insecurity in the region has led to the flaring up of communal conflict in ethnically diverse areas, like those that border Amhara region. In areas of East Wollega zone, ethnic Amharas that settled in villages south of the Amhara-Oromo regional border during the 1970s and 1980s have occasionally clashed with the Oromo inhabitants over land and resources (Teferra, 2017). These clashes have worsened significantly since Prime Minister Abiy Ahmed took power, and limited but regular clashes between Oromo and Amhara ethnic militias occur, often accompanied by mass displacements of civilians (VOA, 23 November 2022). As these local conflicts over farmland and resources have intensified, they have drawn the involvement of other groups. Forced displacement of Amharas from farmlands in Oromia has prompted the formation of Amhara militias – sometimes identified as Fano who traveled from Amhara region – in response (Curate Oromia, 17 October 2022).
Some of the most intense violence to occur in this area was recorded during the month of November. On 29 November, Amhara forces – presumably Amhara ethnic militia members – clashed with Oromia regional special forces in Kiremu and killed at least 11 people, including 10 regional special forces and a local administrative authority, identified to be a Kiremu District Court judge. A day earlier, an unidentified armed group reportedly shot and killed more than 100 people sheltering in a school due to the ongoing violence in Kiremu woreda. Earlier, on 18 November, Oromia regional special forces transporting ethnic Amhara prisoners from Kiremu woreda in East Wollega zone to Nekemte town for trial were attacked by Fano militias, sparking four days of intense violence with a high number of reported fatalities, including among Amhara civilians (see EPO Weekly: 19-25 November 2022 for more details on these events). Attacks by Fano militias against Oromo civilians were widely reported days prior to clashes in Kiremu in Alibo town in Jarte Jardega woreda in Horo Guduru Wollega zone, located around 20 kilometers to the east of Kiremu woreda (BBC Afan Oromo, 19 November 2022). The OLF-Shane has responded to similar events in the past and confirmed that it was actively involved in clashes against Amhara militias, including Fano militias, stating that it "drove back an earlier contingent of Amhara regional militia that committed heinous killings and attempted to stir ethnic conflict" (Ethiopia Insight, 1 June 2022).
There are hundreds of ethnic Amhara communities – large and small – throughout western Oromia in both rural and urban settings. As the conflict in Oromia intensifies, it is likely that inter-ethnic violence affecting these communities will likewise increase.
Consequences of Escalated Fighting in Oromia Region
In the scenario that fighting further intensifies in Oromia region, the effect on the rest of the country has the potential to become a major crisis. In contrast to Tigray region, which is located in the far north and away from the country's capital, Oromia is centrally located in the country, surrounding the capital, Addis Ababa, and bordering nine regions and Dire Dawa city. Communication blackouts in Tigray and western Oromia throughout the past two years mean that both of these regional conflicts have been fought in an information-poor environment; residents outside of these areas find it hard to gain information about the conflicts unless through personal connections with those in affected areas.
The current conflict has been concentrated in the western and southern edges of Oromia region. However, should fighting expand into the central and eastern parts of the region (for example, Arsi and Hararge zones), the repercussions of impending insecurity and associated economic consequences could be severe. Transportation routes through North Shewa zone to Amhara region and through Adama-Metehara to Djibouti have already been intermittently affected due to armed clashes and frequent abduction of civilians by the OLF-Shane (Ethiopia Insider, 9 February 2022). This has been impacting the transportation of goods within the country as well as goods imported through Djibouti port. As a result, there have been increases in the price of basic food necessities in different parts of the country. For instance, in November, the OLF-Shane closed the main road connecting Asosa zone of Benshangul/Gumuz to Addis Ababa through Nekemte town. The group also reportedly abducted an unidentified number of drivers who were going to Asosa. According to witnesses, civilians, including truck and bus drivers, were stuck in Gimbi town for several weeks due to the closure of the main road. Consequently, basic necessities could not enter Asosa zone, leading to price increases in the area (DW Amharic, 9 November 2022). UN Office for the Coordination of Humanitarian Affairs (UNOCHA) reports have confirmed this, indicating that "there is no road access along the main Assosa-Addis route via Oromia since 31 October, blocking both humanitarian and commercial supplies" (UNOCHA, 17 November 2022).
Yet, distinctions in capacity are important. The OLF-Shane does not have the capacity, or the military equipment, to challenge the ENDF directly as the TPLF has done over the past two years. Additionally, while the OLF-Shane may enjoy a limited degree of support among the population, it does not have the internal and international political resources that the TPLF carefully curated over its 27 years in power. Despite the formation of the  United Front of Ethiopian Federalist and Confederalist Forces in November 2021, with the OLF-Shane and the TPLF being key members, no joint operations have occurred since, and the link between the two forces appears to have disintegrated with the TPLF's retreat from Oromia special zone in Amhara region later in the same year. Thus, the likelihood of the OLF-Shane being able to engage in a conflict on the scale of that witnessed in the north is very low.
The OLF-Shane leadership does not appear to have the motivation to engage in a peace dialogue. In a recent statement, the OLF-Shane blamed the government for an escalation in the conflict and rejected mediation efforts by traditional leaders reportedly sent by the government (Twitter @OdaaTarbiiWBO, 29 November 2022). Likewise, Ethiopian government officials have expressed their reluctance to negotiate with the OLF-Shane based on the lack of a singular representative political or military command structure (EBC, 30 November 2022).
Unless government and OLF-Shane forces enter a period of sincere negotiations, the continuation of conflict in Oromia is inevitable. Given the current circumstances, the conditions for civilians, especially those living in zones of territorial conflict in the northwest of Oromia region, will likely continue to worsen.