By the Numbers: Ethiopia, 22 July 2022-28 July 2023
Total number of political violence events: 1,052
Total number of reported fatalities from political violence: 4,445
Total number of reported fatalities from civilian targeting: 1,931
By the Numbers: Ethiopia, 22-28 July 20231
Some events from this coverage period might be included in the data in subsequent weeks due to reporting delays.
Total number of political violence events: 11
Total number of reported fatalities from political violence: 49
Total number of reported fatalities from civilian targeting: 3
Ethiopia data are available through a curated EPO data file as well as the main ACLED export tool.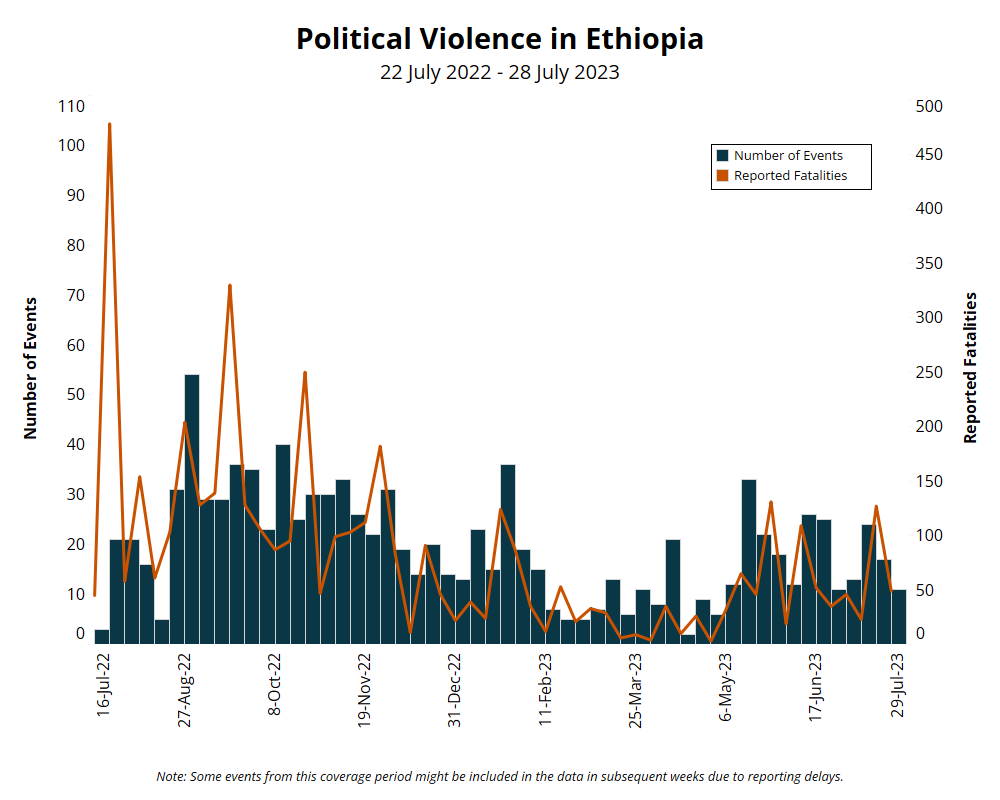 Situation Summary
Several armed clashes between government security forces and Fano militias were reported in Amhara region last week, while the rest of the country remained relatively peaceful. ACLED records eight armed clash events between government forces and Fano militias in Amhara region during the last week. These armed clashes were concentrated in North Shewa, North Wello, Central Gondar, South Gondar, and South Wello zones (see map below), and mostly involved Fano militias fighting with the Ethiopian National Defense Force (ENDF). In addition to these clashes, on 23 July, a group of youths blocked the road and threw stones at ENDF soldiers in Mekane Selam town in South Wello zone. The demonstrators demanded the release of an alleged Fano member arrested by the ENDF. In response, the ENDF fired live bullets at them, killing two and wounding six others. An unknown number of ENDF soldiers were also injured.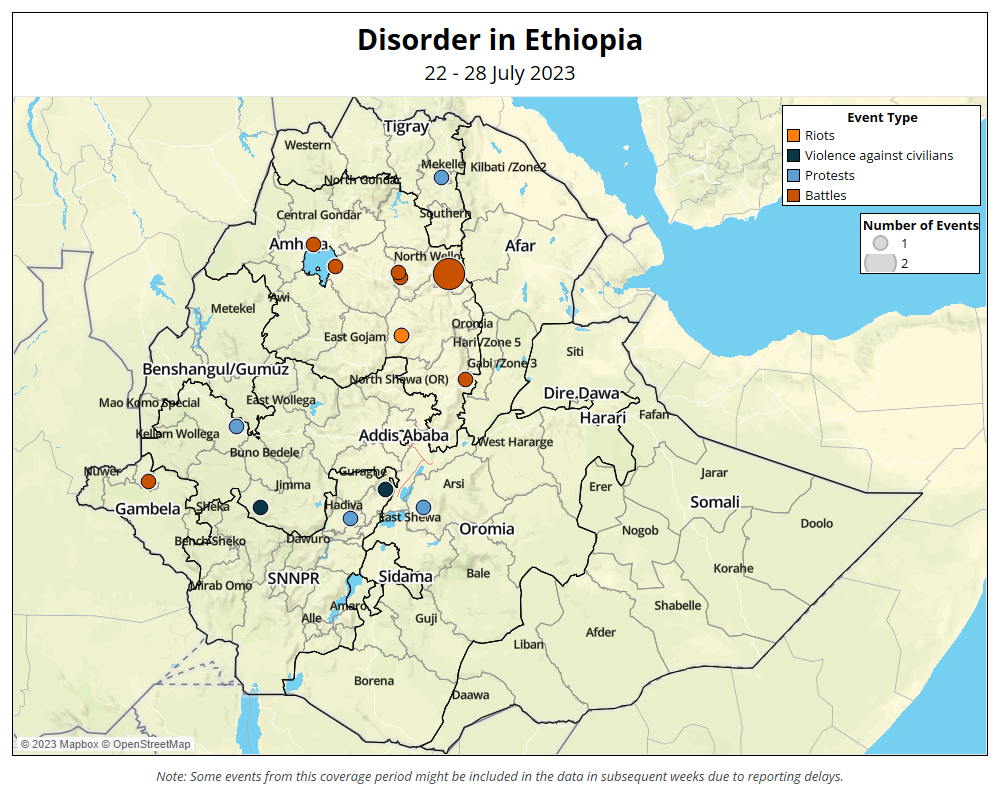 Since the government announced the integration of regional special forces into different security sectors in April, Amhara region has been one of the most unstable regions in the country (for more, see the EPO April 2023 Monthly report). Since April, most armed clash events between government forces and Fano militias have been recorded in North Shewa and North Wello zones. Last week, ENDF members were reported to beat residents suspected of supporting Fano militias or accused of downloading music and pictures that support the Fano, while conducting house searches in North Shewa zone. One civilian was reportedly shot and killed, and another was beaten to death on 28 July.2 Getahun Asenake, 'It is stated that the security forces are conducting house-to-house searches and harassment in Shewa Robit town,' Addis Maleda, 30 July 2023 Moreover, last week, the regional president removed the regional state security advisor and the deputy head of the Amhara Region Peace and Security Office. The regional state security advisor was removed "for not properly conducting his tasks and responsibilities," but he denied the accusation, citing a good evaluation at a conference held a day before his removal.3 Amanuel Yilikal, 'The Deputy Head of the Peace and Security Bureau of the Amhara Region and the Security Adviser to the Head of State removed from their positions,' Ethiopia Insider, 26 July 2023 The reason behind the removal of the deputy head of the regional peace and security office is unknown.
Elsewhere, fighting between Anyuak and Nuwer ethnic militias continued in Gambela region. On 24 July, Anyuak and Nuwer ethnic militias clashed in Hulde kebele in Itang Special woreda, resulting in at least 12 reported fatalities. The recent round of clashes between these two groups started in mid-July (see the EPO Weekly: 15-21 July 2023).
In Southern Nations, Nationalities and Peoples region (SNNPR), unidentified gunmen reportedly shot and killed three people in Beche kebele in Misrak Meskan woreda, Gurage zone, on 23 July. Since the beginning of July, there has been a new round of violence against civilians from Meskan and Mareko ethnic groups in Misrak Meskan woreda (for more, see the EPO Weekly: 1-7 July 2023 and EPO Weekly: 15-21 July 2023).
Demonstrations by farmers in connection with the shortage of fertilizer in the country have continued in various parts of the country. Last week, farmers of Hadiya zone staged a protest in Hosaena town. The protesters stated that their fertilizer quota was diverted to local traders, and that they were unable to afford the high prices set by the traders. SNNPR state police forces fired in the air and beat the farmers who were heading to the zonal administration to voice their complaints. An unknown number of protesters were injured due to stamping and beating. Police forces also arrested 11 people for participating in the protest. Likewise, farmers staged a protest in Bura Jale and Waji Gush kebeles in Arsi zone of Oromia region to demand fertilizer for their farms. Government security forces beat and dispersed the protesters.
Lastly, two unprecedented events were reported in which local officials apologized for their 'wrongdoings' last week. On 28 July, public employees of Hawasa city in Sidama region staged a rally and asked the public to forgive them for not properly providing services by "repeatedly abusing the provision of social services, corrupt practices, accepting bribes, extorting clients, and stealing government hours."4Yonatan Zebdiyos, 'Workers in Sidama region apologized for not properly serving the society,' VOA Amharic, 28 July 2023 Similarly, officials of Gera woreda in Jimma zone, Oromia, have officially apologized to the residents for the conduct of security forces, the head of the Woreda Peace and Security office, and the head of the Woreda Prosperity Party, after they forced four farmers to undress, kneel, and then beat them in front of a crowd of local people in Borcho Deka kebele. The farmers had requested tax receipts from local authorities after paying their land taxes.5Addis Standard, 29 July 2023 The zonal authorities condemned the attack and announced the arrest of the local officials involved in the incident after video footage of the scene was widely circulated on social media and caused uproar and distress among concerned citizens.