By the Numbers: Ethiopia, 15 July 2022-21 July 2023
Total number of political violence events: 1,058
Total number of reported fatalities from political violence: 4,471
Total number of reported fatalities from civilian targeting: 1,940
By the Numbers: Ethiopia, 15-21 July 20231
Some events from this coverage period might be included in the data in subsequent weeks due to reporting delays.
Total number of political violence events: 11
Total number of reported fatalities from political violence: 84
Total number of reported fatalities from civilian targeting: 6
Ethiopia data are available through a curated EPO data file as well as the main ACLED export tool.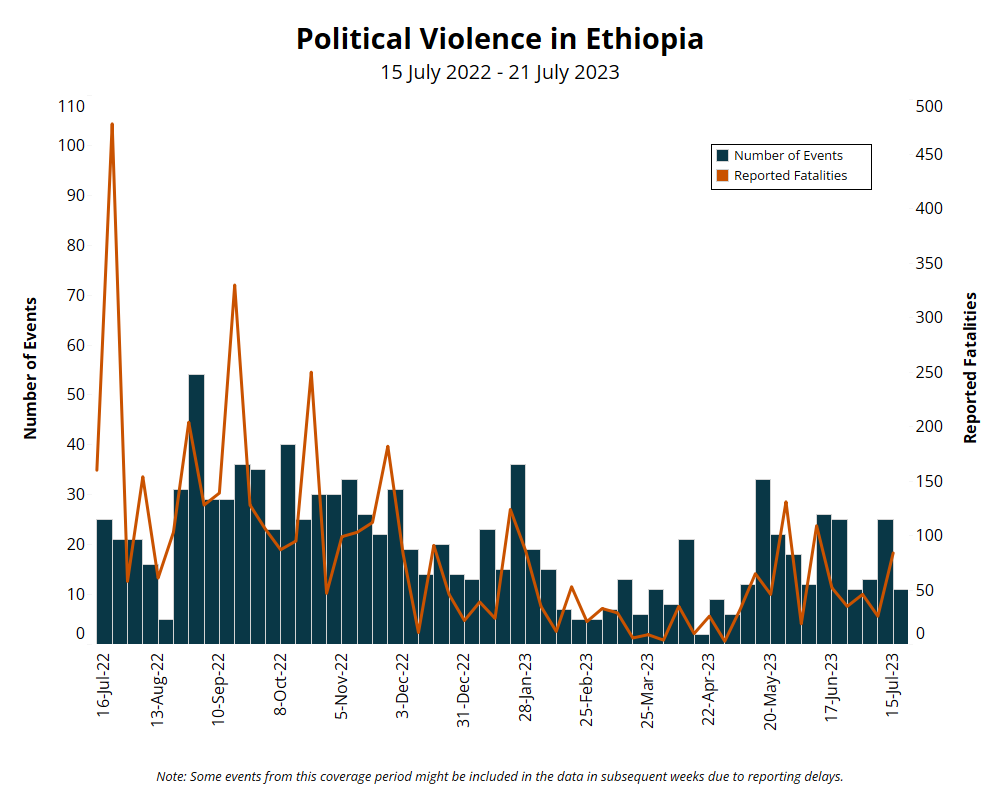 Situation Summary
Violence involving ethnic militias intensified in Gambela region last week, while the targeted assassination of local officials continued in Amhara region. Only one disorder incident – a violent demonstration – was recorded in Oromia region last week, marking a drop in disorder in the region.
In Gambela region, violence escalated, with multiple clashes reported between Anyuak and Nuer ethnic militias in Itang special woreda as well as in Gambela town (see map below). According to ACLED data, the clashes resulted in at least 70 reported fatalities last week. Fatality counts are likely to rise as more detailed information becomes available. In an effort to stem the violence, the Gambela regional state declared a night-time curfew on 19 July. The Ethiopian Human Rights Commission reported that in addition to Anyuak and Nuer ethnic militias, gunmen from South Sudan, now living in refugee camps, were also likely involved.2Ethiopian Human Rights Commission, 'Gambela Region: The high level of violence and human rights abuses caused by the region's security demands further attention from the government,' 23 July 2023 Moreover, on 19 July, Murle ethnic militiamen from South Sudan crossed the border and killed 12 civilians in Abole woreda, near Gambela town.3Getahun Asenake, 'Dima woreda in Gambela region stated that attacks by Murle militants are beyond my control,' Addis Maleda, 24 July 2023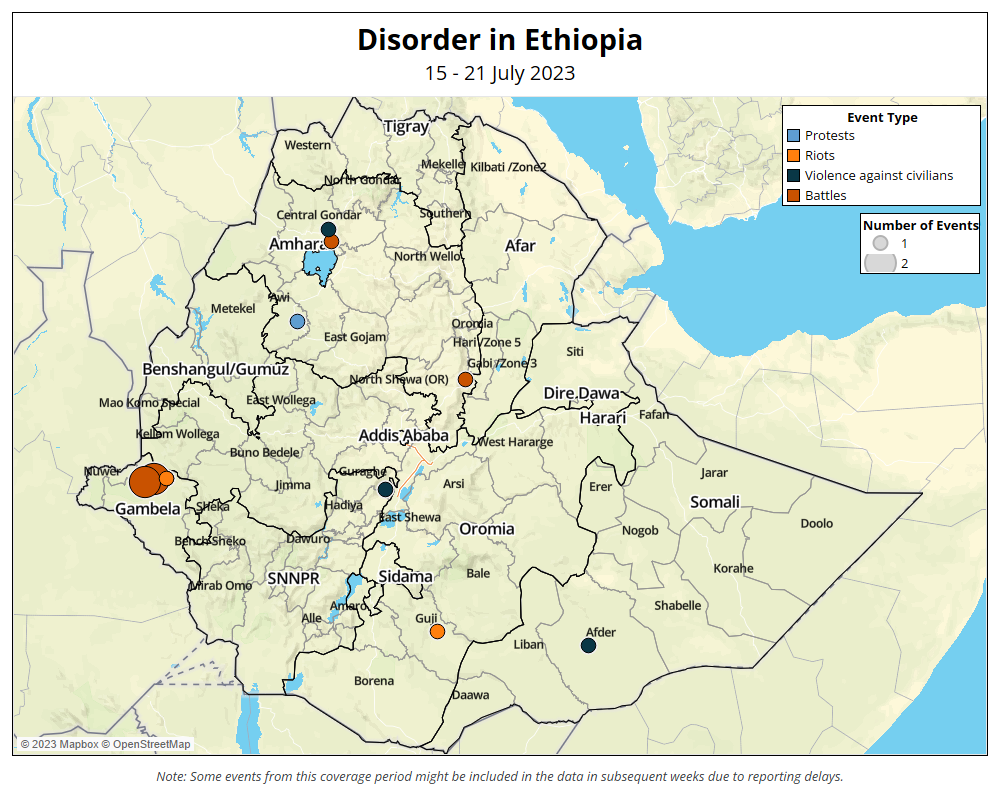 In Amhara region, fighting continued between security forces and Fano militias, with armed clashes recorded in Maksegnit town in Gondar Zuria woreda, Central Gondar zone, and Alem town in Merhabete woreda, North Shewa zone4Getahun Asenake, 'It was stated that an attack on the members of the Defense Forces was conducted in Merhabete town in North Showa zone,' Addis Maleda, 23 July 2023 (for more on political violence in Amhara region, see the EPO June 2023 Monthly). Moreover, in a targeted assassination, unidentified gunmen shot dead a local government official in Gondar city on 20 July.
In Benshangul/Gumuz region, members of the Gumuz People's Democratic Movement (GPDM), who had previously agreed to disarm, changed their minds and left disarmament camps in Gilgel Belles.5Ethiopian Satellite Television and Radio, 'Esat Amharic News July 20 2023,' 20 July 2023; Negasa Desalegn and Eshete Bekele, 'In Metekel, the militants returned to the forest with their weapons,' DW Amharic, 22 July 2023 The move reportedly sparked the displacement of thousands of people who fled from Gunji and Gongo kebeles in Bulen woreda, fearing a return to violence.6ESAT, 'Ethiopia -ESAT Amharic News July 15 2023,' 15 July 2023 Benshangul/Gumuz region, and Metekel zone in particular, was one of the most violent locations in the country throughout 2020 and 2021 until a peace deal was brokered and thousands of GPDM militants surrendered in 2022 (see the EPO Weekly: 11 March 2022-17 March 2023 and the EPO March 2023 Monthly for more details on peace processes in Benshangul/Gumuz region). According to the regional president, over 5,800 former fighters have participated in the government's rehabilitation program.7Wazema Radio, 'Quick morning! Tuesday, 25 July 2023, the main news from Wazema,' 25 July 2023 It is, however, not clear if these fighters were from one or more armed groups.
There were reports of violence targeting Meskan and Marko ethnic groups in Gurage zone in Southern Nations, Nationalities and Peoples region last week. On 20 July, an unidentified armed group killed four civilians, including two students from Mareko ethnic group and two civilians from Meskan ethnic group, in Garore and Nigd Bank 01 kebeles in Inseno town, Misrak Meskan woreda. For the past two decades, there has been a dispute between the two ethnic groups over the ownership of nine kebeles in Meskan woreda. Since the beginning of July, there has been another round of violence against civilians from the two groups in Misrak Meskan woreda (for more, see the EPO Weekly: 1-7 July 2023).
Finally, in Oromia region, disorder in Guji zone due to the newly established East Borena zone continued last week. On 15 July, youth demonstrators stopped and burned five vehicles in Kiliwe, Gora Dola, in a demonstration against the new zone structure (see the EPO Weekly: 4-10 March 2023; EPO Weekly: 3-9 June 2023; and EPO Weekly: 8-14 July 2023 for more details on demonstrations against the creation of the East Borena zone). Notably, no other disorder incident was recorded in the region last week.