By the Numbers: Ethiopia, 16 September 2022-22 September 2023
Total number of political violence events: 1,182
Total number of reported fatalities from political violence: 4,030
Total number of reported fatalities from civilian targeting: 1,721
By the Numbers: Ethiopia, 16-22 September 20231
Some events from this coverage period might be included in the data in subsequent weeks due to reporting delays.
Total number of political violence events: 46
Total number of reported fatalities from political violence: 162
Total number of reported fatalities from civilian targeting: 44
Ethiopia data are available through a curated EPO data file as well as the main ACLED export tool.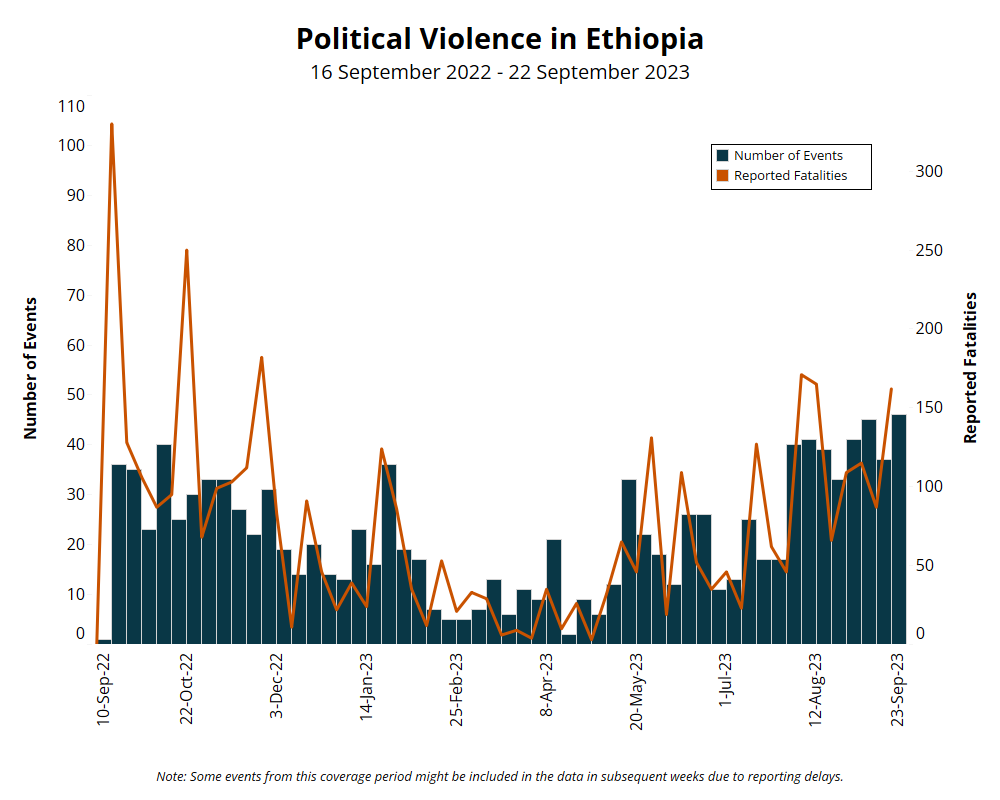 Situation Summary
High rates of political violence continued in Amhara and Oromia regions last week. The majority of battle events – 26 – were recorded in Amhara region, followed by Oromia region, with eight battle events (see map below).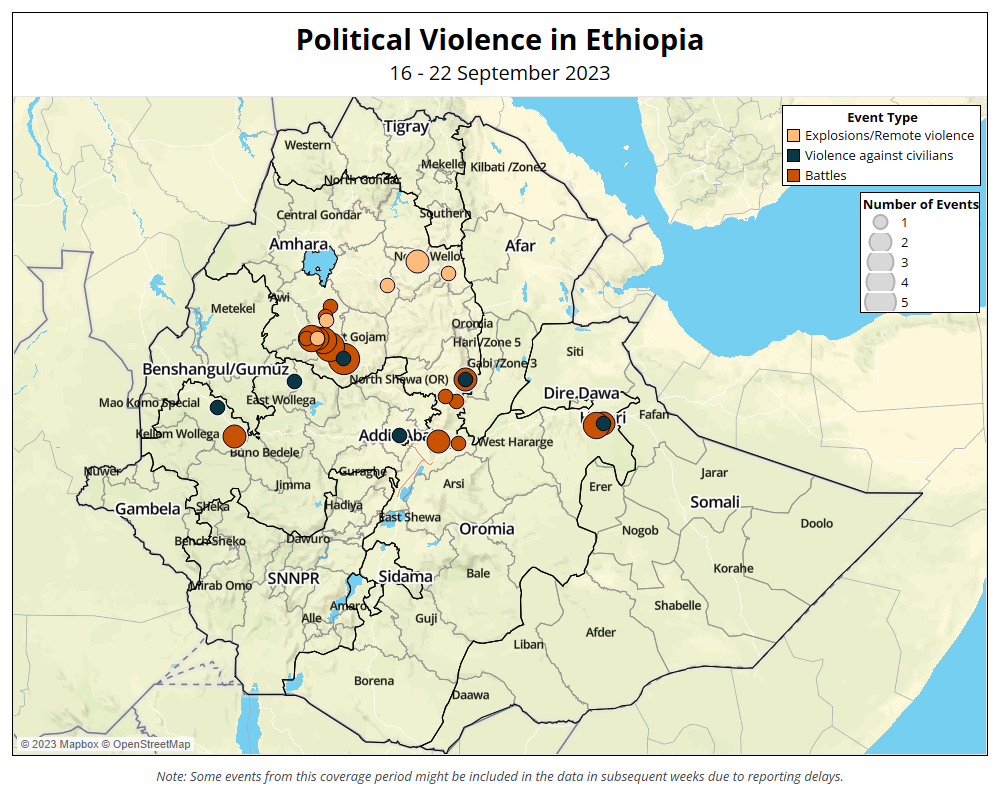 In Amhara region, Fano militias and the Ethiopian National Defense Force (ENDF) clashed in three zones – East Gojam, West Gojam, and North Shewa zones (for more information on the current situation in Amhara region, see the EPO Monthly: August 2023; the EPO Monthly: July 2023; and the EPO Weekly: 29 July-4 August 2023). In East Gojam zone, the two conflicting parties clashed for five days in and around Debre Markos town. The armed clashes between the ENDF and Fano militias in West Gojam zone were concentrated in Dembecha town, Finote Selam town, Mankusa, and Jiga. The two sides also clashed in Rasa as well as Ankober and Shewa Robit towns in North Shewa zone. Fano militias reportedly took control of Debre Markos and Dembecha towns after clashing with the ENDF.
Last week, there were multiple reports of drone strikes and shelling by the ENDF in Amhara region. On 17 September, drone strikes were reported in Dembecha and Finote Selam towns, and in an unspecified location in Quarit woreda, reportedly killing at least 18 civilians in Dembecha, one in Finote Selam, and 30 in Quarit woreda.2 Ethiopian Media Services, 'EMS Eletawi Mon 18 Sep 2023,' 18 September 2023 ENDF forces also fired multiple artillery shells against Fano militia positions in villages in Lasta woreda, North Wello zone.
Furthermore, on 17 September, the Oromia state police and kebele militias clashed with Fano and Amhara ethnic militias in Awra Godana (Korke) town, located at the border of Amhara and Oromia regions. Clashes erupted after Oromia regional forces removed a signpost that designated the town as part of Amhara region. At least two people were reportedly killed, and around 28 people were wounded. Over 2,000 civilians were forced to flee the area due to the clashes.3 Seyum Getu, Azeb Tadese, and Mantegaftot Sileshi, 'Clash at the border of Fentale and Minjar Shenkora,' DW Amharic, 19 September 2023  Awra Godana town is administered under Minjar Shenkora woreda of the Amhara regional state, but is contested between East Shewa zone in Oromia region and North Shewa zone in Amhara region (for more information on the last round of conflict in this area, see the EPO Weekly: 26 March-1 April 2022). One resident disputed the presence of Fano militias and stated that the conflict began when the Oromia state police entered the town. Moreover, the town residents reported the involvement of Oromia regional special forces in the clashes.4Meleskachew Amha, 'Residents said that there was an attack on Awera Godana village in North Shewa,' VOA Amharic, 19 September 2023; Seyum Getu, Azeb Tadese, and Mantegaftot Sileshi, 'Clash at the border of Fentale and Minjar Shenkora,' DW Amharic, 17 September 2023; EMS, 'EMS Mereja Mon 18 Sep 2023,' 18 September 2023 However, according to the government, all regional forces ceased to exist after being dissolved in mid-April 2023.5 Federal Democratic Republic of Ethiopia Defense Force, 'Starting from today there is no regional special force – Field Marshal Birhanu Jula,' 15 April 2023
In addition to the clashes in Awra Godana town, ACLED records at least three incidents of armed clashes at the border of Oromia and Somali regions last week. In Abu Sherif kebele in Babile woreda in East Hararge zone, the Oromia state police and Oromia kebele militias clashed with the Somali state police and Somali kebele militias on 17 September. The clashes initially started when Somali security forces began to set up a tax area in Babile town. While the armed clashes in the town were brought under control with the arrival of the federal police and the ENDF in the town, the clashes between the two groups extended to Koloji area between Babile and Bombas towns in Babile woreda. This area hosts close to 36,000 internally displaced people (IDPs) of Somali ethnicity who were forced to flee their residences in 2017 due to unrest in Oromia region.6Yonas Amare, 'It was stated that Oromia and Somali forces clashed in Babile,' Ethiopian Reporter, 20 September 2023; IOM Regional Office for East and Horn of Africa, 'IOM, Partners Start Voluntary Relocation of Nearly 1,200 IDP Households from Ethiopia's Largest Displacement Site,' 7 October 2022 At least six people were reportedly killed during the clashes at the IDP camp. The head of the Babile Woreda Security Sector accused Somali security forces of encouraging the IDPs to enter Babile and control farmland.7Yonas Amare, 'It was stated that Oromia and Somali forces clashed in Babile,' Ethiopian Reporter, 20 September 2023