By the Numbers: Ethiopia, 28 October-3 November 20231
Some events from this coverage period might be included in the data in subsequent weeks due to reporting delays.
Total number of political violence events: 26
Total number of reported fatalities from political violence: 124
Total number of reported fatalities from civilian targeting: 28
By the Numbers: Ethiopia, 28 October 2022-3 November 2023
Total number of political violence events: 1,186
Total number of reported fatalities from political violence: 3,744
Total number of reported fatalities from civilian targeting: 1,371
Ethiopia data are available through a curated EPO data file as well as the main ACLED export tool.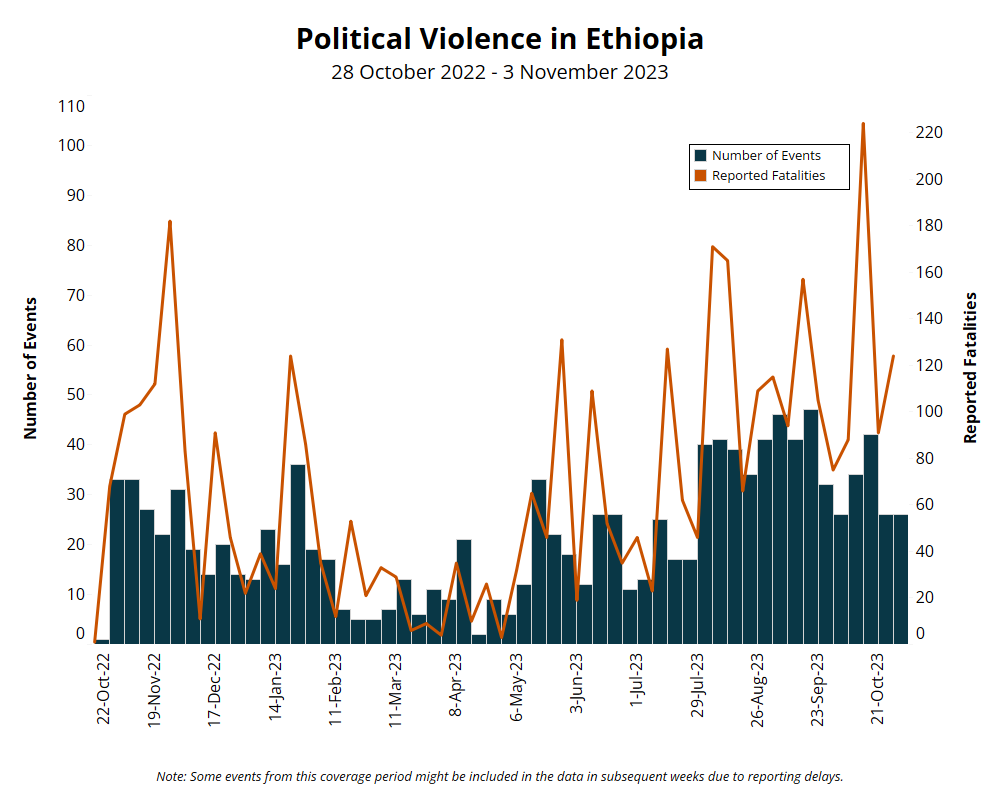 Situation Summary
Clashes between Fano militias and the Ethiopian National Defense Force (ENDF) continued in Amhara region, with ongoing clashes and violence against civilians reported in Oromia region.
In Amhara region, Fano militias clashed with the ENDF in Marawi and Finote Selam towns in West Gojam zone, Debre Berhan and Ataye towns in North Shewa zone, and Kobo and Mersa towns in North Wello zone (see map below). Some clashes and artillery fire were also reported in areas near Lalibela.2Giulia Paravicini and Dawit Endeshaw, 'Clashes in Ethiopia's Amhara region raise concern for historic churches,' Reuters, 7 November 2023 Clashes between the Fano militias and ENDF forces have been ongoing for months and continue to be deadly. The length of the conflict is having a detrimental effect on governance in the region. Beyond the assassination of local officials, reports issued last week indicate that the collection of taxes has become impossible in many locations.3VOA Amharic, 'Amhara region, where sufficient taxes were not collected due to the conflict, faces further threat,' 31 October 2023 Additionally, public universities in the region have suspended learning activities due to ongoing instability.4VOA Amharic, 'The forum stated that not all universities in Amhara region will call their students back indefinitely,' 3 November 2023 Last week, the Ethiopian Human Rights Commission (EHRC) released a report confirming the death of many civilians as a result of government activity, including drone strikes and house-to-house searches.5Ethiopian Human Rights Commission, 'Amhara region: The context of the armed conflict that continued for months and its negative implications on human rights,' 30 October 2023 The government later released a statement accusing the EHRC report of being "not based on accurate information and lack[ing] balance."6Federal Democratic Republic of Ethiopia (FDRE) Government Communication Service, '"The recent report of the Ethiopian Human Rights Commission is not based on accurate information," Dr. Leges Tulu, Minister of Government Communication Services,' 2 November 2023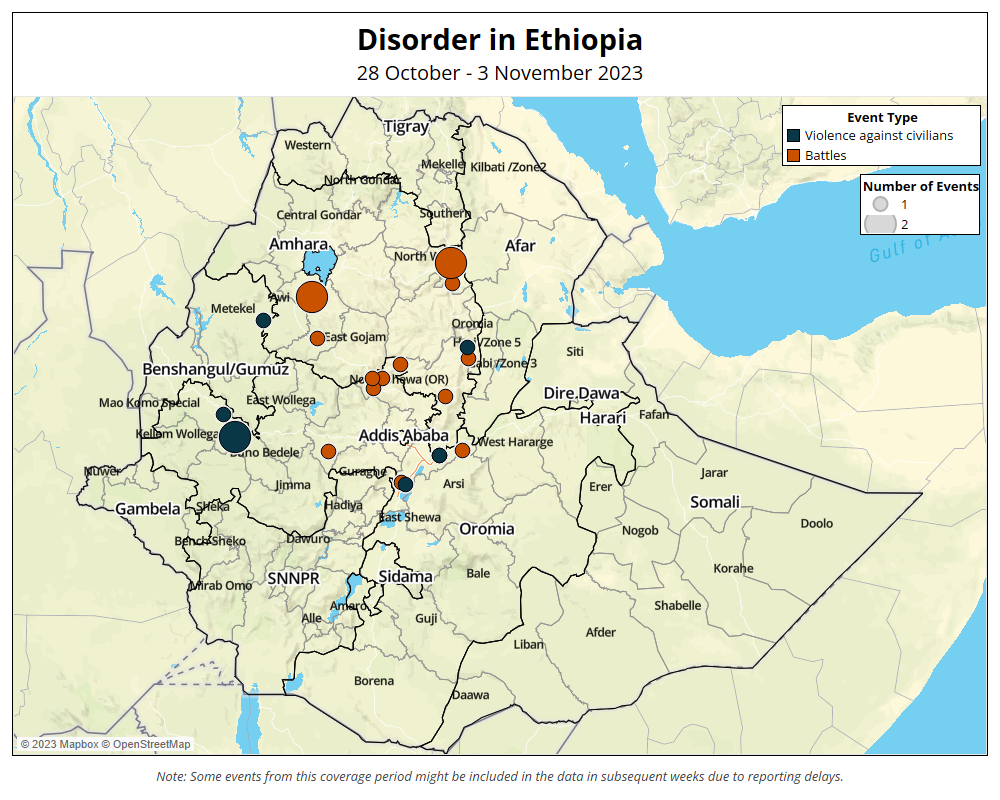 Meanwhile, in Oromia region, armed clashes between ENDF and the Oromo Liberation Front (OLF)-Shane militants were reported last week in West Shewa, West Wollega, and North Shewa zones. Civilians continue to be the target of violence in the region. Last week, government security forces were accused of shooting an older woman and three other men, killing three of them, including the woman, and injuring one in Boset woreda, East Shewa zone, after arresting them and accusing them of their children being members of the OLF-Shane. On the other hand, the OLF-Shane forces were also accused of targeting civilians in North Shewa zone, resulting in the death and displacement of an unidentified number of people in Wara Jarso and Dera woredas.
In the South Ethiopia Peoples region, police beat and killed one member of the Ethiopian Citizens for Social Justice (EZEMA) after a fight between individuals broke out in Arba Minch town in Gamo zone. According to EZEMA, 28 other members of the party who were following up on the case of the deceased member were arrested after being accused of hitting the fence of a kebele administration. The party later issued a statement demanding that the security officers responsible be held accountable and for the government forces to be "trained in ethics and professional skills."7Ethiopian Citizens for Social Justice (EZEMA), 'Expressing our grief over the death of our party member, we demand that immediate legal action be taken!,' 31 October 2023 Besides the ruling Prosperity Party, members of EZEMA have been targets of political violence in various locations in Ethiopia. Over the past few years, at least three members of the party have been killed by armed groups. EZEMA won four seats of the House of Representatives during the last general election in 2021,8National Election Board of Ethiopia, 'Summary of seats won by parties in the House of Representatives and State Council constituencies during the voting on 21 June 2021,' 12 July 2021 and its chairperson is a member of the current cabinet of the Government of Ethiopia as he is appointed as the Minister of Education.
Last week marked the one-year anniversary of the signing of the Agreement for Lasting Peace Through a Permanent Cessation of Hostilities between the Tigray People's Liberation Front (TPLF) and the Ethiopian government in Pretoria, which ended Ethiopia's Northern Conflict. On 6 November, the federal government announced that internally displaced people from "contested areas" in Tigray region would be returned, and that the status of these areas would be decided by a referendum.9FDRE Government Communications Service, 'Statement of the Government of the Federal Democratic Republic of Ethiopia Regarding the first anniversary of the signing of the "Agreement For Lasting Peace through a Permanent Cessation of Hostilities,"' 6 November 2023 Western and Southern Tigray zones have been de facto autonomous areas unofficially governed by Amhara region since the start of the conflict in November 2020. For residents of Amhara region, Western Tigray has become a nationalist rallying cry; rumors of a possible armed response should the government return the area to the TPLF are common across Amhara (for more, see the EPO Special Report: The Northern Ethiopia Conflict: A Step Toward Peace).