By the Numbers: Ethiopia, 2 April 2018-11 June 20211

Figures reflect violent events reported since Prime Minister Abiy Ahmed came to power on 2 April 2018.
Total number of organized violence events: 1,582
Total number of reported fatalities from organized violence: 7,941
Total number of reported fatalities from civilian targeting: 4,288
By the Numbers: Ethiopia, 5-11 June 20212
Some events from this coverage period might be included in the data in subsequent weeks due to reporting delays.
Total number of organized violence events: 6
Total number of reported fatalities from organized violence: 38
Total number of reported fatalities from civilian targeting: 4
Ethiopia data are available through a curated EPO data file as well as the main ACLED export tool.
Situation Summary
Last week, armed clashes escalated throughout the week in the Oromia region as Oromo Liberation Front (OLF)-Shane battled government troops, resulting in a high number of fatalities. Concurrently, unidentified armed gunmen continued attacks on residents in Amaro special woreda and Bench Sheko zone of Southern Nations, Nationalities and Peoples Region (SNNPR), displacing thousands of people. A number of protests against the Tigray People's Liberation Front (TPLF) were also recorded throughout the week in northern Ethiopia, with residents in the Amhara region and in the Western Tigray zone in the Tigray region denouncing violence and foreign intervention into Ethiopia's domestic affairs.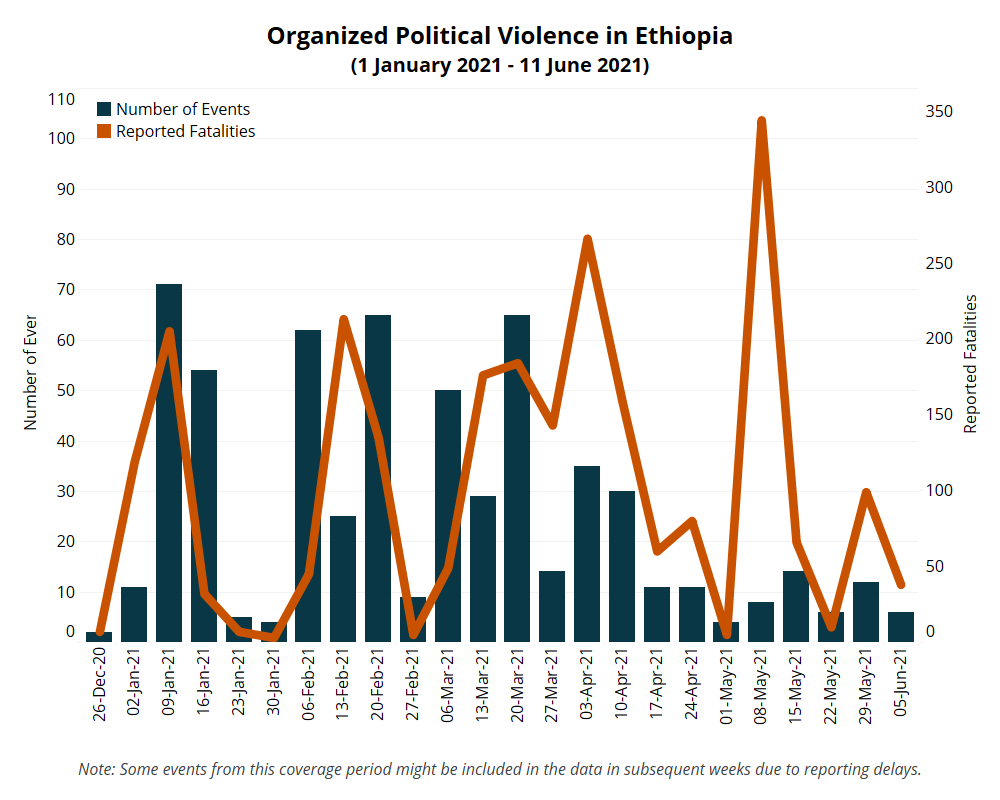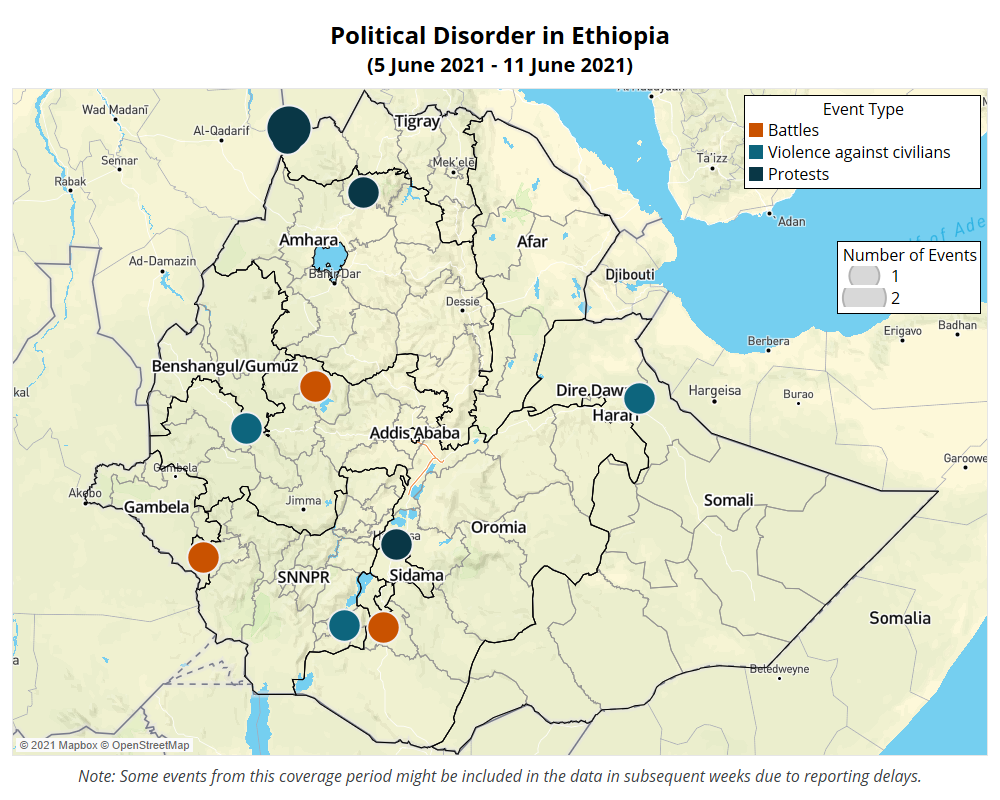 In the Oromia region, armed clashes between OLF-Shane and government forces continued in Western Wollega, Kellem Wollega, Horo Guduru, Guji, and West Guji zones (see EPO Weekly: 8-21 May 2021; EPO Weekly: 22-28 May 2021; EPO Weekly: 29 May-4 June 2021). On 10 June 2021, Oromo state police and members of OLF-Shane clashed for four hours in Gerba city in Bule Hora in the West Guji zone. On the same day, OLF-Shane militants shot and killed 27 members of the federal police force and injured 10 more in Jardega town in Jarte Jardega woreda in Horo Guduru Wollega zone. One of the attackers was also killed (Ethiopian Insider, 11 June 2021). Also, as reported on 10 June, from 1-4 June 2021, Oromo Special Police alongside the Ethiopian National Defence Force and Somali Regional Police battled OLF-Shane forces in Guji and Borana zones, killing 95 militants and injuring "many more" (Oromia Police Commission, 10 June 2021). An OLF-Shane spokesperson refuted these claims and instead insisted that federal forces had been defeated in both Guji and Borana zones (Odaa Tarbi, 3 June 2021)
Civilians living in the conflict-affected areas of the Oromia region continue to be affected by the armed clashes between OLF-Shane and government forces. As a result, there are currently 55,163 IDPs (9,825 households) in the East Wollega zone in the Oromia region (Addis Standard, 10 June 2021). In addition, on 6 June 2021, a young man was shot and killed by Ethiopian military forces in Lalo Asabi kebele in Gimbi town in the West Wollega zone (OMN, 10 June 2021). On 8 June 2021, armed Oromo gunmen attacked Somali residents in Daraami Tulu Guled in the East Hararge zone, killing one person (Halgan Media, 8 June 2021).
In SNNPR, on 9 June 2021, unidentified armed militants attacked residents in Yero and Dano kebeles of Amaro special woreda, killing two people and injuring a third (DW Amharic, 10 June 2021). On 10 June 2021, displaced persons from Guraferda woreda in the Bench Sheko zone gathered in front of the SNNPR administrative office in Hawassa city to demand government action. A recent attack by militants in the Guraferda woreda (Bench Sheko zone, SNNPR) resulted in the death of six security officers (DW Amharic, 7 June 2021). After this attack, around 4,000 civilians fled the area (see EPO Weekly: 29 May – 4 June 2021; EPO Weekly: 22-28 May 2021).
Tigray Conflict Update
In the Tigray region, life in the capital city seems to be returning to normal. Schools in the city have reopened, and the government has made an effort to maintain security, successfully arresting a number of criminals during an operation this week (EBC, 9 June 2021; EBC, 11 June 2021). The government reported that 55% of hospitals and 52% of health centers with 85% staffing are currently functioning in the region (EBC, 9 June 2021). However, active conflict is occurring in in North-Western, Central, and Eastern zones of the region. As a result, humanitarian organizations have not been able to deliver humanitarian assistance easily in these zones (UNOCHA, 10 June 2021). Humanitarian organizations have also reported denial of access, confiscation of different materials, and the arrest of humanitarian workers at different checkpoints (UNOCHA, 10 June 2021). The government has insisted on the need for these checkpoints for security reasons, as "some actors have attempted to smuggle weapons to arm the terrorist cell under the guise of humanitarian assistance" (The Ministry of Foreign Affairs of Ethiopia, 12 June 2021).
Furthermore, the government announced that Eritrean forces have started to withdraw from the Tigray region (DW Amharic, 10 June 2021; Fana Broadcasting Corporate, 10 June 2021). It is not clear when the forces started to withdraw nor how many Eritrean forces have withdrawn from the region. The international community has been calling for the withdrawal of Eritrean forces from the Tigray region (VOA, 3 April 2021; S.Res.97, 19 May 2021; Secretary of State Antony J. Blinken, 15 May 2021).
Weekly Focus: The Administration of Western Tigray
For the second time since the Tigray conflict began, a number of demonstrations were held in the Tigray region last week. Although they were relatively small in size and did not attract major violence, these demonstrations highlight an important shift that has occurred in the power dynamics of northern Ethiopia. In sharp contrast to demonstrations held in areas of eastern Tigray in February, protests in western Tigray last week were peaceful and security forces were not involved.  
Areas, where protests were held last week, are controlled by the Amhara regional special forces and associated ethnic militias, who took control of localities in the Western Tigray zone shortly after the conflict with the TPLF began in November 2020. The area is populated by both ethnic Tigrayans and Amhara, and its administration has been a contested issue for many years. Protests were peaceful, in contrast to riots that occurred in other locations of Tigray earlier this year.
In February, large, violent demonstrations were held in Shire, Aksum, Mekelle, and Wikro of Eastern Tigray, where rioting youth blocked roads and burned tires, denouncing military operations and subsequent food shortages. Sources in Tigray confirmed five fatalities in Mekelle and two in Wikro during these demonstrations. Demonstrations also occurred in Adigrat city, Idaga Hamus, and Freweyni towns in the Tigray region (OCHA, 2 March 2021). 
The differentiating factor between these two movements is alignment with the local security apparatus. The ethnic Amhara forces who control the Western Tigray zone are in opposition to the TPLF. They rejected recent decisions by US officials to impose sanctions against their commanders (New York Times, 24 May 2021). Thus, while demonstrations in Mekelle and other areas of the Eastern Tigray zone were met with strong suppression by Ethiopian army troops, protesters shouting anti-TPLF slogans and denouncing US sanctions passed off peacefully and without intervention from the local Amhara forces. 
When TPLF administered the Western Tigray zone from 1995 to November of 2020, ethnic Amhara living in this area complained of discrimination and state suppression of their rights as citizens. Demonstration events by ethnic Amhara in the region in 2016, 2017, and 2018 were often violently suppressed by TPLF-associated troops. These violations were the basis for the formation of the Wolkait Identity Question Committee, which marked the beginning of Amhara ethno-nationalist movements in Ethiopia (Borkena, 19 February 2018). Fano militias and the Amhara regional special forces who currently control the Western Tigray zone were built up by commanders in opposition to the TPLF and often espouse Amhara nationalist ideals– a hot issue in Ethiopia's upcoming election. The National Movement of the Amhara (NaMA), an Amhara ethno-nationalist party with a platform that includes re-claiming western Tigray, is expected to perform well in urban areas of the Amhara region and Western Tigray zone.
Western Tigray zone has recently been the site of displacement and targeted violence. Both TPLF and the Amhara regional forces have been implicated in massacres of civilians, including at Mai Cadera where an investigation found that at least 600 people had been killed (Ethiopian Human Rights Commission, 24 November 2020). A recent investigation by Reuters found that groups associated with both Amhara and Tigrayans ethnicities had killed civilians at Mai Cadera. Fatality counts could rise even further as additional investigations are undertaken (Reuters, 7 June 2021). Forces from the Amhara region have been accused of forcibly removing ethnic Tigrayans from the zone — an act that US authorities claim amounts to ethnic cleansing (AP, 7 April 2021).
Tensions have already emerged between the Amhara regional state and Tigray interim administrators over the governance of the Western Tigray zone (BBC Amharic, 14 March 2021). Exactly how these disputes will be resolved is unclear. For now,  however, it appears that the area which "was taken by force" by TPLF is being "returned by force" by the Amhara regional forces (Bloomberg, 16 March 2021).
Update on Election Dispute and Conflict
The Argoba Nation Democracy Movement party claimed that the National Electoral Board of Ethiopia (NEBE) failed to respond to its claim that underaged people and people who do not live in Argoba special woreda were being registered to vote (DW Amharic, 10 June 2021). If NEBE fails to respond before election day, the party stated that it would be forced to boycott the election.
NEBE stated that areas where the election will not be held on 21 June 2021 will hold elections on 6 September 2021. In total, the general election will not be held in 64 election constituencies due to different reasons. Most of these election constituencies are located in the Somali region. Hence, in the Somali region, the general election will be held on 6 September 2021. In 26 of the 63 election constituencies, security was given as the main reason for not holding the election (see EPO Weekly: 29 May-4 June 2021).