By the Numbers: Ethiopia, 23 September 2022-29 September 2023
Total number of political violence events: 1,180
Total number of reported fatalities from political violence: 3,282
Total number of reported fatalities from civilian targeting: 1,688
By the Numbers: Ethiopia, 23-29 September 20231
Some events from this coverage period might be included in the data in subsequent weeks due to reporting delays.
Total number of political violence events: 24
Total number of reported fatalities from political violence: 90
Total number of reported fatalities from civilian targeting: 27
Ethiopia data are available through a curated EPO data file as well as the main ACLED export tool.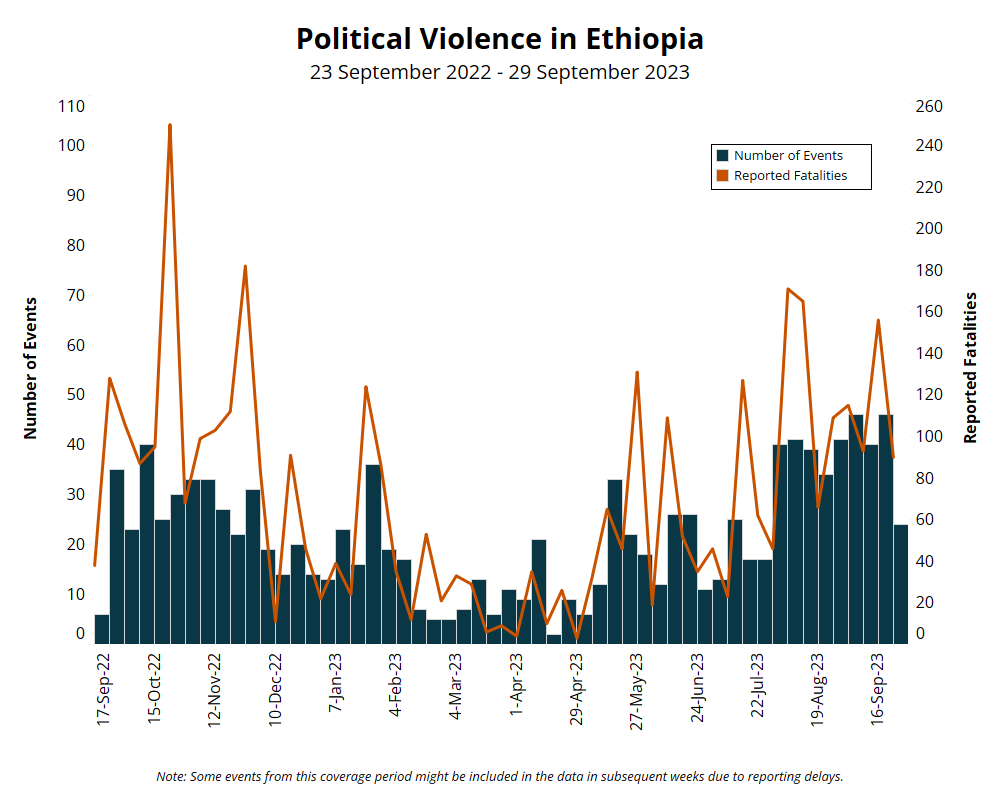 Situation Summary
During the last week of September, intense clashes were reported in Amhara region, while limited clashes and violence against civilians continued in Oromia region.
In Amhara region, clashes between Fano militias and Ethiopian National Defense Force (ENDF) soldiers were recorded in multiple locations, with the most intense fighting occurring in Central Gondar zone. Last week, ACLED records 13 battle events in Amhara region, with nearly half of them taking place in Central Gondar zone (see map below). On 24 September, clashes erupted between Fano militias and the ENDF in the administrative center of Central Gondar zone, Gondar city. Fighting reportedly began after Fano militias attacked police stations in Kebele 18 of the town, aiming to release detainees accused of being Fano militia members. According to a statement by the ENDF, 50 Fano fighters, including top leaders, were either killed or injured in the clashes.2Federal Democratic Republic of Ethiopia Defense Force, 'Federal Defense Forces Sunday, 24 September 2023,' 24 September 2023 Moreover, Fano representatives claimed to have killed the head of the Maraki area kebele militia, an unidentified number of kebele militia members under his command, as well as an unknown number of ENDF soldiers.3Ethiopian Media Services, 'Sudden attack of Fano in Gondar,' 24 September 2023 Additional clashes between the ENDF and Fano militias were recorded in West Gondar, North Shewa, North Wello, and South Wello zones.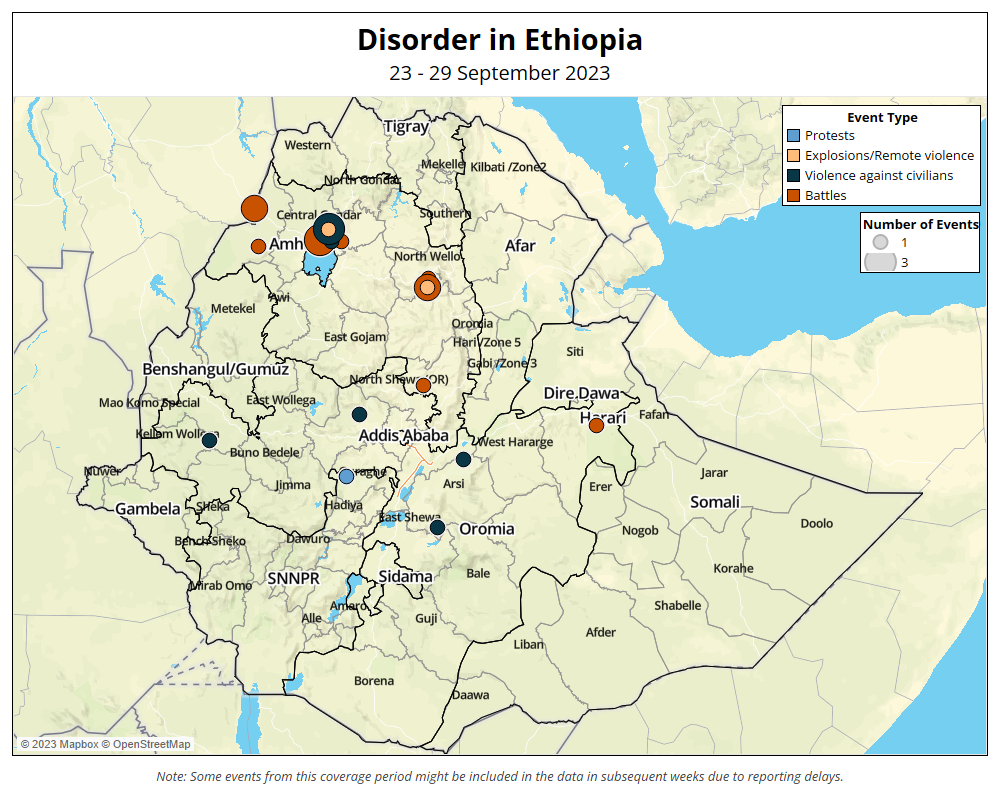 In Oromia region, clashes between Somali and Oromia regional forces, including state police forces and kebele militias from both sides, continued for a second week. Fighting took place in the vicinity of the Koloji internally displaced people (IDPs) camp, which is located near Babile town in East Hararge zone. The clashes initially began when Somali forces set up a tax collection checkpoint in Babile town (for more, see the EPO Weekly: 16-22 September 2023). The Ethiopian Human Rights Commission (EHRC) expressed concern in a statement, indicating that civilians and IDPs were "injured due to the exchange of fire between the security forces of the two regions."4EHRC, 'There is a need to provide a lasting solution to the victims by conducting an appropriate investigation of the damage caused to civilians in the border area of Somali and Oromia regions' due to clashes between the two regions security forces,' 2 October 2023 Furthermore, on 26 September, unidentified gunmen shot and killed six Orthodox Christians in Bilo kebele, Arsi zone. Instances of violence against Orthodox Christians in Arsi and Bale zones of Oromia region have sporadically occurred over the past few years (for more information on religious violence in Ethiopia, see the EPO Monthly: February 2023).
Elsewhere, federal police arrested the chairman of the Ethiopian Citizens for Social Justice party in Addis Ababa. The reason for the arrest is currently unknown. According to a recent report by the EHRC, there have been "widespread and arbitrary arrests" in Addis Ababa, Oromia, and Amhara region since the declaration of a new state of emergency on 4 August 2023.5EHRC, 'Amhara Region:- Human rights violations that continue to be a concern in relation to the armed conflict,' 15 September 2023 The Oromia regional government has refuted the ERHC's claim and denied the existence of detention centers in connection with the state of emergency. The State of Emergency Command Post also stated that there are only five detention centers in Kombolcha, Gondar, Bahir Dar, and Shewa Robit in Amhara region, and Awash Arba in Afar region.6Addis Standard, 'News: Oromia gov. says reports of detention facilities "false information",' 16 September 2023 The state of emergency was declared by the federal government amid increasing violence in Amhara region, following a request by the Amhara regional government (for more details on the declared state of emergency, see the EPO Weekly: 29 July-4 August 2023).
Lastly, in Central Ethiopia region, on 29 September, many ethnic Gurage residents of Kebena Special woreda held a demonstration in Agumana Herana kebele, demanding ethnic representation in the woreda. The Gurage community has been advocating for self-administration and the establishment of its own regional administration for many years (for more information on the question of self-determination by Gurage people, see the EPO Monthly: July 2022). However, the recently established Central Ethiopia region divided Gurage zone into three administration levels; East Gurage woreda has been designated as a separate zone, while Kebena and Mareko woredas have been designated as special woredas.7Wazema Radio, 'Southern Nations, Nationalities and Peoples region no lonግer exists,' 19 August 2023