By the Numbers: Ethiopia, 7-13 October 20231
Some events from this coverage period might be included in the data in subsequent weeks due to reporting delays.
Total number of political violence events: 27
Total number of reported fatalities from political violence: 43
Total number of reported fatalities from civilian targeting: 8
By the Numbers: Ethiopia, 7 October 2022-13 October 2023
Total number of political violence events: 1,178
Total number of reported fatalities from political violence: 3,685
Total number of reported fatalities from civilian targeting: 1,532
Ethiopia data are available through a curated EPO data file as well as the main ACLED export tool.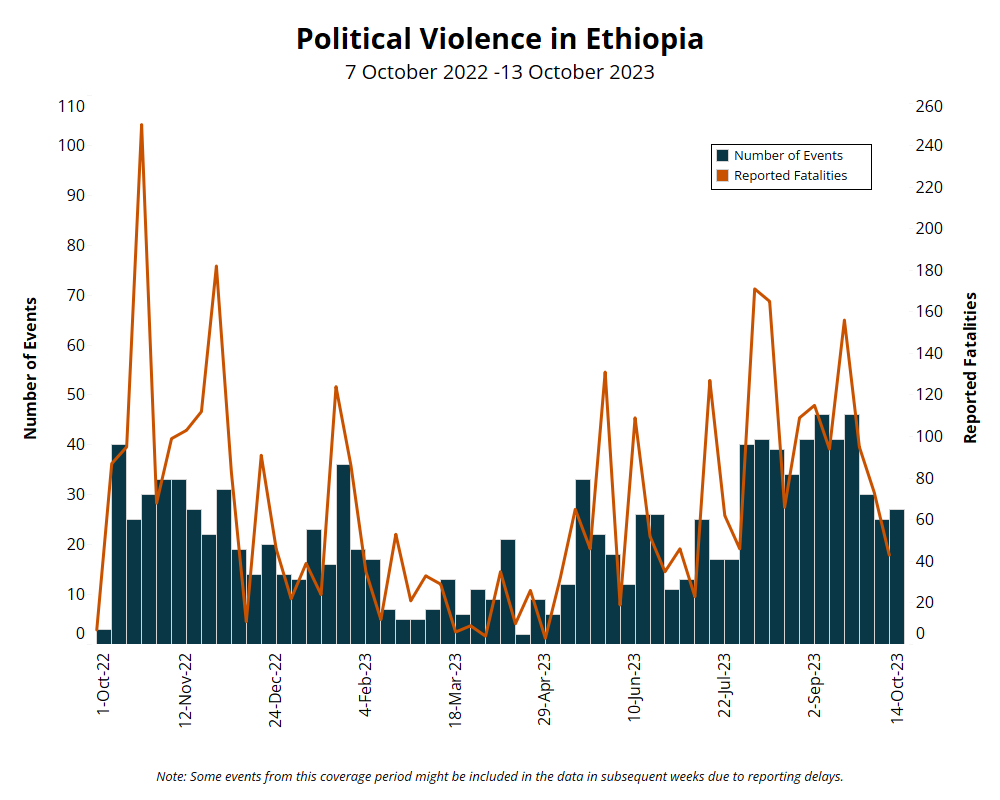 Situation Summary
After a lull in fighting last week, violence returned to Amhara region, with many deadly clashes between Fano militias and government forces reported, while violence continued at a high level in Oromia.
In Amhara region, Fano militias clashed with the Ethiopian National Defense Force (ENDF) in Kobo, Woldiya, Debre Markos, Finote Selam, Dembecha, Minjar, Meher and Bahir Dar towns last week (for more on the conflict in Amhara region, see the EPO Monthly: August 2023). In Bahir Dar, the Command Post – established after the declaration of the state of emergency in Amhara region on 4 August 2023 – imposed a new curfew for residents, likely in response to rising rates of violence affecting the city. Conflict and curfew restrictions over the past two years have negatively affected businesses in Amhara region, contributing to economic difficulties.2DW Amharic, 'Tana Flora flower development company said that it lost more than half a billion birr in the conflict,' 13 October 2023 Additionally, ongoing drought conditions in the region are affecting "tens of thousands of people in several zones."3United Nations Office for the Coordination of Humanitarian Affairs (UNOCHA), 'Ethiopia Situation Report,' 9 October 2023
Meanwhile, in Oromia region, clashes continued between ENDF forces and the Oromo Liberation Front (OLF)-Shane militants, with most clashes occurring in North Shewa and  Horo Guduru Wollega zones (see map below). Some reports indicated that the OLF-Shane now controls around 16 kebeles in Dera woreda in North Shewa zone, causing some residents to leave their homes.4Addis Maleda, 'Reportedly OLF-Shane controlled 16 rural kebeles in Dera woreda,' 10 October 2023 In addition to the clashes in North Shewa zone, heavy fighting was also reported in Horo Guduru Wollega zone, including air strikes believed to have targeted the OLF-Shane that reportedly killed at least 12 people. The government's use of airstrikes against the OLF-Shane, while relatively rare in Oromia region, have previously resulted in many civilian fatalities and drawn criticism from the international community.5Reuters, 'Ethiopian government accused of deadly air strikes on Oromiya region', 27 October 2022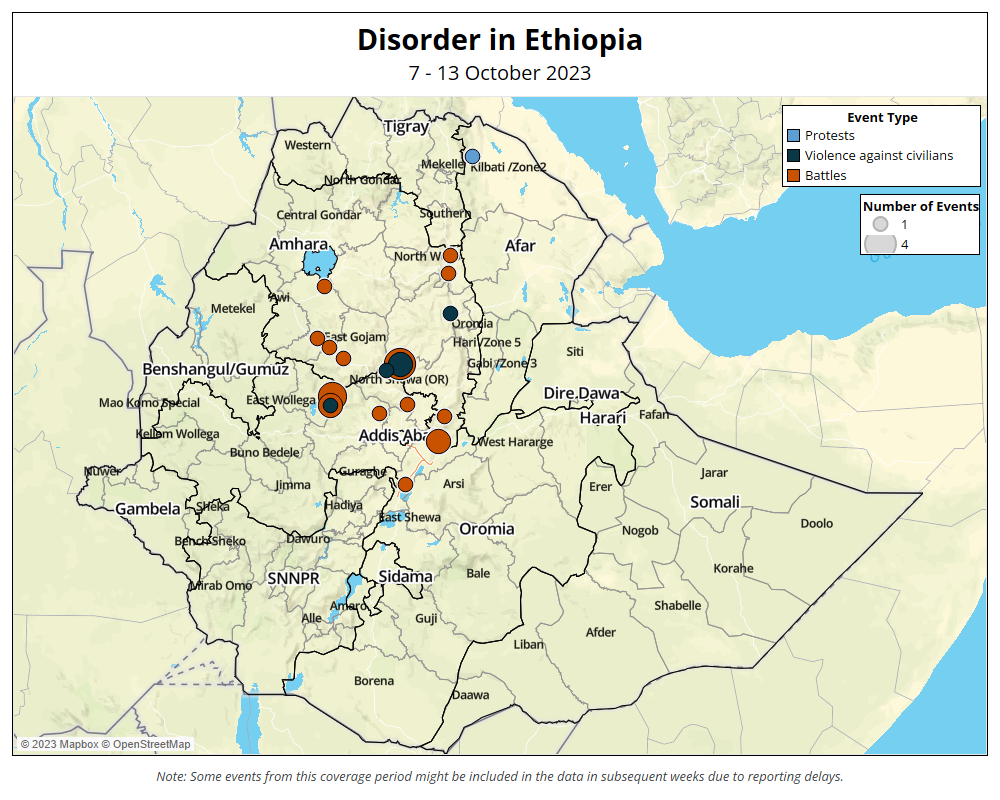 In Afar region, a rare protest was held during which over 500 youth protested poor governance in Berahle town and asked for the release of arrested youth in the region. The Head of Afar Region Communication Service accused the protestors of being a group that "does not seek peace."6Lidet Abebe and Eshete Bekele, 'We are dying of hunger while sleeping on salt and gold,' DW Amharic, 13 October 2023 The regional security forces reportedly arrested 10 protesters who were seen holding various signs during the demonstration.
Additionally, on 13 October, clashes erupted between Gurage and Kebena ethnic rioters  in Welkite town, Gurage zone, Central Ethiopia region, in relation to a boundary dispute between the Kebena Special woreda and Welkite town. At least two people were killed, and many others were injured during the unrest.7DW Amharic, 'Movement restrictions imposed in Welkite city,' 15 October 2023 Authorities imposed movement restrictions in the town following the clashes, which continued over the weekend. The recently established Central Ethiopia region divided Gurage zone into three administration levels; East Gurage woreda has been designated as a separate zone, while Kebena and Mareko woredas have been designated as special woredas.8Wazema Radio, 'Southern Nations, Nationalities and Peoples region no longer exists,' 19 August 2023 Since then, tensions have been high in some areas where frequent clashes occurred due to disputes over boundaries. On 29 September, a demonstration was held by many ethnic Gurage residents of Kebene Special woreda in relation to the formation of the Special woreda (for more, see EPO Weekly: 23-29 September 2023). In addition, from late September to the beginning of October,  inter-communal clashes occurred between Mareko and Meskan ethnic groups in the disputed kebeles in Meskan woreda (for more, see EPO Weekly: 30 September-6 October 2023).
Lastly, on 10 October, the World Food Program (WFP) announced the resumption of food aid distributions after a five-month suspension. WFP, along with USAID, announced in April that food aid would be halted due to "diversions of aid."9Reuters, 'WFP resumes food distribution to refugees in Ethiopia,' 10 October 2023 In April, the United Nations Office for the Coordination of Humanitarian Affairs (UNOCHA) indicated that distribution of aid "will resume once it is ensured that food assistance reaches those most in need efficiently and effectively."10UNOCHA, ' Ethiopia-Situation Update,' 12 May 2023