By the Numbers: Ethiopia, 4-10 November 20231
Some events from this coverage period might be included in the data in subsequent weeks due to reporting delays.
Total number of political violence events: 49
Total number of reported fatalities from political violence: 60
Total number of reported fatalities from civilian targeting: 10
By the Numbers: Ethiopia, 4 November 2022-10 November 2023
Total number of political violence events: 1,220
Total number of reported fatalities from political violence: 3,800 
Total number of reported fatalities from civilian targeting: 1,131 
Ethiopia data are available through a curated EPO data file as well as the main ACLED export tool.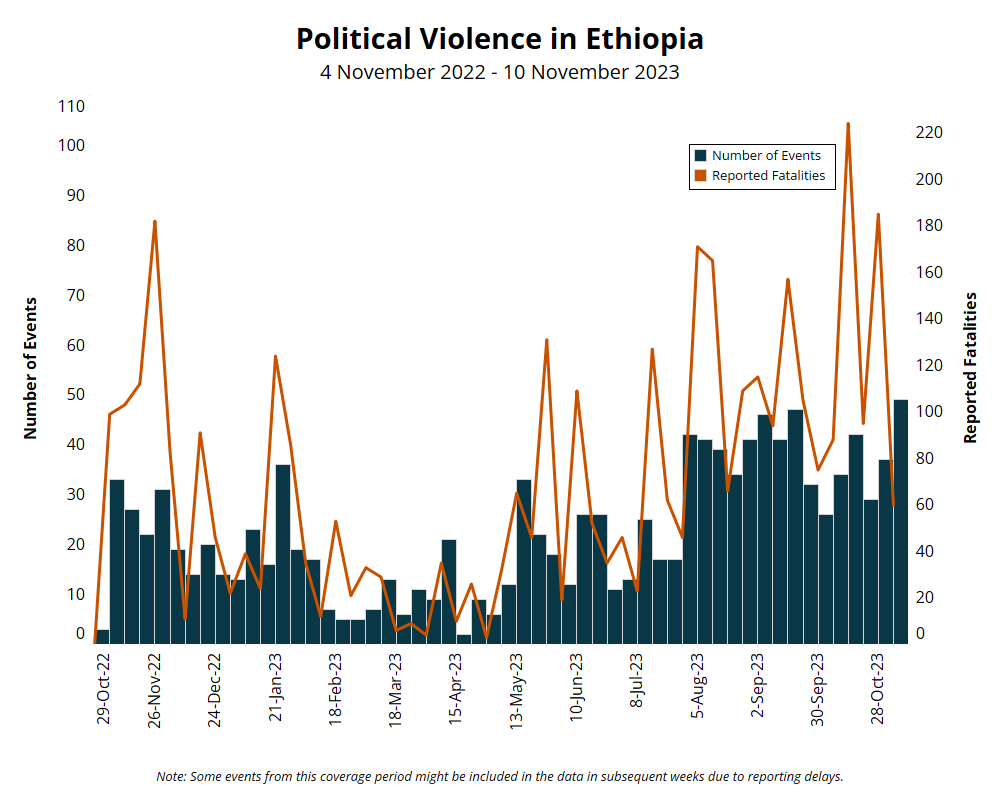 Situation Summary
Clashes between Fano militias and the Ethiopian National Defense Force (ENDF) intensified in Amhara region. Meanwhile, peace talks between the government and the Oromo Liberation Army led to reduced violence in Oromia region.
In Amhara region, clashes between Fano militias and the ENDF intensified last week, spanning Central Gondar, North Wello, West Gojam, East Gojam, South Wello, and North Shewa zones (see map below). Airstrikes conducted by the ENDF targeting Fano militias struck a school in Ankober woreda, causing civilian casualties. Fano militias were able to briefly take control of Lalibela town, withdrawing after clashes on 8 November. Fighting and artillery shelling in close proximity to the 11th century rock-hewn church and the United Nations Educational, Scientific and Cultural Organization World Heritage site led to concerns for the church's well being.2Al Jazeera, 'Ethiopian troops force armed group out of Orthodox holy site of Lalibela,' 9 November 2023 Clashes between the Fano militias and the ENDF forces have persisted for months and continue to escalate.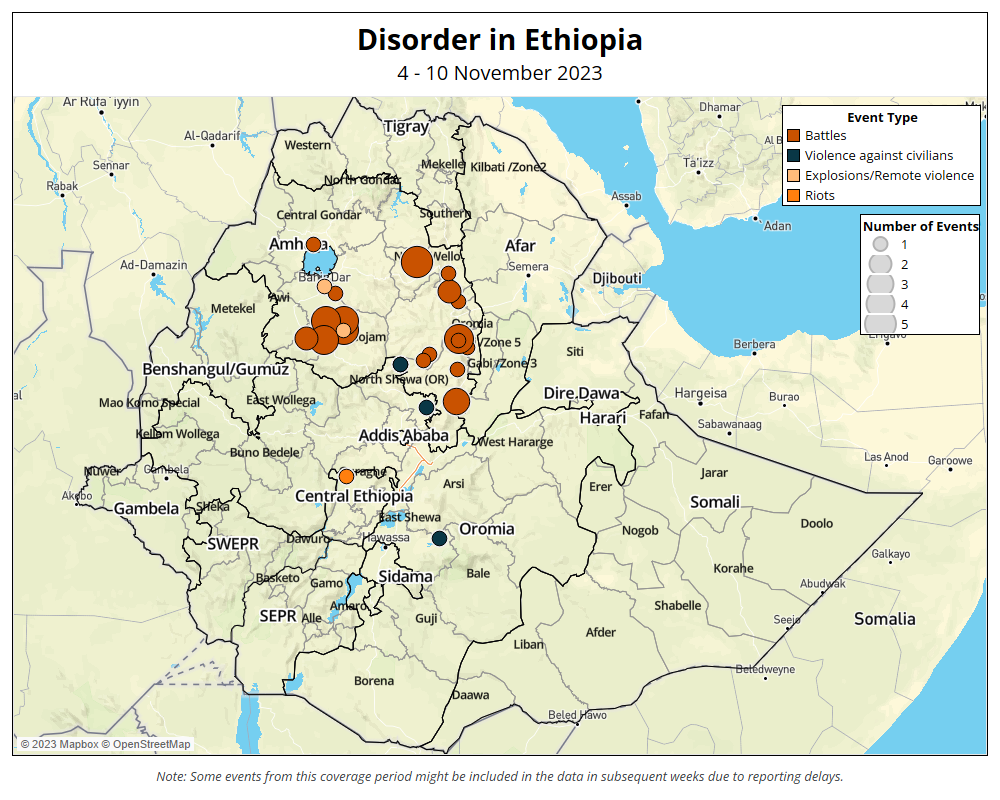 Furthermore, last week, clashes erupted between Amhara and Oromo ethnic militias in areas near the Oromia special zone, resulting in at least 18 fatalities. Violence between Oromo and Amhara communities near the border of Oromia Special and North Shewa zones is recurrent (for more, see the EPO Oromia Special Zone and North Shewa Conflict page).
In Oromia region, on 7 November, sources revealed an ongoing second round of peace talks between the Oromo Liberation Army (OLA, also referred to by the government as the Oromo Liberation Front (OLF)-Shane) and representatives from the federal government in Tanzania. A report indicated the presence of top officials from both sides, including the OLA commander Kumsa Diriba, later joined by Redwan Hussein, national security adviser to Prime Minister Abiy Ahmed, and Dr. Gedion Timothewos, the Ethiopian Minister of Justice.3Addis Standard, 'News: Second round peace talk to end conflict in Oromia kicks off in Dar es Salaam; OLA Commander on board,' 8 November 2023; Addis Standard, 'News: Senior gov't officials join military leaders in Dar es Salaam as ongoing talks with OLA progress positively,' 13 November 2023 The first round of peace talks in May 2023 concluded without an agreement (for more, see the EPO May 2023 Monthly: Violence Returns to Oromia Despite Attempted Peace Talks). Conflict involving OLA/OLF-Shane in the Oromia region has persisted since the group split from the Oromo Liberation Front party in 2019, resulting in hundreds of casualties and an estimated 1.4 million people being displaced.4Center for Development and Capacity Building (CDCB), 'Policy Brief on creating a sense of urgency for intervention in conflict areas of Oromia Ethiopia,' 17 October 2023
In Central Ethiopia region, violence continued in Welkite town of Gurage zone. On 10 November, unspecified youths attacked students at Aberus Higher Secondary School, leading to 30 people injured. The incident concluded only when the police intervened with tear gas. Violence in Gurage zone, particularly in Welkite town, has been ongoing since October. The recently established Central Ethiopia region divided Gurage zone into three administration levels; East Gurage woreda was designated as a separate zone, while Kebena and Mareko woredas were designated as special woredas.5Wazema Radio, 'Southern Nations, Nationalities and Peoples region no longer exists,' 19 August 2023 Since then, tensions have been high in some areas where frequent clashes occurred due to disputes over boundaries.
In Tigray region, four additional high-ranking officials, including two zone administrators, were dismissed last week as part of the ongoing political strife between the Tigray interim administrative government and the Tigray People's Liberation Front (TPLF).6Addis Standard, 'Politics News: Tigray interim admin sacks four more high-ranking officials,' 8 November 2023 The four officials, who were also top leaders of TPLF, were accused of failing to perform their tasks properly by the interim government.7VOA Amharic, 'The region stated that four leaders in Tigray were removed from their positions due to their "inability to perform their duties,"' 8 November 2023 This removal follows the dismissal of six other administrators two weeks ago (for more, see the EPO Weekly: 21-27 October 2023).