By the Numbers: Ethiopia, 2 April 2018-7 October 20221
Figures reflect violent events reported since Prime Minister Abiy Ahmed came to power on 2 April 2018.
Total number of organized violence events: 3,448
Total number of reported fatalities from organized violence: 19,889
Total number of reported fatalities from civilian targeting: 8,771
By the Numbers: Ethiopia, 1-7 October 20222
Some events from this coverage period might be included in the data in subsequent weeks due to reporting delays.
Total number of organized violence events: 21
Total number of reported fatalities from organized violence: 104
Total number of reported fatalities from civilian targeting: 102
Ethiopia data are available through a curated EPO data file as well as the main ACLED export tool.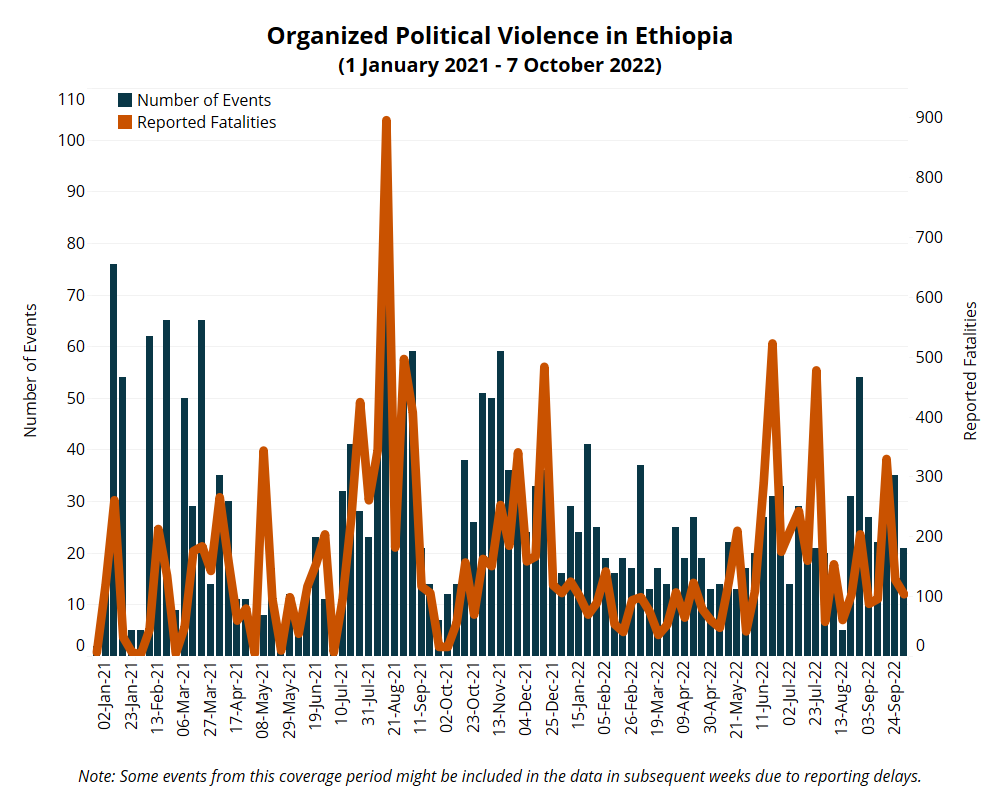 Situation Summary
Conflict continued in northern Ethiopia last week, as armed clashes between Tigray People's Liberation Front (TPLF) and government forces were reported around Robit mountain and Lango in Raya Kobo in North Wello zone in Amhara region, and in Shire and Adi Hageray in North Western Tigray zone in Tigray region (see map below). Government forces reportedly regained control of Shire and Adi Hageray following the clashes. Drone strikes by the Ethiopian National Defense Force (ENDF) hit Adi Daero, Zana, Danglat, and Agebe areas in Tigray region. The strike in the town of Adi Daero hit a school that was sheltering internally displaced people, resulting in more than 50 reported fatalities and 70 injuries (Reuters, 5 October 2022). In Danglat, the strike reportedly killed at least five people and injured 37 others (Reuters, 8 October 2022). The Eritrean Defence Forces (EDF) also launched an "extensive offensive" this week towards "Rama, Zalambessa and Tserona towns in northeastern Tigray" (AP News, 10 October 2022; Twitter @TigrayEAO, 10 October 2022).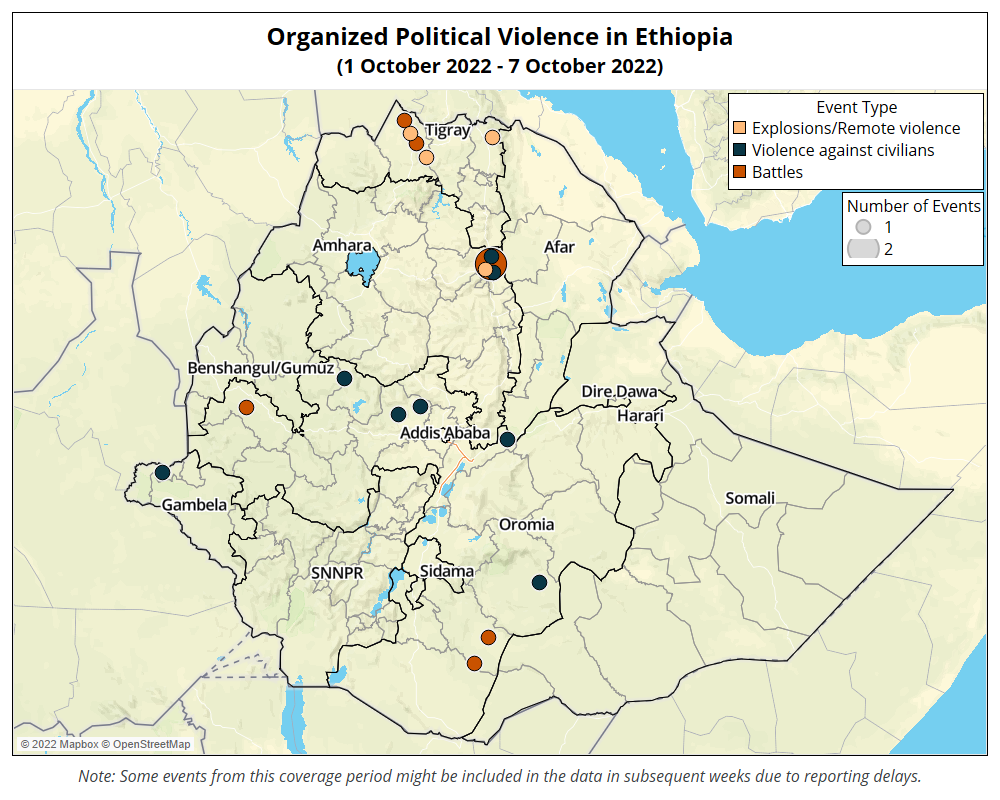 On 2 October, the TPLF announced that its forces had withdrawn from North Wello zone "to make tactical geographical adjustments," adding that if necessary, its forces may enter the zone again (Twitter @TigrayEAO, 3 October 2022). The group had entered the zone on 24 August 2022 when the recent round of armed clashes between TPLF and federal forces erupted. However, other reports and some witnesses from the area claim that TPLF forces were pushed out of this area by government forces (EMS, 3 October 2022; EMS, 4 October 2022). Government forces subsequently regained control of Kobo town, and later, the proximate areas of Raya Kobo and Gobiye.
As government forces regained control of these areas, civilians who had been forced to flee when the armed clashes erupted on 24 August began to return to these areas. In turn, reports of attacks on civilians, lootings, and property destructions by TPLF forces that had occurred during the past month emerged last week (Al Ain, 6 October 2022; Amhara Media Corporation, 5 October 2022; EMS, 5 October 2022). TPLF forces were reported to have killed dozens of civilians and looted properties in Kobo town (The Guardian, 10 October 2022). Last year on 9 September 2021, TPLF forces killed at least 23 civilians in the same town (Amnesty International, 16 February 2022). Additionally, TPLF forces reportedly abducted over 100 civilians from Kobo town, Abert, Zobel mountain, and other surrounding kebeles after accusing them of having weapons and spying for the government (Al Ain, 6 October 2022).
At the beginning of October, the African Union (AU) invited both the TPLF and the federal government to AU-led peace negotiations, led by the High Representative for the Horn of Africa region, Olusegun Obasanjo, former President of Kenya, Uhuru Kenyatta, and former Deputy President of South Africa and member of the AU Panel of the Wise, Dr. Phumzile Mlambo-Ngcuka (AU, 6 October 2022). Both parties accepted the invitation on 5 October (FDRE Government Communication Service, 5 October 2022; Twitter @TigrayEAO, 5 October 2022). TPLF requested clarification on issues such as: "whether there will be additional actors to be invited as participants, observers, or guarantors," the international community's role, and travel logistics (Twitter @TigrayEAO, 5 October 2022). However, the first round of negotiations planned for 8 October 2022 in South Africa was delayed due to "logistical reasons" (Reuters, 7 October 2022). Reports indicate that on 7 October, Uhuru Kenyatta informed the AU that he could not attend the planned peace talks due to a scheduling conflict. He also asked for clarification on "the modalities of the talks, including but not limited to the rules of engagement for all the interlocutors invited" and emphasized that the first agenda item in the planned negotiations should be an unconditional ceasefire (BBC Amharic, 7 October 2022).
It is now unclear when the negotiations will be held. In June, the federal government selected and appointed a peace committee led by Deputy Prime Minister Demeke Mekonen (Addis Standard, 27 June 2022). On 11 September, the TPLF indicated that Getachew Reda and General Tsadkan Gebretinsae would be part of the negotiation team representing the TPLF (Twitter @TigrayEAO, 11 September 2022).
It is expected that the two parties will most likely discuss five main issues in the anticipated negotiations. These issues include Western Tigray zone, banking and communication services, Tigray secession, the withdrawal of non-Tigrayan forces, and the status of Tigrayan armed forces and the TPLF (see EPO Monthly: September 2022 for more details on these issues). Until a mutually agreed ceasefire is reached, there is a high probability for the armed conflict to continue in northern Ethiopia.
Elsewhere in Ethiopia, various political disorder events took place. Oromia region continues to be the second most unstable region in the country. Last week, Oromo Liberation Front (OLF)-Shane and government forces clashed in Babo Gambela woreda in West Wollega zone and unspecified locations in Guji zone. Five attacks against civilians were also conducted in the region by the OLF-Shane, government forces, an unidentified armed group, and Somali ethnic militia members. On 3 October, Somali ethnic militiamen opened gunfire on civilians and killed an unknown number of people in Habrona kebele in Gura Damole woreda in Bale zone. An unidentified number of civilians were forced to flee from their residences as a result of the attack. Attacks on civilians also continued in Horo Guduru Wollega zone last week. On 6 October, an unidentified armed group opened gunfire on civilian residents and reportedly killed five people in Wali Lukuma kebele in Amuru woreda. Residents were forced to flee to other neighboring areas. The group also destroyed civilian houses and looted around 80 cattle (for more details on recent armed clashes and attacks on civilians in Horo Guduru Wollega zone, see EPO Weekly: 24-30 September 2022).
Furthermore, on 2 October, an attack against civilians was reported in Metehara Abader Huletegna camp in Metehara town in East Shewa zone. A similar attack at the same location also took place on 30 September. A dozen civilians were reported killed due to these two attacks, with witnesses blaming the OLF-Shane (ESAT, 2 October 2022). A day later, the OLF-Shane attacked a bus carrying employees of Muger Cement Factory in Mekoda in Adda Berga woreda in West Shewa zone, killing at least two people and injuring 16 others. Five days earlier, on 28 September, an unidentified armed group abducted the manager of the cement factory and his driver in Gatira in the same woreda while they were traveling to the factory. Government forces – presumedly Oromia regional special forces – also reportedly shot and killed a civilian in West Shewa zone last week.
In Gambela region, on 5 October, a group of youths attacked the Ethiopian Human Rights Commission (EHRC) office and its employees in the capital city, Gambela town, and threatened to close its regional office. This event followed the publication of the 28 September EHRC report about the killings of civilians by regional forces, the OLF-Shane, and Gambela Liberation Front (GLF) during and following the armed clashes between government forces and the OLF-Shane and GLF in June (for more details on these armed clashes and attacks on civilians in Gambela region see EPO Weekly: 4-10 June 2022 and EPO Weekly: 11-17 June 2022). Moreover, On 6 October, Murle ethnic militiamen from South Sudan opened gunfire and killed three people in Longjok kebele in Makuey woreda in Nuwer zone. The group also abducted an 11-year-old boy.
Lastly, the Somali Regional Government Communication Bureau reported that on 5 October, Somali regional special forces clashed with Al Shaabab militants in Quracle village in Yeed district in Bakool region in Somalia, killing 81 fighters including 11 top leaders and 70 members of the group. According to the report, regional special forces launched this operation when Al Shaabab militants were getting ready to attack Ethiopia again (Somali Regional Government Communication Bureau, 6 October 2022). In July 2022, Al Shabaab and Somali regional special forces engaged in multi-day clashes in Afder zone in Somali region in Ethiopia, in addition to a couple of locations – Yeed and Ato – on the Somali side of the border with Ethiopia (see EPO Weekly: 16-22 July 2022 and EPO Weekly: 23-29 July 2022 for more details on these events).