By the Numbers: Ethiopia, 2 April 2018-17 June 2022 1

Figures reflect violent events reported since Prime Minister Abiy Ahmed came to power on 2 April 2018.
Total number of organized violence events: 3,017
Total number of reported fatalities from organized violence: 16,579
Total number of reported fatalities from civilian targeting: 7,342
By the Numbers: Ethiopia, 11-17 June 2022 2

Some events from this coverage period might be included in the data in subsequent weeks due to reporting delays.
Total number of organized violence events: 17
Total number of reported fatalities from organized violence: 102
Total number of reported fatalities from civilian targeting: 17
Ethiopia data are available through a curated EPO data file as well as the main ACLED export tool.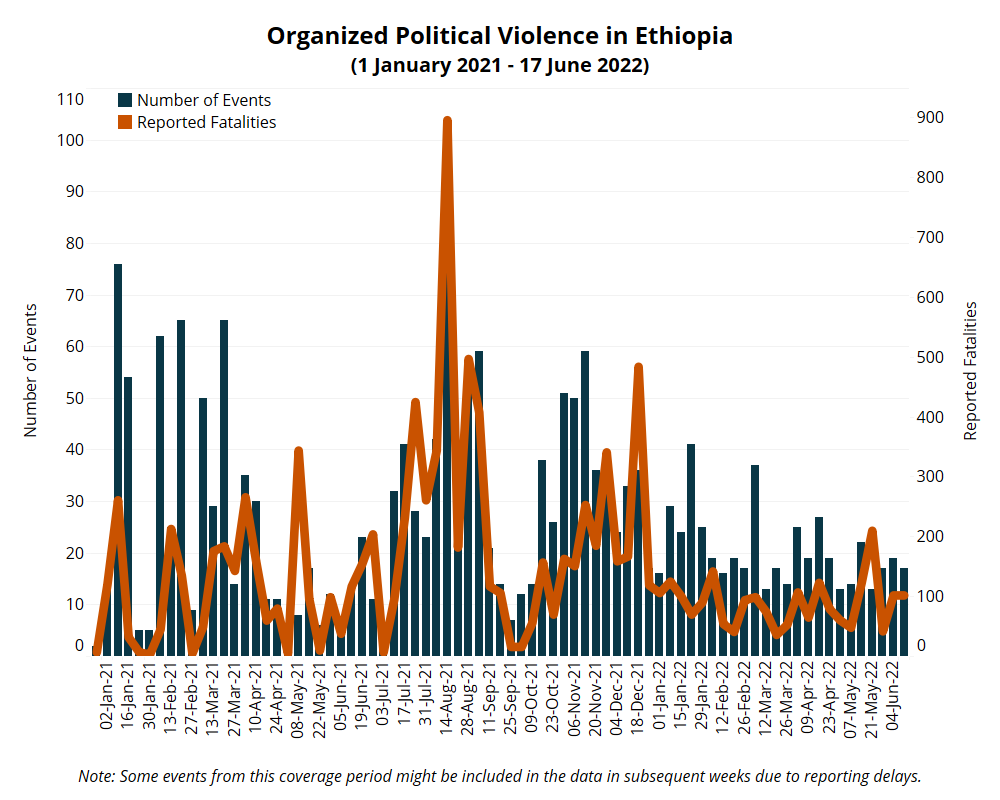 Situation Summary
Last week, heavy fighting between Oromo Liberation Front (OLF)-Shane, Gambela Liberation Front (GLF), and government forces was recorded in Gambela region. Compared to other areas, Gambela is often considered as one of the relatively calm regions in the country. On Tuesday 14 June, members of the GLF and OLF-Shane clashed with Ethiopian National Defense Force (ENDF), federal police, and Gambela regional special forces in Gambela city. The fighting lasted from 6:30 am to 3 pm. The government forces managed to regain control of the town in the afternoon. Nevertheless, shots continued to be heard throughout the week. At least 40 people, including 11 members of government security forces and two civilians were reportedly killed during the clashes on Tuesday, with over 36 security forces and three civilians also getting injured. The regional government declared a night curfew between 8 pm to 6 am and advised civilians to stay indoors. In addition, the OLF-Shane killed one Canadian civilian in Menjawat town in the region last week (for more details on the recent round of fighting in Gambela region, see the weekly focus in EPO Weekly: 4-10 June 2022 report).
On 14 June, the OLF-Shane also clashed with government forces around 04 kebele in Denbi Dollo town and Mugi in Anfilo woreda in Kellem Wollega zone, Gimbi town, Mendi town and Inango in Lalo Asabi woreda in West Wollega zone, and Ula Kabi, Dima Ijara, and Dima villages in Boset woreda in East Shewa zone in Oromia region (see map below). In Denbi Dollo town, the rebel group released 'political prisoners' and seized weapons. A few days earlier, on 11 June, the OLF-Shane clashed with Oromia regional state police and kebele communal militias in Lemu and Tijo kebeles in Shirka woreda in Arsi zone. Twenty-five people, including the head of Shirka woreda administration and the deputy police commissioner of the woreda, were reportedly killed and 40 others injured. The following day, the two sides clashed in Galema forest in Shirka woreda, with the OLF-Shane claiming to have killed 17 and injured 22 security forces.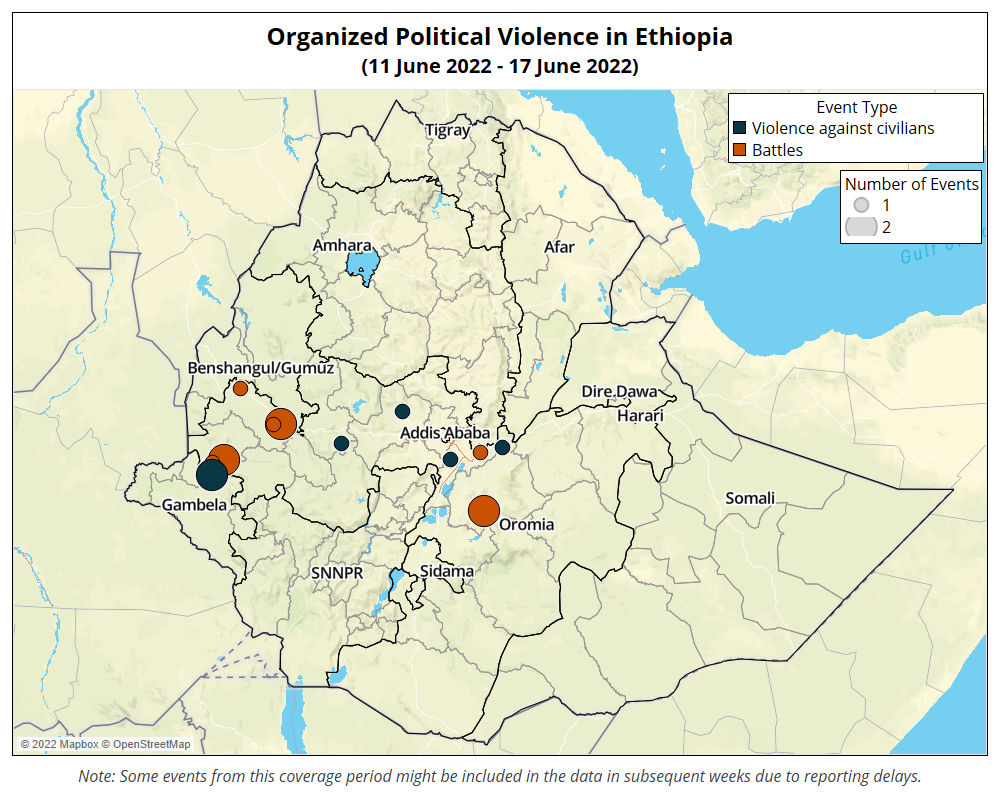 Extrajudicial killings by government forces continued in Oromia region. Last week, ACLED recorded four violence against civilians events. On 14 June, regional government forces, assumed to be Oromia regional special forces, beat and arrested a woman with her three-year-old child in Saritti kebele in West Shewa zone for refusing to tell them the whereabouts of her husband, who is allegedly a member of the OLF-Shane. Around 15 June, Oromia regional special forces killed an unknown number of people and burned around three civilian houses in Dalagala Jida kebele in Liben Chukala woreda in East Shewa zone. They accused the victims of not supporting the government, and of instigating farmers to protest against the government over fertilizer distribution. Similarly, on 15 June, ENDF forces burned and destroyed around 48 houses and killed an unspecified number of civilians in Gidara kebele in East Shewa zone after accusing them of hiding members of the OLF-Shane. The attack followed clashes between the rebels and government forces in the neighboring Boset woreda the previous day. In East Wollega zone, regional government forces, presumably Oromia regional special forces, burned several civilian houses and beat and arrested hundreds of youths from across 11 kebeles in Ghio town in Wama Hagalo woreda on accusation of supporting the OLF-Shane. There were no fatalities, but over a dozen people were injured due to the beatings. 
In Tigray region, on 11 June, Fano militia members began to re-enter Waja area in Raya Alamata in Southern Tigray zone. As a result, Tigray People's Liberation Front (TPLF) forces withdrew from the area. This area is dominated mainly by Raya ethnic group members who want to be under the administration of the neighboring Amhara region. On 8 June, TPLF forces had taken control of the area and raided cattle after the withdrawal of Fano militiamen following the recent "law enforcement" operation in Amhara region (for more information, see EPO Weekly: 21-27 May 2022), resulting in an unidentified number of people fleeing to Kobo town in Amhara region. Around 15 June, Tsegede Woreda Peace and Security Office reported that security forces had arrested 33 people accused of having links with the TPLF and spying for the group in Tsegede woreda in Western Tigray zone. Since November 2021, Western Tigray zone is administered by the Amhara regional government (see EPO's Conflict Profile page Tigray Conflict for more details).
Lastly, members of the Afar ethnic group and Issa clan of the Somali ethnic group held a peace conference in Adama city in Oromia region to resolve the disputes between the two groups through dialogue (Amhara Media Corporation, 13 June 2022). In mid-May, Somali and Afar regional governments agreed to withdraw their forces from disputed areas, hold public discussion forums, return internally displaced people to their areas of origin, examine the root causes of the conflict, and provide lasting solutions to the conflict (Somali Regional State Communication Bureau, 13 May 2022). The border between the two regions experiences frequent violent conflict due to long-running disputes over contested territory (for more details on this conflict, see EPO's Conflict Profile page Afar-Somali Border Conflict).
Weekly Focus: Extrajudicial Killings in Gambela Region
After retaking full control of Gambela city following a joint attack by the GLF and OLF-Shane, government forces assumed to be Gambela regional special forces, shot and killed at least 10 civilians in Gambela. The killings occurred as government forces conducted a home-to-home search for GLF and OLF-Shane members believed to be hiding in the city. Reportedly, many of those killed were ethnic Oromos who were accused of being associated with the OLF-Shane (Addis Standard, 16 June 2022).
A video was shared on social media showing the extrajudicial execution of at least one person in Gambela. According to the Ethiopian Human Rights Commission (EHRC), additional videos have been received as evidence that house-to-house arrests and executions took place. The EHRC director has called on security forces to "refrain from indiscriminate use of force" (EHRC, 17 June 2022).  
Extrajudicial killings are a major problem in Ethiopia. In addition to undermining public support for security institutions, they set a dangerous precedent that security forces may operate with impunity. To highlight the widespread issue of extrajudicial killings in Ethiopia, ACLED has recorded 367 violence against civilians events involving government forces since 1 April 2018. Violence against civilians by security forces represents the second-highest number of recorded events involving state forces in Ethiopia, following only battles.
The incident in Gambela is only the latest of a string of extrajudicial killings involving state forces, several of which have been recorded and passed through social media. On 18 June, the EHRC called for a full investigation after stating that they were aware of a video circulating on social media showing government security forces shooting and killing at least 30 people, who were accused of being associated with the OLF-Shane (Reuters, 19 June 2022). There has been a significant increase in the number of attacks against civilians involving government forces in West Shewa zone in Oromia region since February this year, mainly a result of the government's crackdown on individuals associated with the OLF-Shane in the zone. 
Yet, these killings have not drawn a response from the public in the form of protests. While many have expressed their surprise online, there has been no recorded demonstration activity in Ethiopia linked to denouncing extrajudicial killings. This is a result of a highly controlled environment and government intolerance for such types of protests. Like the event in Gambela, extrajudicial killings often occur shortly after a battle event and the victims are accused of being associated with an armed group. This often means that extrajudicial killings target ethnic minorities who are wrongly associated with an armed group — for example, ethnic Oromos in Gambela region, and ethnic Gumuz or Tigrayan communities in Benshangul/Gumuz region. Thus, ethnic minorities throughout Ethiopia are often at a disproportionately higher risk of being victims of violence, either by government or non-government forces, than their neighbors. 
Extrajudicial killings are not only linked to government-associated forces. Non-state armed groups like the TPLF, OLF-Shane, and other anti-government militias from Benshangul/Gumuz region have also been accused of perpetrating massacres, again usually of ethnic minorities living in areas under their influence (more information on this dynamic can be found by reading the ​​Metekel Conflict page and the West and Kellem Wollega Conflict page). 
As civilian actors are targeted by both state and non-state groups, an increasingly polarized political environment is the result. Residents of villages and towns in areas under contested control are the worst affected. Now, more than ever is time for all Ethiopian political actors to find a solution that does not result in violence targeting civilians.