By the Numbers: Ethiopia, 9 September 2022-15 September 2023
Total number of political violence events: 1,157
Total number of reported fatalities from political violence: 4,027
Total number of reported fatalities from civilian targeting: 1,803
By the Numbers: Ethiopia, 9-15 September 20231
Some events from this coverage period might be included in the data in subsequent weeks due to reporting delays.
Total number of political violence events: 32
Total number of reported fatalities from political violence: 70
Total number of reported fatalities from civilian targeting: 50
Ethiopia data are available through a curated EPO data file as well as the main ACLED export tool.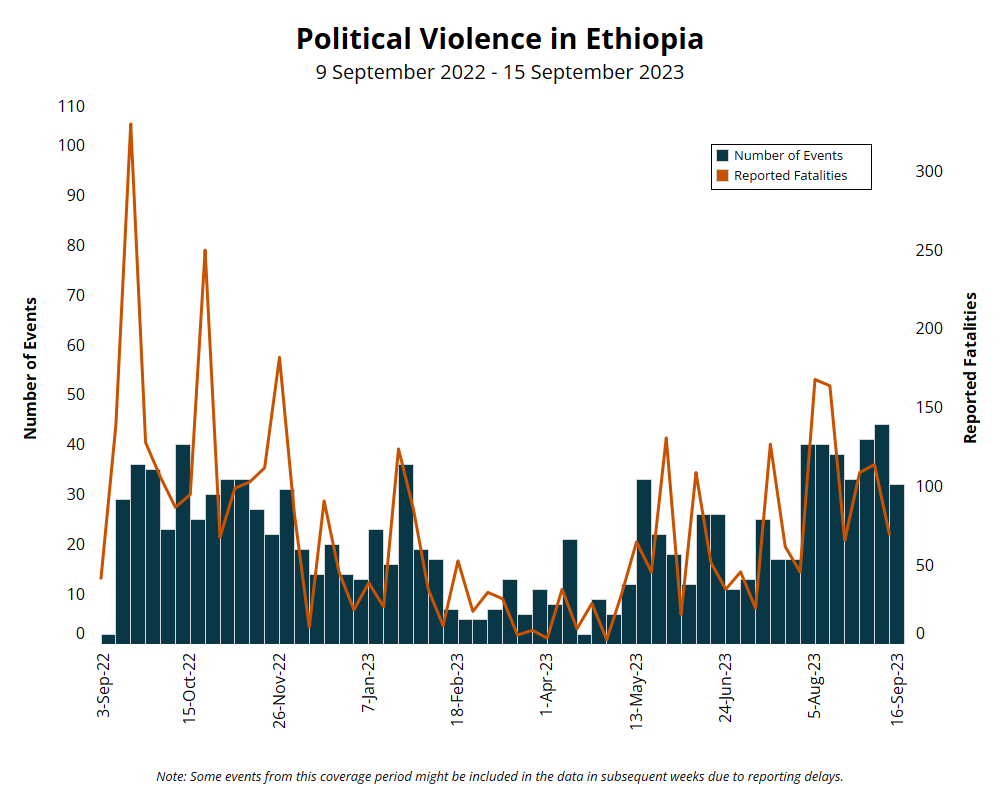 Situation Summary
Violence continued in Amhara region last week, with armed clashes recorded between the Ethiopian National Defense Force (ENDF) and Fano militias. In Oromia region, fighting resumed between federal forces and the Oromo Liberation Front (OLF)-Shane following a relative lull in the fighting.
In Amhara region, ACLED records 18 incidents of battles, violence against civilians, and remote violence during the past week. Kobo town in North Wello zone was the site of intense fighting, with Fano militias briefly taking control of the town on 14 September. Battle events were also recorded in Mekan Eyesuse woreda in South Gondar zone, Minjar Shenkora and Antsokiya woredas in North Shewa zone, Gobiye, Kobo Robit, and Woldiya towns in North Wello zone, and Legambo woreda in South Wello zone (see map below). ACLED records at least 39 reported fatalities in Amhara region last week. Most of these reported fatalities were connected to extrajudicial killings by members of the ENDF in North Shewa zone. In a report released last week, the Ethiopian Human Rights Commission stated that extrajudicial killings and arrests are the two most concerning issues in Amhara region since the new round of fighting between Fano militias and the ENDF erupted in the region at the beginning of August2Ethiopian Human Rights Commission, 'Amhara region: Human rights violations that continue to be a concern in connection to the armed conflict,' 15 September 2023 (for a detailed analysis of the current situation in Amhara region, see the EPO Monthly: August 2023 and the EPO Monthly: July 2023).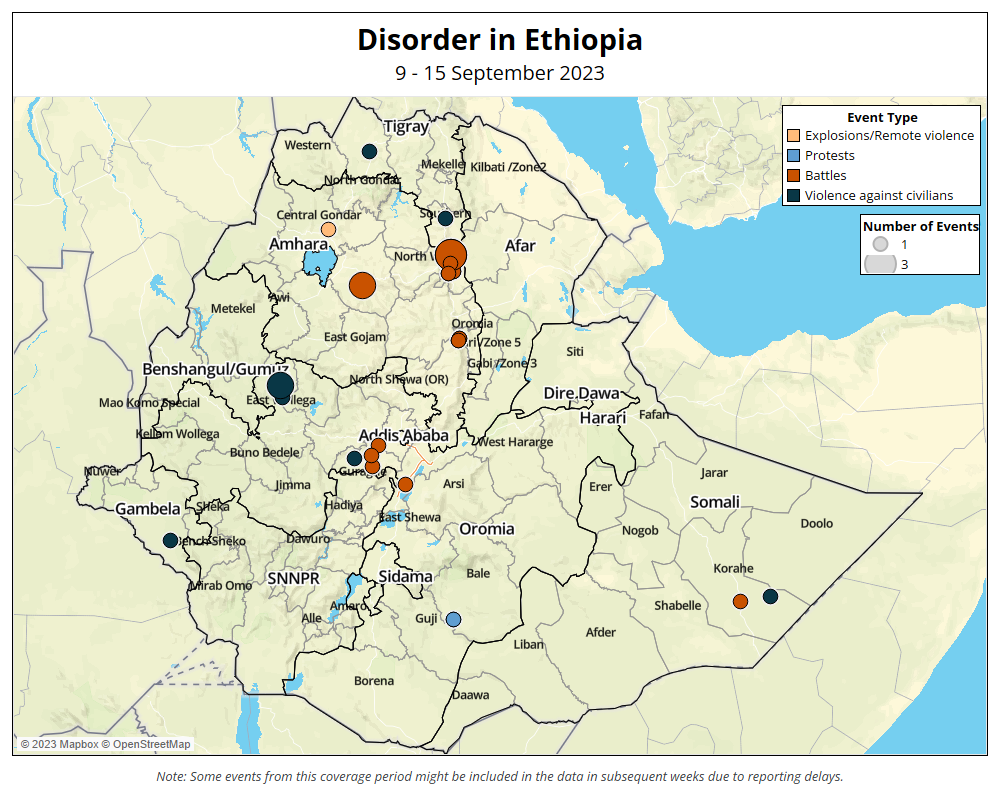 Meanwhile, in Oromia region, clashes resumed last week after a short lull in the fighting the previous week. OLF-Shane forces launched attacks on police stations in Ilu, Becho, and Seden Sodo woredas in South West Shewa zone, leading to clashes with police forces. The insurgent group attacked the prison in Teji town in Ilu woreda on 12 September to release its members. The same day, in Tulu Bolo town in Becho woreda, the group abducted at least 10 prisoners after killing two police officers.3Iyob Tesfaye, 'It was stated that due to armed men attacks police members were killed and 10 civilians were abducted in South West Shewa zone,' Addis Maleda, 14 September 2023 Fano militias also attacked civilians in Indode Dicho kebele in Gida Ayana woreda of East Wollega zone, with at least five fatalities reported  after Fano militia members attacked a bus traveling to a funeral on 15 September (for more information on violence between ethnic Amhara and Oromo communities in East Wollega zone, see the EPO Monthly: December 2022). Political violence in Oromia region has been occurring at high levels since a return to violence in May 2023 (see the EPO Monthly: May 2023 for more details on the resurgence of violence in Oromia region following attempted peace talks).
In Tigray region, an unidentified gunman shot and killed the head of the Southern Tigray Zone Social Affairs office while he was celebrating the Ethiopian New Year in Maichew town on 12 September. The reason behind his assassination is unclear, and the alleged perpetrator was arrested over the weekend.4Wazema Radio, 'Morning for those in a hurry! Monday 18 September 2023 Wazema's main news,' 18 September 2023 On 6 September, Getachew Reda, the head of the Tigray region's interim government, attributed the government's reduced capacity to contain violence to an unidentified organized group within the interim government5Tigrai Tv, 'Press statement of the president of Tigray interim government, Mr. Getachew Reda,' 6 September 2023 (for more, see the EPO Weekly: 2-8 September 2023).
On 9 September, Surma ethnic militia members from Suri woreda of South West Ethiopia Peoples' region crossed into the neighboring Gambela region and shot and killed 12 gold miners in Namkado kebele in Dima woreda. Reportedly, the militia members shot dead the gold miners in retaliation after an unidentified person killed an ethnic Surma in the same area.6DW Amharic, 'World News, 11 September 2023,' 11 September 2023
Lastly, in Somali region, unidentified clan militias clashed in Korahe zone. The incident was reportedly a result of revenge killing related to a previous incident.